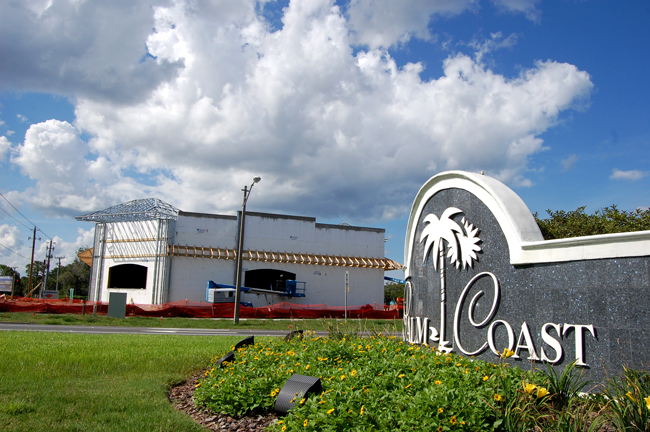 When it comes to liquor stores, some public officials and their more sanctimonious constituents can sound like prototypical Saudi-prince hypocrites—as moralistic and virtuous on the outside as they're ready to chugalug and slosh behind closed doors, preferably at discount prices. So it's been with the new ABC Fine Wine and Spirits—ABC liquor store, to most initiates—rising up like a giant white ice-cube at the intersection of Palm Coast Parkway and Old Kings Road.
When the 10,000 square-foot store finally opens in November, the first ABC in Flagler County, more people will line up to sample its 3,000 wines, its 20-door beer cooler, its walk-in humidor and its innumerable variety of blues-busting liquors that any church in town could dream of, including the two Catholic ones that can pack them in (though not without that enticing promise of wine at the end of the service). Almost certainly more than 100 people will line up to apply for one of the eight to 10 jobs the store will create. The ailing Palm Harbor shopping center behind it, where 14 of the 28 or so stores are shuttered, will likely be thankful for the traffic ABC will generate, as vehicles will be forced to go through the shopping center to get to it (no entrances directly off of Old Kings or the parkway). And local dollars by the hundreds of thousands that are being swilled off on liquor in Volusia or St. Johns counties will be spent here.
For all that, and in Palm Coast City Manager Jim Landon's words—the same city manager who imbibes economic development and stirs to the mention of local job creation—"we actually did everything we could to discourage them" from building there. Referring to it as "the big white ugly structure that is the ABC liquor," Landon speaks more highly of the Olive Garden and Red Lobster restaurants going up in the Target shopping center along State Road 100. And Mayor Jon Netts is still fielding irate calls from residents who complain about the ABC building's presence and proximity to the road.
Landon gave a brief update on the store and other commercial developments at a meeting earlier today of the board of Enterprise Flagler, the public-private economic development partnership whose sole mission is to nurture and bring economic activity to the county. As he has on previous occasions when the ABC store has been discussed, the city manager took every occasion to speak of the business derisively, though he also noted the city's legal limitations in deciding what may or may not be built on privately owned and commercially zoned land. "We really don't have any control if they sell baby formula or adult formulas," he said. "Those silly courts of ours won't allow us to control what's being sold inside those doors as long as it's commercial merchandize."
Netts, for his part, explained more elegantly and less derisively how the only three options at the city's disposal—buying the property, condemning it or re-zoning it to something like a conservation tract—would end up costing the city more than it can afford just now.
All of which left Bob Gibson bemused.
"I'm not sure what the resistance is all about," said Gibson, ABC's director of marketing, Thursday evening. "We've traditionally been very good neighbors, we're involved in all the communities in which we operate, we've been a good corporate citizen of Florida since we were founded in 1936." The Orlando-based company was founded by Jack Holloway when its first store opened in Orlando, just after the end of Prohibition. It's run today by Holloway's grandson, Charles Bailes.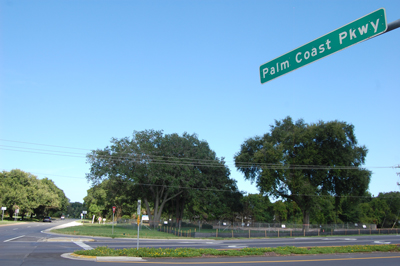 The store will obviously comply with all of Palm Coast's generally strict commercial development regulations, which tend to be stricter for some than for others, depending on who's more favored: ABC was made to comply with every regulation in the book, while Florida Hospital Flagler, for example, on Tuesday evening got a waiver both on density regulations and on height-limit regulations when the Palm Coast planning and zoning board approved future construction exceeding the 100-foot limit on the hospital campus (to 120 feet). In official city parlance: Hospital, good. Liquor, bad, though one does feed quite a bit of business to the other.
The ABC store won't be anything like its older versions in most Volusia County locations, where stores date back to the 1970s. "It's going to be a brand new prototype store," Gibson said. "I think people will recognize it as a store to be proud of. The days of mom and pop dark and dingy liquor stores, those days are numbered. ABC is not into those. We build these bright, well-lit, wide-isle stores to be proud of."
The city makes much of its development codes—which are something to be proud of—as it does of its particular attention to landscape architecture, thanks to Bill Butler, who's something of an artist in the trade. Gibson, however, said his company is no slouch in developing attractive stores. "If it's going to be an ABC, it's going to be top notch," he said, referring to the new prototype store, which in Palm Coast is likely to be painted in earth tones once past the ice-cube look. "We'll stand it up against any retailer anywhere."
ABC doesn't seem to be affected by the recession. "We're in the process of remodeling older stores all over the place," Gibson said. "Three projects going on at any given time, every three weeks we start one, every three weeks we finish one. As marketing director I can't keep up with the announcement." Nevertheless, he said, the company is as prone to the effects of the recession as any other retailer, suggesting that it's a myth that liquor stores are recession proof. "We have the same problems anybody has. We're just choosing to approach it this way. We're heavily in vesting in Palm Coast and happily so. We're doing it in the hopes of having a great business there."
"You'd think," Gibson added, "that the community would welcome this."
It's likely a matter of time—November, to be precise—before the community puts a cork in its inner Saudi and heads for booze's alphabet.