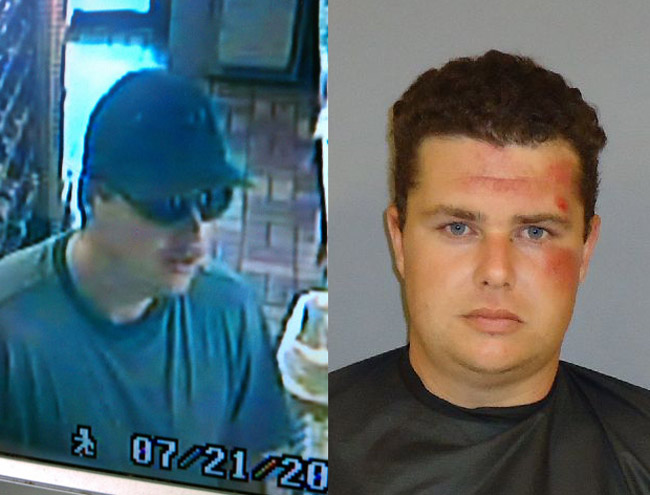 In late July last year a spate of gas station robberies and attempted robberies in Palm Coast sent Flagler County Sheriff's deputies and the county's emergency helicopter on a fevered chase for a suspect—whom they caught on July 23. It was Aaaron Kinney, then 33, of Blythe Place in Palm Coast's Woodlands.
On Monday, Kinney was before Flagler County Circuit Judge J. David Walsh to accept his sentence after tendering a plea on March 21. And to tell his story: he wanted to explain why he'd carried off those robberies.
It was a bizarre story that involved his own kidnapping by a mystery man to whom he owed money—a man who's still at large, if he exists—and of that man even spending a night in Kinney's closet at his mother's home on Blythe Place, so his mother wouldn't find out, even though he'd been threatening to kill Kinney and his mother if Kinney didn't follow his directions. It was at that man's direction, Kinney claimed, that he robbed three gas stations.
Kinney faced life in prison on three counts of armed robbery and additional charges of aggravated assault. He was sentenced to nine years in prison on the three robbery charges, to be served concurrently, with almost a year's credit for time he served at the Flagler County jail.
Kinney requested "a short furlough" from the judge. The request was denied.
"The state does not believe that this is an isolated incident," the prosecution said. "It's incredulous, the defendant's version of events." The prosecutor went as far as calling Kinney's story "ridiculous."
"Is it ridiculous?" his defense attorney asked the judge. "There's nothing like that in his record at all," he continued.
In late 2011, Kinney was at the center of another strange story when he told cops that he'd been assaulted by two men, one of them with a gun, while he walked near his home in the Woodlands. Two black men, one of whom, Kinney told cops at the time, took $120 or $130 from him. A search of the area produced no results. That incident was never mentioned Monday.
The defense attorney isolated Kinney's issues to the two days in July, and that Kinney had "never had any history of violence at all."
"What strikes me is the three offenses were committed within the short span of 24 to 30 hours," Walsh said, preparing to sentence him. "I also am aware of the fact that you Mr. Kinney have no recent history of violent offenses. You have a petty larceny back in 2000. The rest of your charges have been driving without a license. On the other hand, I do not accept your explanation. Sat all. OK? These were violent offenses. These offenses were so serious that the Legislature provided that they could be punished by life in prison."
Instead Walsh handed down the nine-year terms, with five years' probation, including 100 hours of community service and an anti-theft course.
The way Kinney described it through his attorney, he committed the robberies because he was short of money. He was approached to carry marijuana for someone, and agreed to do that for a fee. But before he carried out the transaction, he was robbed. He needed more money. Someone showed up at his house threatening to kill him and his mother. "Unfortunately, that's what led him to commit these offenses, he was looking for a quick way to make some money," Kinney's attorney said. "He was acting under duress. Probably not the smartest decision to make and the way to go about it but he was fearful that hi8s mother would be harmed. I think it's fair to say based on our conversations, not necessarily worried about his own safety but more important, his mother's."
A neighbor Kinney's, Ruth Tiano of Blyth Place in Palm Coast's Woodlands, took the stand, describing Kinney as "such a good kid," and a "perfect" kid who never did anything wrong in the five years she's known him.
She was followed by Jacqueline McManus, Kinney's mother and a Flagler County resident for more than 20 years. "I apologize for his behavior. I'm sorry myself for what happened," she said, "especially to the victims. Aaron I know is very remorseful for what he's done and got caught up in the wrong situation." He wanted to become a veterinarian. "His nieces and nephews loved him when they were able to come down and visit. He's helpful at home, and he contributes to the household finances." She asked that the court accept his plea and his apology. She was done rather quickly, and Kinney's lawyer had no more questions for her.
The judge then took the unusual step of trying to prompt further testimony from McManus, encouraging her to describe what sort of son Kinney was, how far he went in school. But McManus had few words. She was followed by her son.
"I'd just like to inform the court that I'm here for these crimes that I've committed, and I think about the victims and the way it transpired, which—how should I put it—not the best choices that I have made in my lifetime," Kinney said. "I'm sorry I keep looking down." He was looking at notes, prompting the judge to ask him if he preferred to read his statement directly to the judge. Kinney did so, saying he felt he had no choice but to commit the crimes he did. "I had a man break into my home and tell me he was here to get his brother's money that I owed, and I noticed he had a gun. He slapped me, punched me around for a little bit. He told me we were going for a ride and if I didn't listen he would hurt me and my mother. I didn't want harm onto my mother so I listened. Plus I was scared and I didn't know what to do."
The driver took Kinney to the gas station and told him to go get his money, pointing a gun in his ribs. It was at that station that he attempted a robbery, but didn't go through with it. "I was scared and I couldn't think," he said. Knowing the woman behind the counter also held him back. The man who was threatening him told him that if he back down again, he'd start breaking his fingers. So he went through with the subsequent robberies, including at one station where a man had previously offered him a job there.
"I cannot put into words how awful I feel inside for what I've done," Kinney said.
The prosecutor did not believe the story anymore than the judge would later. The prosecutor asked Kinney about the man who'd broken into his home—the home he shared with his mother. His mother was at work at the time. The prosecutor asked him about the timeline: if the man had started threatening him last July 21, when the first robbery was conducted, had he stayed with Kinney a full 24 hours until he robbed the subsequent stations the following day? Kinney said yes.
"So he held you hostage?" the prosecutor asked.
"Yes, sir."
"And then again at 7:11 p.m. on July 22, he continued to hold you hostage?"
"Yes, sir."
"While you're driving around in your mother's car?"
'No sir, not the whole time."
The alleged kidnapper forced Kinney to bring him into Kinney's house. Kinney didn't tell his mother. He hid the man in his closet.
"So now this guy stayed in your closet overnight?" The prosecutor asked, disbelieving.
"Yes, sir."
"And you let him do that while your mother was there?"
"What was I supposed to do, I was scared."
Even though Kinney had a cell phone, even though, when cops were getting close to him and the man—the alleged man—had let him out and escaped, at no point Kinney told authorities of his situation with the man the previous 30 hours. The prosecutor presented the knife he used for the robbery, but noted that there was a second knife in the car—a steak knife.
"I have nothing further," the prosecutor said.
It was then that the judge handed down the sentence.