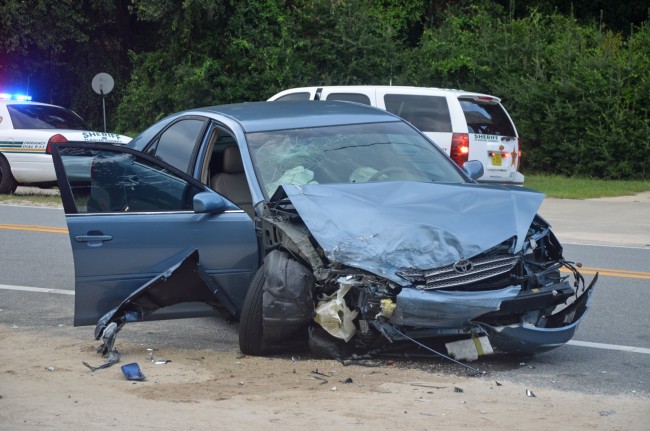 Six people were hospitalized, one of them in serious to critical condition and one of them a child, after a two-car collision on State Road A1A at the entrance to Bing's Landing late Wednesday afternoon.
Three Flagler County Fire Rescue ambulances and Flagler County FireFlight, the county's emergency helicopter, transported patients. Fire Flight transported one patient to Halifax hospital's trauma unit in Daytona Beach. The rest were taken to Florida Hospital Flagler, where patients with non-life-threatening injuries are usually taken.
The wreck involved a Toyota and a Nissan. Two woman and a child born in 2012 were in the Toyota. Three people, and possibly four, were in the Nissan, according to a Florida Highway Patrol investigator at the scene. The Toyota occupants are from Palm Coast. The occupants of the Nissan are from Jacksonville.
According to the preliminary investigation, the FHP trooper said, the Nissan was heading north on A1A. The Nissan came up on another driver going north who had slowed or stopped to run into Captain's BBQ at Bings Landing. The male driver of the Nissan swerved left to avoid the car that had slowed or stopped. It avoided that car, but instead caused the Toyota to slam into the Nissan's passenger-side door.
The Toyota's front was heavily damaged. Driver's side and passenger-side airbags deployed. The passenger-side door airbag on the Nissan deployed.
A decal on the front windshield of the Toyota suggests the owner is an employee at Rymfire Elementary. A decal on the Nissan suggests the owner is an employee at the Department of Defense.
"I heard the bang. I didn't know what it was," Bob Willette, who lives in the apartments just behind the Hip Cafe and the Bike Shop, on the east side of A1A, said. When he came out, rescuers had already began gathering around the victims. He saw the two women in the Toyota taken out on stretchers, and the child taken to one ambulance, then another. "I've been here about a year and a half now, this is only the second accident I've seen out front here. First one was real small, just a fender=-bender."
The Flagler County Sheriff's Office was first on scene. The Palm Coast Fire Department and the Palm Coast Fire Police also responded. Thr wreck took place at 6:30 p.m. A1A was reduced to one lane for about 45 minutes before one of the vehicles was pushed to the roadside, clearing the way.
The identities of the victims was not released at the scene.