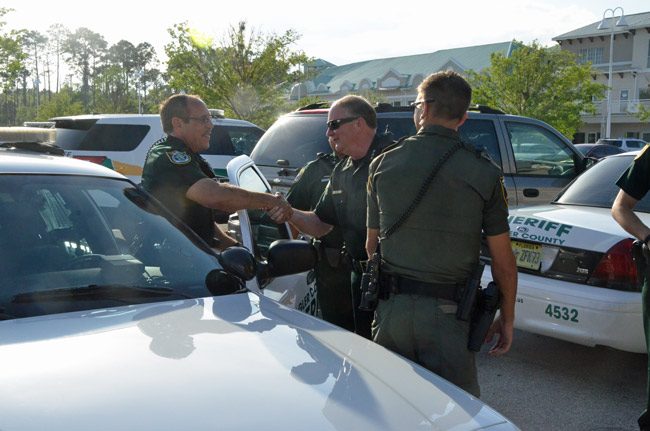 It's a surprise, but not too big a surprise: the union representing the Flagler County Sheriff's deputies voted by a significant margin to endorse Republican Rick Staly for sheriff last week, snubbing Democrat Larry Jones, even though Jones's biggest selling point is that he was among the deputies' ranks for 30 years, and had himself been a union member until his retirement two years ago.
Endorsements are not usually newsworthy or consequential beyond the rack-card blurbs they afford candidates receiving them. In this case, the endorsement is significant for several reasons: it's the first clear indication of where a majority of the sheriff's employees stand in an election year that combined the tumult of a combative election with disaffection over Sheriff Jim Manfre's administration.
More significantly, it is actually six endorsements in one, as the Coastal Florida Police Benevolent Association is part of the new Flagler County coalition of public sector unions–the United Public Employees of Flagler–all of which have pledged to support each other's candidates. In essence, Staly has won the endorsement of cops, teachers, school service employees, county and Palm Coast firefighters, and Palm Coast's blue-collar workers, representing in all a block of 2,000 employees and many more family members, friends and neighbors.
The fact that the endorsement is also, in a sense, an upset of Jones, who should have been expected to win his peers' vote, suggests that in a year when Republicans are far outpacing Democrats both on the county's voter registration rolls and in early indications of voter turnout, Jones's path to victory has narrowed further than it already was. Staly's money advantage is also overwhelming. While booth candidates have spent most of the money their campaigns have raised, Staly outraised Jones by more than 10 to 1, and what money he has left, about $11,000 (after spending $128,000 so far) is more than the entire amount Jones raised. Jones has less than $1,000 left in his coffers, based on the latest available campaign finance reports.
The vote of the police union was also significant: it was not close despite a four-way choice. Cops could have chosen Jones, Staly, Thomas Dougherty—an independent whose campaign has been a puzzle—or they could have opted for no endorsement. The union has 180 members, 122 of whom cast ballots. Of those, 55 percent voted for Staly, 29 percent for Jones, and 15 percent voted for no endorsement. Dougherty got one vote. The vote showed little ambiguity.
---
"We're excited at the prospect of electing a new sheriff. We've had the same two sheriffs for the last 16 years."
---
"I think we're all looking forward to a fresh start," said Jon Dopp, a corporal at the sheriff's office and the vice president of the Coastal Florida Police Benevolent Association. "I think we're excited at the prospect of electing a new sheriff. We've had the same two sheriffs for the last 16 years, so we're excited about some new thinking and perspective coming into the agency."
Dopp was part of the interviewing process the union put the candidates through. Staly was chosen over Jones, in the end, because of his experience in leadership and his expected ability to steer the agency through challenging years of growth ahead, when experiencing with budgeting and political savvy—to deal with the county commission and the Palm Coast City Council—will be key. "All in all I think the members felt Staly was better suited to accomplish those goals," Dopp said.
The union did not endorse anyone during the primary, preferring not to repeat what it had done in a past election, when a primary endorsement fed into the factionalism already created by a field of five candidates.
The union interviewers particularly grilled Staly over his two years with the current administration of Jim Manfre, when Staly was seen as the heavy, executing Manfre's firings, demotions and transfers, which demoralized the ranks. "The majority of the membership understood that those decisions were made by Manfre, that Staly at times was put in a position that he had to act at Manfre's request," Dopp–who was promoted by Manfre–said.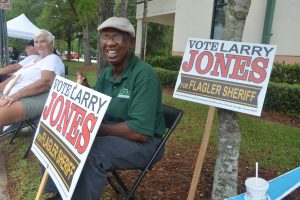 Staly in an interview today said he was "humbled" by the endorsement. "I think they looked at the qualifications, the experience and the vision," he said. "When you look at that I think I'm the clear leader in those categories, so I think that's why they went with me. They chose a proven leader and that's what they want, they want someone they know will back them, will fight for what they need, and has a vision. The employees want to work, they want the handcuffs taken off of them and they want to serve the community, and I think they know I'm that leader. They feel like they're not being backed currently, that they've been throttled on the ability to go out and do their job. Whether it's accurate or not, it's their perception."
Staly said he'll remain a hands-on leader who'll continue to himself on occasion make arrests or patrol on certain nights. He also spoke of the agency's need to add personnel. He's already been having conversations about that with Craig Coffey, the county administrator. As it stands, and going by the national standard of deputy-to-population ratio, the agency is about 50 deputies short. He's not expecting to close that gap and acknowledges that it would be too expensive and too heavy a burden on taxpayers. But a combination of deputies and other types of personnel, like the so-called public service agents used in St. Johns, Orange and Seminole County, would help begin closing that gap. Public service agents are typically former cops who can still be employed in less-than uniform capacities to conduct such things as investigating non-violent offenses—larcenies, criminal mischief—before turning those over to detectives, thus freeing other deputies to focus on more serious crimes.
As for funding, Staly intends to put a greater focus on grants, such as federal community policing grants (though those typically are funded by the federal government for up to three years, but the ranks they underwrote must then have to be paid for locally.)
"It's all force multipliers when you put it all together, but you use different ways to achieve the goals so it's affordable," Staly said. He stressed that he wasn't interested in steep tax increases, noting that he owns three properties himself. "I'm a taxpayer too, I don't want to raise my taxes, either."
Staly also said that the policing contract with Palm Coast, which hasn't increased its ranks in years, would have to be renegotiated.
Jones had little to say about being passed over for the endorsement. "I didn't know what to expect, a lot of the guys don't know me," Jones said, referring to the heavy turn-over at the agency since he retired about two years ago. But he said the endorsement is "not carrying much weight at this time." He would not gauge the effect of the endorsement beyond that, even when factoring in the satellite endorsements of the five other public sector unions. "It's up to the voters," Jones said.