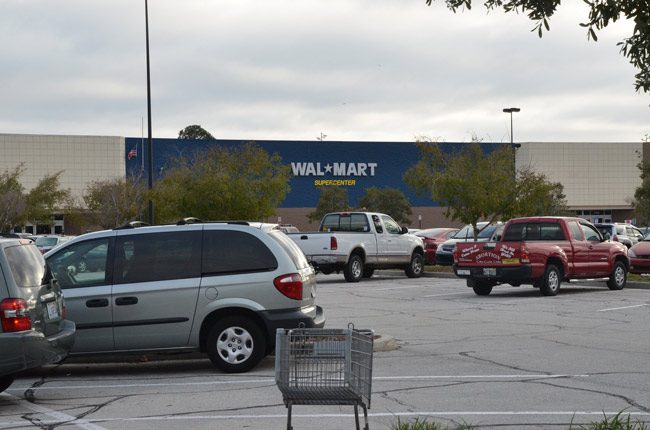 Walmart and other big-box stores are so used to shoplifters that they have personnel assigned to policing the problem. Shoppers, however, don't expect to be robbed on the property of a big-box store like Walmart, in the middle of the day–as was the case with a 43-year-old Palm Coast woman Monday afternoon.
The woman had just finished shopping at the Palm Coast Walmart. She rolled out her shopping cart to her car, which she'd parked on Isle One. She did what shoppers usually do: she opened the trunk of her car and began putting away the goods she'd just bought. Her purse was in the shopping cart, by the handle–where women often put their purse while shopping.
Her hand was actually on the purse when a silver vehicle approached her, with what she would later describe as an adult, black woman in the front passenger seat. In a matter of instants, that woman reached out from the silver car's window, grabbed the shopper's purse out of the cart and the shopper's hands, and fled. The woman saw the car drive out by Steak and Shake, then to Palm Coast Parkway, though she couldn't tell if it was west or east.
The car was a Hyundai Sonata. The thieves had stolen her Steve Madden purse with black trim, debit cards, prescriptions, and $50.
The victim was crying, sitting on the inside of her open trunk, when a deputy arrived. She was especially upset about her medicines being stolen. Two witnesses gave a Flagler County Sheriff's deputy accounts similar to those the victim gave about the incident.
Deputies obtained surveillance camera from Walmart. "The video shows the incident but does not provide suspect description or vehicle registration plate," an incident report states.
The last time a robbery was reported on Walmart's property goes back to mid-April last year, but that report turned out to be fake: A then-38-year-old woman claimed she was robbed of her book bag by two black men near the store's west entrance. The woman, Magdaline Scott, had also reported prescriptions stolen. But as it turned out Scott had fabricated the story. She pleaded guilty and was sentenced to probation for making a false report of a crime.