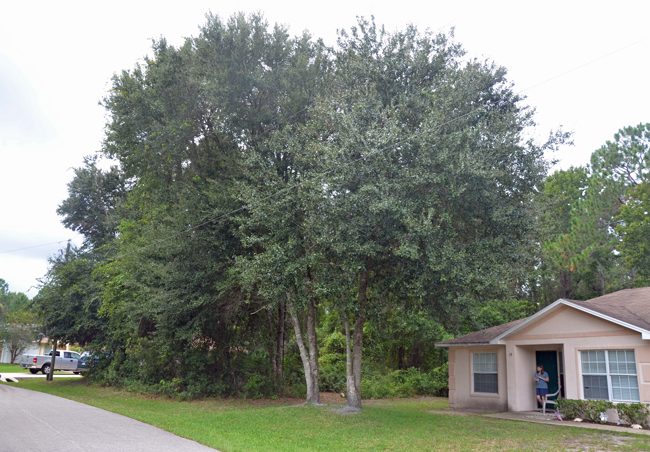 Late Friday, Flagler became the 35th of Florida's 67 counties with confirmed cases of Zika, the mosquito-borne virus that poses relatively little danger to most adults but that can lead to birth defects if pregnant women who are infected pass the virus on to their fetus. There is no vaccine for the disease.
The two travel-related cases are in Palm Coast, according to Steve Garten, Flagler's public safety emergency manager, who noted the detail in an email to Barbara Grossman, the city's code enforcement manager, Monday. Where those cases are specifically remains unclear: the local health department is referring all inquiries to the Florida Department of Health, which has not yet responded to several questions about Flagler's cases. The state health department has prevented local departments from providing such information to local media.
Flagler County Mosquito Control officials have identified the areas around Parkview Drive and Pertshire Lane as a mosquito "hot spot." That doesn't mean it's where the Zika-infected residents live. Rather, it's where conditions are found to be favoring mosquito concentrations, which would then potentially make it easier for the virus to propagate. Pertshire parallels a ditch. The tenant there said she had gotten rid of containers with standing water in compliance with mosquito control requests.
Just before 10 this morning, Robert Snyder, who heads Flagler County's Health Department, emailed several local government leaders and managers to coordinate a joint meeting next week as part of the response.
"I received an email from the Department of Health's attorney yesterday at 5 pm. in which he provided notice that Flagler County was added to the list of counties that have been declared a 'public health emergency' due to 2 confirmed cases of Zika virus last week in our community," Snyder wrote. "By Executive order from the Governor and Surgeon General, I am required, as Health Officer to convene a meeting (per section 3 of the Declaration) that includes representatives from the county commission, city commissions, mosquito control, county extension office, county health department, tourist development council, emergency management, airport, county medical society and other necessary community partners to 'discuss mosquito control best practices, public health outreach strategies for those communities with high risk or vulnerable populations.' Also, the 'County Health Officer shall prepare a summary of the meeting and develop action plans for the execution for prevention programs and provide it to the Department for Health's Central incident command offices.'"
---
Vigilance but not panic as Zika buzzes Flagler.
---
That meeting will take place at the Emergency Operations Center, behind the Government Services Building, next week, though a date has yet to be set.
The Palm Coast City Council briefly discussed the issue this morning at the end of its meeting. "Obviously our local health department through the state process is taking this very serious[ly] and kicking in their process to try and make sure it's limited in scope," City Manager Jim Landon said.
"Let's use the city resources, our website, our TV channel, let us try to educate the public as to how important this issue is–clean up your yard, dump out the standing water, be vigilant," Mayor Jon Netts said.
But council member Steven Nobile cautioned: "We've just got to be careful not to panic either, we don't want people running around, spraying all kinds of pesticide, you know, squirt this everywhere, and we get two and half million bees dead."
Reached by phone in early afternoon, Snyder said he had no details to provide about the local cases, referring questions to Tallahassee. "They're controlling that message," he said. "We're doing the same thing every other county has done with respect to messaging and information."
But he added, regarding next week's meeting: "We will be discussing mosquito control best practices, we will be discussing actions we've taken to date and other actions necessary to prevent the spread of Zika in Flagler County. We expect it to be a well attended meeting, and information on prevention will be shared then."
Meanwhile, city and health officials have been addressing areas of concerns, such as homes or properties where poorly tended yards or junk has piled up, creating a potential haven for mosquitoes, and possibly virus-bearing mosquitoes.
Such addresses of concern include 15 and 11 Pertshire Lane, and 48 Woodhome Lane, among others.
"You are right about 15 Perthshire Lane being a concern," a health department official wrote Joe Cash, director of the East Flagler Mosquito Control District, last week. "We have tried to work with the tenants that live there, but it seems pretty obvious at this point that they don't plan on doing much to clean up the property (or the neighboring property that they are dumping on). They did try flipping some things over such as the refrigerator, and the sinks that were littered across the property but they still had a bunch of totes, tires, containers, cans, and tarps that are holding water. We will send an official Notice of Violation to the property owner who lives in Port St. Lucie according to property records. Hopefully we can get a fast resolution to this. I copied Barbara Grossman on this to see if her staff can help address the dumping on the vacant lot issue (11 Perthshire Lane). We will contact the folks at 48 Woodhome again and have them contact your office."
An email from Cash the same day lends some idea as to where the travel-related cases may be. He wrote:
"1. We visited 85 Beaverdam this morning and set a trap. No adults or containers present. No one lives in the home and it is for sale.
"2. At 207 Parkview we performed two ULV truck operations, the most recent being last night, and applied a barrier spray this morning. This location is a hot spot and requires remediation. We are trapping again tonight. Actually, the problem is 15 Perthshire behind 207.
"3. Visited 48 Woodholme. No one answered the door. This is a suspect location and we would like to trap the area. Can someone have the occupants contact the district or arrange a meeting?
"4. 102 Yacht Harbor and 45 Old Oak Dr are not an Aedes aegypti or albopictus concern."


Declaration of Public Emergency, Zika Virus
Click to access Declaration-of-Public-Health-Emergency-Zika-Virus-1.pdf