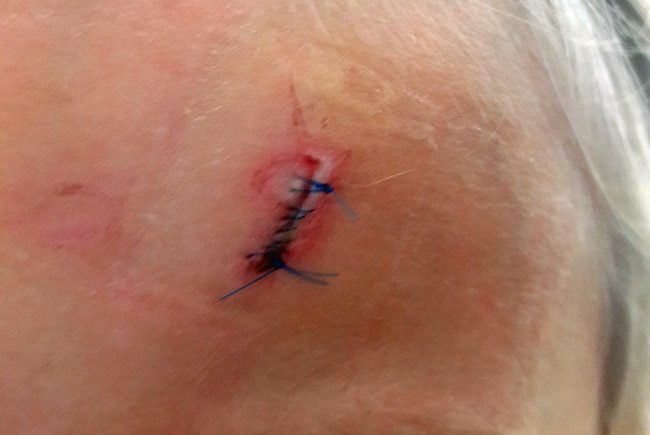 The evening of Aug. 23, two of Melissa Canales's young children were playing when one of them threw a superhero toy at the other, who is 6 years old. The toy cut open her forehead. Canales took her daughter—we'll call her Linda, though that's not her actual name–to Florida Hospital Flagler, where she was treated with skin glue, a less intrusive medical adhesive that lets doctors avoid stitches or staples. The glue allows small wounds to heal and minimizes what visible scar may remain.
That was a Tuesday. On Wednesday, Linda went to school at Rymfire Elementary, where she attends first grade. Two siblings attend school there, too, in fifth grade and kindergarten.
When Linda got home that afternoon, the glue was gone from her forehead, she was bleeding, upset, and would eventually have to be taken back to the hospital, where she received several stitches. To her mother, what took place at school that day adds up to a quick series of inexcusable steps by school officials that harmed her daughter, left her as a mother uninformed about what had happened, and resulted in an unnecessary, larger scar on Linda's forehead. "It's going to leave her with a bigger scar," Canales said, "on her forehead, the middle."
"As a mom I'm beyond upset right now," she continued. "They are leaving my daughter with a much more invasive scar than she should have had. I mean, I got a referral to a plastic surgeon, the whole nine yards."
To Canales, the incident also reveals an improper protocol in place when a child gets hurt. She's not letting it be: last week the district received notice that she was suing.
What took place, from Canales's perspective and what her daughter Linda relayed to her, was this: around noon that Wednesday, Linda fell on the playground and hurt her knees. She got a student pass to go to the nurse's office. The pass' time stamp was 12:05 p.m. The pass includes a handwritten description of the complaint: "head cut opened up @ recess & she is bleeding." Canales says that was not the case, that there was nothing wrong with the glue, and that Linda had hurt her knees, not her head.
Linda was not seen by the nurse, who was either at lunch, as Canales said, or off that day, as the school district's attorney said. Either way, there's no dispute as to who did see Linda: Danielle Sweeney, secretary to Barbara Sauvelpahkick, the principal. Sweeney, a 45-year-old Palm Coast resident, has been at Rymfire and an employee of the district since August 2012.
Under "treatment," and in a handwriting different from that in the first portion of the pass, the student clinic pass states that Linda's wound was "cleaned [with] anti-bacterial ointment & applied band-aid." There is no mention of the glue.
---
"They are leaving my daughter with a much more invasive scar than she should have had."
---
Was parent notified? The box for "No" was marked. Linda was sent back to class at 12:16 p.m., with two copies of the pass: the yellow one for her teacher, the pink one for her parent. The white one stayed with the nurse—or, in this case, Sweeney.
Whether that's in fact the succession of events from the school's perspective is not known beyond what's in that document: Sauvelpahkick said she could not discuss the case, as it appeared to be heading to litigation, and referred questions to the district office, where Kristy Gavin, the school board attorney, did address the issue.
"I have not been brought in on the facts with respect to the minutiae of that information, I don't know whether or not it's accurate," Gavin said of the referral slip. "I don't know who drafted the pink slip, I don't know whose handwriting anything is."
Canales, however, was livid on several counts, not least over the fact that she was not contacted at any point, even though she says the school should—and was required to—contact her to inform her of an injury to her child.
"I spoke with the principal," Canales said. "She told me that I should have had a call and that they are opening up a formal investigation and that she should not have done what she did." She was referring to Sweeney.
Gavin agrees that a call home should have been made. "They do make an attempt to contact the home, absolutely. Now, I'm not going to say they're always successful in contacting the home, they'll then try contacting the alternative—they'll attempt to reach someone," Gavin said. "I could not state why it would or wouldn't happen. It would depend on what the nature of the injury was. If somebody referred them down and the child said they were fine and they were sent back to the classroom, they may not make the phone call, they would send that slip back home to the parent. But it is protocol that a nurse will contact the parent when they have provided treatment."
In this case, treatment was provided. But the nature of the treatment also upset Canales: she says her child was told the glue looked "tacky," and that the glue was removed from the scar, causing the bleeding (and the eventual trip back to the emergency room), steps Canales says should never have been taken. Whether that's in fact what happened is unclear, but what is clear is that Linda got off the bus without the glue mending her forehead anymore. (Canales specified that when she took Linda to school the morning after she was initially treated for the wound, she brought to school staff the after-care directions she had been provided at the hospital.)
Gavin said not every school in the state has a nurse on staff. Rymfire does, but in this case she was off for the day, and it's not unusual for other support staff or faculty to care for a child in the absence of a school nurse. What would normally happen, Gavin said, is that a child with a medical issue would be referred down to the nurse's office, the nurse would "assess and evaluate the condition and determine whether or not it required further medical attention. Contact is made with the parent regarding the incident, either an administrator or the nurse will contact the parent, depending on the severity of the incident." If the child has to be taken to the hospital, an administrator accompanies that child and of course parents have been informed.
Even if it's a case of a headache and the child is given a Tylenol or something similar, a call is made to the parent.
But Gavin said there's more in play than just the injury to the child: Canales and Sweeney have had run-ins before. Calanes herself, Gavin said, "indicated that she'd had a run-in with this employee and that this was not the first time." When that happens, parents are asked to file formal complaints documenting what issues they may have had with an employee. No such complaint was filed previously or as a result of the incident involving the glue. But Canales said the afternoon of the incident, when she rushed to school to speak with staff, she was given the run-around.
The next day Canales kept Linda from school. She made two stops. She took her to the hospital again, where Linda received several stitches and was prescribed an antibiotic. Canales also went to Chiumento Selis Dwyer, the Palm Coast law firm, where she met with Ron Hertel and others. They took her case. By that Friday, Gavin had received the required six-month advance notice that Chiumento Selis Dwyer would be filing a lawsuit on behalf of Canales and her daughter.