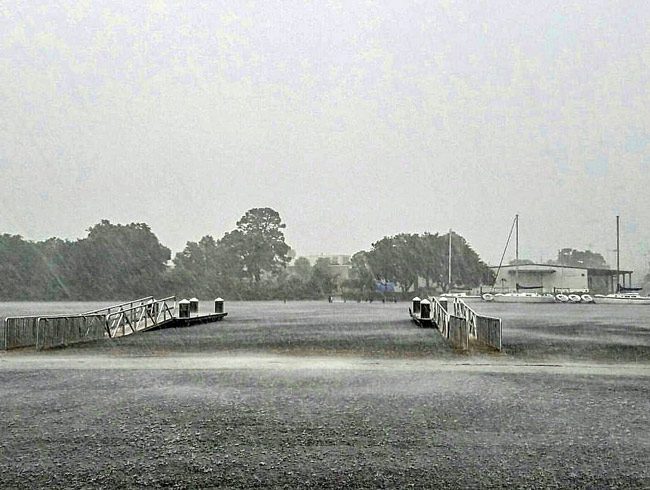 Last Updated: Friday, 12:54 p.m.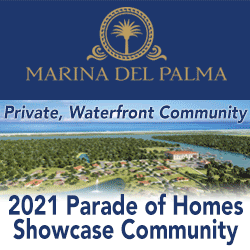 Friday Update: Hermine struck the coast of Florida as a Category 1 hurricane overnight in the Big bend area of St. Mark's, a small town on the Wakulla River, just south of Tallahassee. The storm had sustained winds of 80 mph. At around 1 a.m., gusts of up to 100mph were reported in Tallahassee, where at least 70,000 homes had lost power. By 10 a.m., a quarter million homes and businesses had lost power. One person was reported killed by a tree that fell on a tent in a homeless camp in Marion County: John Mayes, 56.
Flagler County was spared all but rain and some wind. The tropical storm warning in effect overnight was cancelled at 11 a.m. Feared tornadoes never spawned. As of noon today, there were no reported outages in the county, though Florida Power and Light had earlier been working on restoring power to some 140 customers locally. The closest remaining outages, and they are few, are in the St. Augustine area. There may still be strong wind gusts from time to time, and even a tornado warning, but Flagler County Emergency Services posted its last Hermine advisory in late morning, signaling an end to the emergency.
By noon Hermine was moving over southeastern Georgia, having weakened significantly since landfall but maintaining tropical-force winds. The fear is that the system could again pick up strength in two to three days and re-cecome a hurricane, according to the National Hurricane Center, which states that "Hermine is expected to remain a dangerous cyclone through five days."
Though schools were closed in Flagler as a precaution, courts and most government offices opened, and remain open for the rest of the day. The Tax Collector's Office and the Clerk of Courts are closed, however, and the property appraiser was weighing whether to close based on foot traffic, which had been very light this morning.
"Hermine was downgraded to a tropical storm, and it has largely moved past us now," Flagler County Public Safety Emergency Manager Steve Garten said in a release issued this morning. "We were very fortunate that the impacts to our area weren't worse."
Rainfall measured between one-half inch to just over an inch. One weather station lamp was damaged in Marineland where the strongest wind speeds of 52 mph were felt just before 6 a.m.
Flagler Schools Superintendent Jacob Oliva spent Friday morning assessing the school campuses around the county following Hurricane Hermine. "It appears the storm had minimal impact on our facilities" he said. "We understand the disruption caused by this hurricane on our families may not have been easy. We thank all of our Flagler Schools families, teachers, staff and administrators for their understanding as situations changed rapidly Thursday afternoon."
Zika-virus-wise, Here are simple things you can do to eliminate potential mosquito breeding sites around the home:
Get rid of tin cans, old tires, buckets, unused plastic swimming pools, or other containers that collect and hold water.
Clean debris from rain gutters, remove standing water from flat roofs, and repair leaks around faucets and air conditioners.
Change the water in birdbaths and wading pools at least once a week.
Fill or drain puddles, ditches and swampy areas.
Check for trapped water in plastic or canvas tarps used to cover boats or pools, and arrange the tarp to drain the water.
Here's the latest statewide update from the News Service of Florida:
More than 253,000 people across North and Central Florida lost power late Thursday and early Friday as Hurricane Hermine raced ashore, causing flooding and closing roads across the Gulf Coast before speeding into Georgia.
The eye of Hermine — since downgraded to a tropical storm — made landfall as a Category 1 hurricane about 1:30 a.m. near St. Marks in Wakulla County. Hermine was the first hurricane to directly hit Florida since 2005.
Power remained out Friday morning for about 99 percent of the residents in largely rural Wakulla County, which is south of Tallahassee. About 68 percent of Leon County, which includes Tallahassee, also was without power.
"Some of the state's hardest-hit areas were along the coast as you would expect," Gov. Rick Scott said during a media briefing Friday morning at the state Emergency Operations Center.
"There is a lot of work left to do following the storm," Scott also said. "We'll spend the coming days assessing the damage and responding to the needs of our communities and Florida families."
One fatality reported in Marion County, a homeless man reportedly hit by a tree, is believed to have been related to the storm, Scott said.
The state is also checking unconfirmed reports of tornado activity, Scott said.
State offices in 37 counties, along with 31 state parks across North and Central Florida, remained closed on Friday.
Public schools are closed in 35 counties.
There were no reported fuel supply issues, and the state's major interstates were open.
The Sunshine Skyway Bridge spanning Tampa Bay remained closed Friday morning.
Hermine caused a storm surge of nine feet in Taylor County and forced first responders across the region to deal with road closures, downed trees and downed power lines, Scott said.
"Do not travel on the roads until they are clear and safe to do so," Scott advised. "We expect to see a lot of downed traffic lights and road signs."
About 41 percent of Taylor County was without power Friday morning.
About 40 percent of Gadsden County was without power, followed by Hamilton County at 38 percent, Jefferson County at 34 percent and Madison County at 31 percent.
Power outages also were reported in Alachua, Franklin, Citrus, Lafayette and Levy counties.
Scott said the number of people without power should fluctuate through the next couple of days.
Bryan Koon, director of the Florida Division of Emergency Management, said it may take a couple of days to determine if the state will request federal assistance.
"We're not there yet," Koon said. "Once we get life-safety issues done this morning, we'll start working with the counties to get power back up, get the infrastructure stabilized, then we'll start into the damage assessment process."
Scott noted that the governor's mansion, where he stayed part of Thursday night, lost some trees.
The previous story is below this latest warning-cone representation of Hermine's trajectory: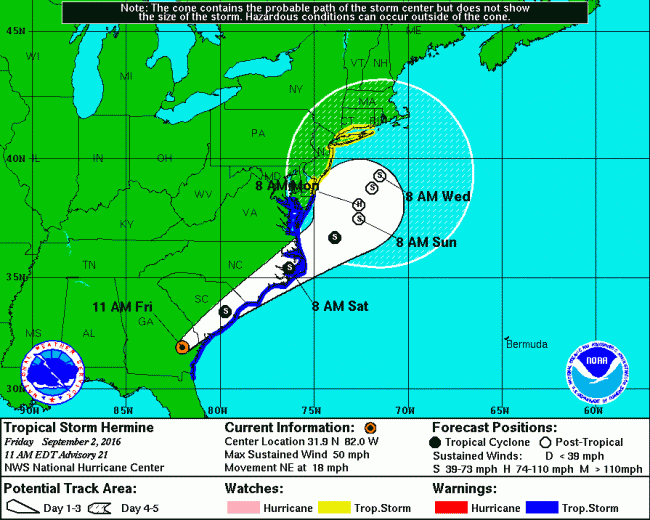 Florida Braces For 1st Hurricane Hit in 11 Years; Flagler Under Tropical Storm Warning
Evacuations have been ordered for several Gulf Coast communities and state parks across North and Central Florida as the Sunshine State braces for the likelihood of its first hit from a hurricane in more than a decade.
"This is life-threatening," Gov. Rick Scott said during a press conference Thursday following a midday update from the National Hurricane Center. "It's going to impact us from Tampa Bay all the way to Pensacola."
The situation in Flagler is not expected to be as broadly damaging, but it is serious: Flagler is now under tropical storm warning, a sharp upgrade from yesterday, when it had not been included in so much as a tropical storm watch. Flagler is also under tornado watch until at least 11 p.m. Schools will be closed across Flagler on Friday. A tropical storm warning means that sustained winds of 39 mph or more are in the forecast.
"The Threat from tornadoes will be the main concern," Flagler County Emergency Services cautions. "There will be a risk of tornadoes Thursday into Friday. Persons should monitor for warnings on Thursday and Friday. Have a plan of action should tornado warnings be issued. Wind gales and some tropical storm force winds are forecast to spread over the area during the late night hours and into Friday. Max winds expected are 40-45 mph, but there may be a few gusts much higher."
Rainfall amounts are forecast to be under 3 inches though some localized higher amounts are possible. Keep in mind any change of track to the east, will change this." Some power disruptions and minor wind damage may be possible. Localized short term flooding is also possible.
Scott has declared a state of emergency for 51 North and Central Florida counties, including Flagler, in preparation for Tropical Storm Hermine, which forecasters predict will reach hurricane strength before making landfall somewhere in the Big Bend or Nature Coast late Thursday or early Friday.
"This is going to happen today. It's going to make landfall after midnight," Scott said. "You still have time to prepare."
The National Hurricane Center reported midday Thursday that Hermine, with maximum sustained winds of 65 mph, was heading for the Gulf Coast in North Florida, bringing potential life-threatening storm surge and flooding rains.
"Additional strengthening is anticipated, and Hermine is expected to be a hurricane by the time landfall occurs," the center reported at 11 a.m.
A hurricane warning was in effect from the Suwannee River to Mexico Beach, with hurricane watches in place from the Anclote River near Tarpon Springs to the Suwannee River and from Mexico Beach to the Walton-Bay County line.
Tropical-storm warnings were in place from the Anclote River to the Suwannee River, from west of Mexico Beach to the Walton-Bay line and from Marineland on the Atlantic Coast to Surf City, N.C.
Residents have been ordered out of portions of Franklin, Wakulla, Taylor, Dixie and Levy counties.
Voluntary evacuation orders were issued in Walton, Jefferson and Gulf counties.
Florida Division of Emergency Management Director Bryan Koon said people ordered out of their homes or voluntarily seeking shelter "just need to get away from where the storm surge is."
Koon also expressed confidence that people will take warnings about the storm seriously, despite the state not getting directly hit by a hurricane since 2005.
"We have done a good deal of messaging over the last few days and we've seen a lot of cooperation from our broadcast partners, from the print media," Koon said. "So I'm confident at this point that everybody who is going to be impacted by the storm is at least aware of it and understands the things they need to be safe."
The state has 6,000 Florida National Guard members ready to deploy and has prepared other relief efforts for after the storm, Scott said.
Meanwhile, Scott ordered state offices to close at noon Thursday in 51 counties. No decision was made on opening the offices Friday.
The counties in Scott's order are: Alachua, Baker, Bay, Bradford, Brevard, Calhoun, Citrus, Clay, Columbia, Dixie, Duval, Escambia, Flagler, Franklin, Gadsden, Gilchrist, Gulf, Hamilton, Hernando, Hillsborough, Holmes, Jackson, Jefferson, Lafayette, Lake, Leon, Levy, Liberty, Madison, Manatee, Marion, Nassau, Okaloosa, Orange, Osceola, Pasco, Pinellas, Polk, Putnam, Santa Rosa, Sarasota, Seminole, St. Johns, Sumter, Suwannee, Taylor, Union, Volusia, Wakulla, Walton and Washington.
Also in Tallahassee, Florida State University and Florida A&M University canceled classes for Thursday and Friday. In addition, the Florida Supreme Court and the 1st District Court of Appeal closed at noon Thursday and will remain closed Friday.
–FlaglerLive and News Service of Florida