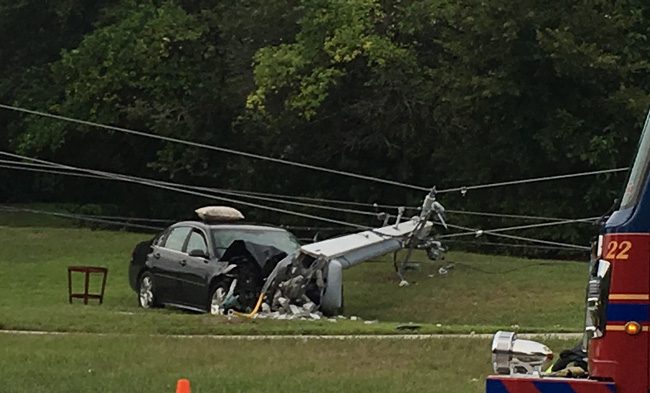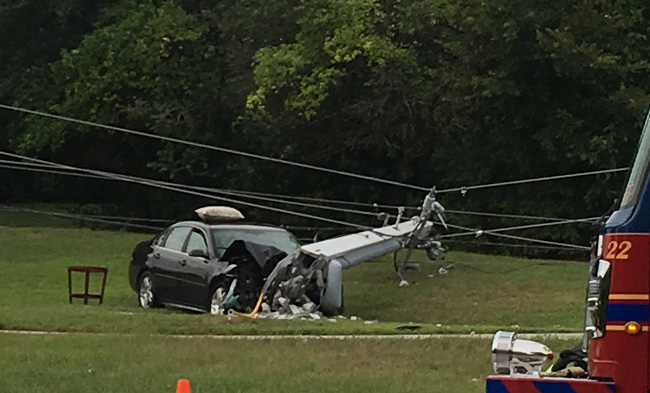 A driver was seriously hurt–and had to wait for rescuers to get to him until his car was "de-energized," as live electric lines were on top of it–and 200 customers lost power after a vehicle crash took down a utility pole at Kings Colony Court and Old Kings Road at 6:45 this evening.
Old Kings Road was shut down in both directions from Celico Way to Fleetwood Drive as rescuers first worked on extricating the man from the vehicle, then Florida Power and Light personnel started working on re-stringing power lines. That job may last "a couple of hours," Palm Coast Fire Chief Mike Beadle said.
Old Kings Road itself was re-opened to traffic by 7:45 p.m., but Kings Colony Court South was expected to remain closed until around 10:30 p.m. as power crews worked the lines.
The driver, Timothy Heitzman, 61, of Jacksonville, was traveling south on Old Kings Road when he inexplicably veered off into the grassy shoulder until he collided with a metal utility pole, a Florida Highway Patrol investigation stated. Beadle said the collision unearthed the utility pole's concrete padding. "The crews couldn't get to the car because it was energized, so they had to wait for FPL to get there to kill the grid," the fire chief said. "But they were talking to the guy the whole time." He was taken to Halifax hospital in Daytona Beach, by ground (Flagler County's Rescue 22 was the ambulance.)
The crash took down power in the neighborhood, but Palm Coast public works crews were at the scene within minutes restoring power to several traffic signals. "Kudos to our public works team, they came up and put up emergency generators at all the lights, to traffic lights were up within 20 minutes of the wreck," Beadle said.
The Palm Coast Fire Department's Engines 21 and 22 also responded, as did the Florida Highway Patrol, which is conducting the crash investigation, the sheriff's office, and the Palm Coast Fire Police, which is redirecting traffic.
Avoid the affected area if you can.