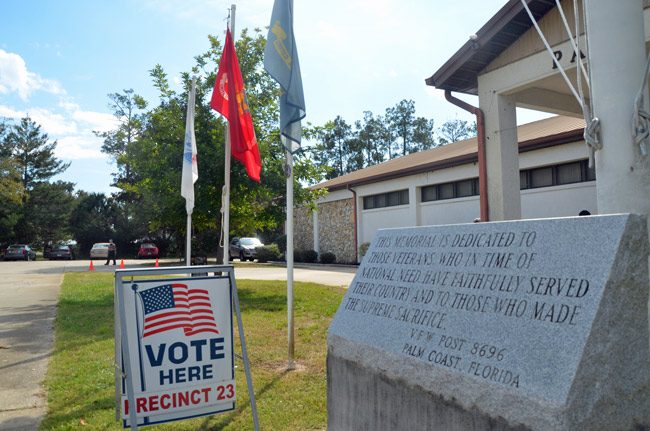 Last Updated: 2:45 p.m.
"There's a dearth of candidates here in the audience," Palm Coast Mayor Jon Netts wryly observed at the beginning of this morning's workshop of the Palm Coast City Council. He was pointing out an unfailing law of election seasons: people who've never shown an active interest in local government quickly metamorphose into expert critics when they become candidates, using the free-exposure platform of public meetings to make a name for themselves. But on Election Day, they vanish, never to reappear.
In today's case the candidates are putting in their last day of campaigning at various intersections and precincts, especially the precincts that draw the heaviest number of voters: the public library on Palm Coast Parkway, the Palm Coast Community Center, Grand Haven, Shepard Of The Coast Lutheran Church, the VFW Post on Old Kings Road North, Flagler Beach City Hall, Old Kings Elementary.
Polls opened at 7 a.m. They close at 7 p.m. statewide, except for the western part of the Florida Panhandle, where polls close an hour later. You can find your voting precinct here.
It is a primary, but every registered voter may cast a ballot in numerous races. For example, all registered voters, regardless of party affiliation or address, may cast a ballot in the races for Flagler County Supervisor of Elections, Flagler County School Board, for judges in four races, and for the proposed constitutional amendment No. 4, on solar energy devices.
And all voters registered in Palm Coast, regardless of address and party registration, may vote in three races for the Palm Coast City Council, including the race for mayor.
You can see a sample ballot here.
To call today Election Day is a misnomer: voting has been going on for two weeks. Today is really the final day of the election period. Early voting and voting by mail broke a local record: 14,357 voters in Flagler County had already cast their ballot by Saturday, representing 18 percent of the local registered electorate. That may sound impressive. But it also means that 82 percent of registered voters had not cast a ballot, which is not as flattering to the county's civic sense.
Primaries generally struggle to break past the 25 percent turnout mark. The 2014 primary drew a turnout of just 19 percent. It was an off-year election. But the 2012 primary was not much better: 25 percent turnout. Even the 2008 primary, supposedly bristling with the excitement of the Obama-Clinton showdown, drew just a 24 percent turnout. This year's early voting totals suggest that the turnout will be a little more honorable.
Registered Republicans by far outnumbered Democrats, but that's because there are only two strictly Democratic primary races on the ballot—that for sheriff, and that for the congressional seat that includes Flagler County (District 6).
The same Republican advantage prevails statewide: Republicans led Democrats with 567,772 mail-in ballots to 441,163, according to the News Service of Florida. No-party and minor-party voters accounted for another 149,306 mail-in ballots. An additional 1.18 million ballots were mailed out, but had not yet been returned as of early Monday, the data showed.
Republicans also led in early voting, which ended over the weekend, with 253,869 ballots cast to the Democrats' 243,983. No-party and minor party ballots accounted for another 40,604 early votes. Of the more than 1.69 million pre-election ballots cast through Monday, mail-in ballots accounted for 68 percent of the votes, with early voting accounting for 32 percent.
In Flagler County, the supervisor of elections is for the first time maintaining a real-time total of ballots cast on the supervisor's web page (you can see it here). As of 9:30 this morning, for example, 891 ballots had been cast—a relatively paltry total for Election Day. By close to 3 p.m., the tally had hobbled up to 3,700 ballots cast, still just a quarter of the number of mail-in and early-voting ballots. At this rate, clearly, the elections were decided in that early-voting phase.
We'll keep you updated throughout the day in so far as what can be kept updated, which is not much on Election Day: nothing happens before polls close, though as soon as the polls do close, the supervisor of elections will post the voting results generated by early voting and voting by mail. Because of the very high early voting turnout, those totals will be an immediate and strong indication, and in some case conclusive indication, of who will win.
That happens just after 7 p.m. Until then, go vote, and be sure to have proper identification. Any of the following forms of identification will do:
Florida driver license.
Florida identification card issued by the Department of Highway Safety and Motor Vehicles.
United States passport.
Debit or credit card.
Military identification.
Student identification.
Retirement center identification.
Neighborhood association identification.
Public assistance identification.
Veteran health identification card issued by the United States Department of Veterans Affairs.
A license to carry a concealed weapon or firearm issued pursuant to s. 790.06.
Employee identification card issued by any branch, department, agency, or entity of the Federal Government, the state, a county, or a municipality.