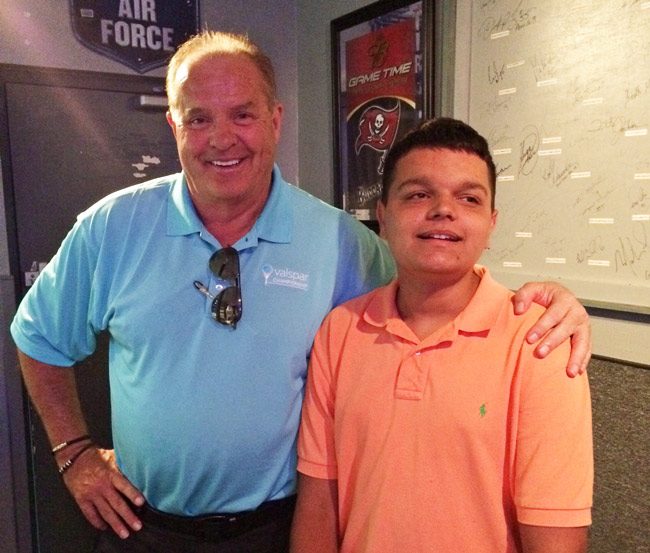 Trent Ferguson is 18 years old. He plays drums in a rock band with some friends from school. He's got his own podcast.  And he wants to be a professional sports broadcaster when he grows up.
None of this sounds different from thousands of other high school seniors in America right now. Except Trent is quite a bit different from all those other aspirants who can at least see a Norman Rockwell if it's pointed out to them. He's been completely blind since birth. He has never seen a thing, at least not the way most of us understand seeing. But he's about the most optimistic, chipper person you'll talk to, and his disability might as well be the spotter to his sense of humor.
During a recent interview he spoke of his band, "OuttaSight," and when asked how he'll get to his big radio gig Friday night at 7 p.m., calling the Flagler Palm Coast High School-Matanzas football game on WNZF 106.3 FM, he deadpanned: "I'll drive there, no problem."
"I've never in my life looked at being blind as a disability," the Sebring native said in a recent interview. "It's a challenge, and it's a unique one. I'm different because I can see things in a different light. I'm never going to let blindness get in the way of what I really want to do."
If blindness didn't stop Homer from conjuring the Illiad and the Odyssey, and didn't stop Bach from composing the grandest music, and didn't stop Erik Weihenmayer from climbing Everest or Peter White from reporting on the Beijing Olympics for the BBC, it surely couldn't stop someone like Trent from calling football games on the radio. It's not about seeing. It's about describing, using language to make listeners–who are really the blind ones–see, hear and feel the action on the gridiron.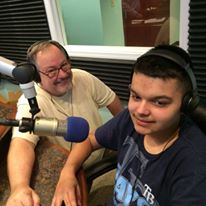 "Blind children, it has often been noted," wrote the late neurologist and author Oliver Sacks, who wrote seminal works on blindness that redefine the meaning of the word, "tend to be precocious verbally, and may develop such fluency in the verbal descriptions of faces and places as to leave others (and perhaps themselves) uncertain as to whether they are actually blind." He could have been describing Trent.
Trent is currently a senior at the Florida School for the Deaf and Blind in St. Augustine. He commutes four to five hours by bus from Sebring every Sunday night to spend a week at the boarding school, then returns home on Fridays.
This week though he's sticking around to call the season-opening football game, with Dr. Dave (West) on Flagler Broadcasting's WNZF. It's a first for Trent. And of course it's a first for WNZF or either schools and their decade rivalry.
"Hey, every radio listener is blind, too," West told FlaglerLive. "No, seriously, Trent is a terrific kid who knows sports as well as anybody, and he's going to be listening to me doing the game and periodically he'll comment on what I've said, and add his own insight. I think it's going to be a great listening experience for people. He's not your average blind guy."
---
An 18-year-old student illustrates the mind's eye for all to see.
---
Trent, a confident, well-spoken student who sounds at least 10 years older than he is, was born with optic nerve hypoplasia, which, according to the National Organization for Rare Disorders (NORD) is the under-development or absence of the optic nerve combined with possible brain and endocrine irregularities. It is also known as Septo-Optic Dysplasia or DeMorsier's Syndrome, and is only found in one of every 10,000 people.
Trent said ever since he can remember he'd listen to Tampa Bay Rays games on the radio. His love of sports came from his dad, Scott LaConey, and his grandpa. "When I was 6 I used to call the SiriusXM 60s on 6 channel and request songs," he recalled. "I just used to love listening to the DJ's and how great they sounded."
Trent's love of the Rays and his love of broadcasting has resulted in a longterm friendship with Enrique Eliu, the color analyst on Rays Spanish-language TV broadcasts who also is blind. Eliu also graduated from Florida School for the Deaf and Blind, and since 2011 has been mentoring Trent.
"I go to the games as often as I can, and I go up and sit with him for a few innings and practice calling games," Trent said. "He's a really nice guy and has helped me an awful lot."
Trent cites Rays TV announcers DeWayne Staats and Brian Anderson, and legendary Florida State football announcer Gene Deckerhoff as his favorite broadcasters. "Radio is the best way to experience sports, because they conjure up the pictures for you," Trent said. "I'm able to see exactly what they're talking about on the field."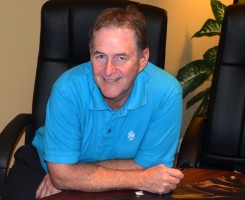 Trent's connection with Flagler Broadcasting began a little more than a year ago, when WNZF station owner Dave Ayers took a tour of Florida School for the Deaf and Blind and met many of the students.
"This kid comes up to me and starts talking about the formats of our stations, and what's on each one, and how this is good and all that, and he knew more about our stations than I did," Ayers said of Trent. "He was just a sports nut and a radio nut, and he impressed me so much."
Ayers eventually asked Trent to come and tour the Flagler Broadcasting studios, and last February 5 Trent co-hosted the Beach 105.5 morning show for a day.
Soon after, Flagler broadcasting personality  Rich Carroll pitched the idea of a weekly sports podcast to Trent, who happily accepted. The half-hour show, called OuttaSight Sports, is available for free on Soundcloud.com. The two discuss baseball, football and whatever else is going on in the world of sports through a Skype connection each week.
"He has this incredible knowledge of sports, and his passion shines through," Carroll said. "Sometimes you talk to kids and they say they like sports but they only know a little bit. Trent is the real deal."
Trent said he'd love to study broadcasting in college, and hopes to go to a community college for two years after graduation, before moving on to a four-year school. Hos growing profile should make him the envy of any admission office.
Neither Ayers nor Trent would say if Friday night's game would be just a one-time thing, or if Trent could come on and do other games. But Ayers said it's definitely "not a gimmick," and that he expected Trent to add a lot to the broadcast. "I think it's going to be fascinating to see how his preparation and knowledge translates to the game," Ayers said.
"If things go well, I'd love to do more games, and get whatever experience I can," Trent said. "I'm just really excited to get a chance to do this."
Oh, and one more fun detail to Friday night's game: Two of the radio broadcast's sponsors? Palm Coast businesses Eye-Style Optical and Blinds by Jason. Oliver Sacks will probably be watching and listening from somewhere. No eyes necessary.