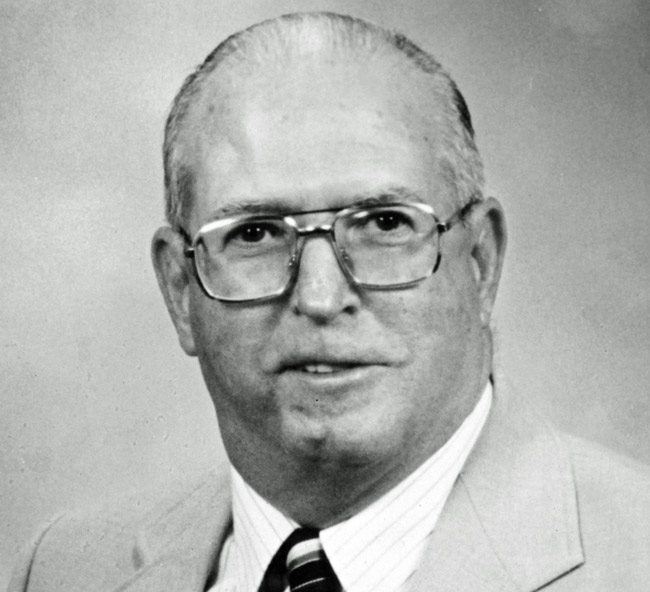 There will be a memorial gathering for friends to visit with the Al Jones family on Wednesday, August 24, from 5 to 7 p.m. in the chapel at Craig-Flagler Palms Funeral Home, 511 Old Kings Road S. Flagler Beach.  A memorial service celebrating Jones's life is scheduled for Aug. 25 at 2 p.m. at Christ Lutheran Church, 2323 N. State Street, Bunnell. Inurnment with full military honors will take place at a later date in Arlington National Cemetery. The family suggests in lieu of flowers memorial contributions to Christ Lutheran Church.


Perhaps the best thing that happened to Al Jones was losing his county commission seat in the 1992 election after one term: his political influence only grew since, as he the late Jim Holland started holding a monthly breakfast soon after the loss that over time became the essential stopping point for most of those hoping to be—or to remain—politicians.
Jones was a child of the Great Depression, a retired Army Colonel who served two tours of duty in Vietnam as part of a 30–year career in the military and was briefly a Republican Party Committeeman. He oversaw the transformation of the county's political structure from Democratic to overwhelmingly Republican in his quarter century at the head of what came to be known as the Breakfast Club.
Jones died Sunday evening after suffering a heart attack. He had attended his last monthly breakfast the morning before. He was 87.
"Al Jones was a true statesman," his friend and former county commissioner Jim O'Connell said this morning. "I have never heard him say negative things about people in either party—let me be careful—unless they deserved to have something nasty said about them. He was a true gentlemen. His breakfast that he ran since 1993 was one of the places where businessmen, current politicians, former politicians and hopeful politicians could sit and talk and discuss issues."
Partisanship was not part of the deal, and no one was ever turned away from joining the breakfast, which would often find rival candidates for the same office—was recently the case when all three candidates for supervisor of elections broke bread together—or members of the same government board sharing breakfast. "Al was a person who could bring people together," O'Connell said.
---
Possibly the most influential unelected politician of the last quarter century in Flagler County.
---
Of course, that could potentially raise sunshine-law issues: elected members of the same government are not barred from gathering socially or even talking politics together, but they're barred from discussing issues that may come before their government outside of their publicly noticed government meetings.
"So if there happened to be two county commissioners they typically didn't sit near one another," O'Connell said. "I originally got concerned about sunshine issues when I was in office." But much of the time the discussion steered clear of issues before particular governments, he said.
Jones's health caused him to miss many breakfasts toward the end of 2014, when the breakfasts ceased for a while. But O'Connell revived them, and as Jones got better, he started returning to the monthly ritual. The breakfasts had started at the old Pier Restaurant, before it became the Funky Pelican. When the restaurant closed for renovations into its latest incarnation, the breakfast moved to Bob Evans, then back on the Barrier Island, to the Island Grille, where it's held at 7 a.m. once a month, on Saturday
"I have never ever looked at who was an R and who was a D at that breakfast, I believe it's about 50 50," Jones said. "It's a good time to find out what somebody is about, what they think about the issues, to me it's a great fellowship breakfast."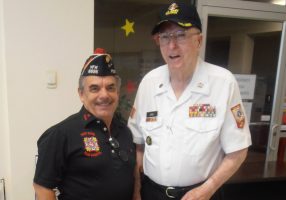 "Al was an inspiration," County Commissioner Charlie Ericksen wrote this morning in response to Palm Coast City Councilwoman Heidi Shipley's announcement on her Facebook page of Jones's death. "He talked to me about running for elected office, my first one against Jon Netts, was not good, but I did strike gold the next time. He was one of my favorite supporters." Ericksen noted how Jones would, despite his poor health, get up at each breakfast at acknowledge each person in attendance. "I will remember our final handshake on Saturday."
Jones had chaired the commission just before the 1992 election, when he faced George Hanns, the Democrat who won that race and hasn't relinquished the seat since. Hanns said he'd been groomed to run for the commission by Jones, who was responsible for appointing hanns to the Palm Coast Service District. Hanns was supposed to run in another district—for the seat held by Merrill Shoemaker. But 1992 would be the first election after a redistricting. And redistricting had plunked Hanns in Jones's district. After Hanns won, Hanns said Jones would often say: "I taught George all he knew and he cleaned my clock."
A few days ago, immediately after Hanns's companion of 23 years died, Jones called Hanns and left a message on his answering machine, offering his sympathies and condolences.
"We've always had a good rapport, he's a very, very proud and dedicated Republican," Hanns said. "We've always been good friends. Politics never entered into our conversations. He's a remarkable man. I was so taken aback when I actually beat him, and I was very apologetic to him." (Jones was not as apologetic when he supported Hanns's opponent, Herb Whitaker, four years ago.)
Albert Paul Jones was born on April 27, 1929, in Georgetown, S.C. He joined the Army after four years in the Merchant Marine. He served for the Defense Intelligence Agency in the thick of the Cold War, earning the Defense Superior Service Medal, four awards of the Legion of Merit, the Bronze Star, the Meritorius Service Medal, and the Army General Staff Badge along the way. He moved to Palm Coast with his family in 1982, where he joined the Kiwanis Club and was the Kiwanian of the Year in 2015.
"I first met Al many, many years ago," Colleen Conklin, the school board member, wrote. "He was the past president of the Flagler County Republicans when I first ran for the school board." That was in 2000. "He held a brown bag lunch and met the candidates for school board members. I showed up with my brown bag to share why I was running. The only problem was I was a democrat. I had no idea it was for Republicans only. Al was kind and gracious and invited me to stay. We hit it off and became friends from that moment on." Conklin would go on to attend many a breakfast with Jones. "Whenever I saw Al it was as if I'd seen him the day before. I had tremendous respect and admiration for this wonderful and gentle soul."
Milissa Holland, Jim Holland's daughter, who served with Hanns on the county commission and is now running for Palm Coast City Council (to be the mayor), wrote: "Al became a great resource to me when I decided to run for County Commission. He was a quiet soul but his words were impactful. I will never forget our monthly discussions over many cups of coffee at Perkins. He was Statesman in the truest sense of the word. I am certain the original breakfast bunch including my father and Jerry Full are enjoying their conversations again!"
The fellowship breakfasts, as O'Connell calls them, will continue: he says he intends to make sure of that.