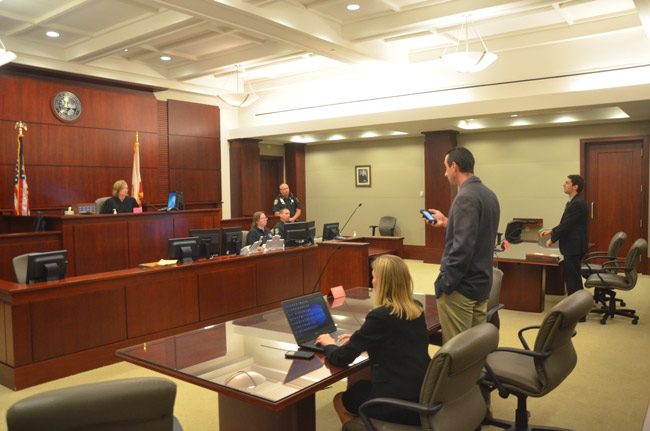 Like the context surrounding the ex-Flagler County Supervisor of Elections herself since she resigned from office almost two years ago–she's largely stayed out of public view and controversies have stopped shadowing her–the case of Florida v. Kimberle Weeks is losing its edge as spectacle. It's being replaced by the slow grind of legal maneuvering, of motions made, dismissed or upheld here and there, with three of the 12 felony counts against Weeks dismissed so far, and the scheduling of a further hearing to hear further motions potentially dismissing further counts.
Today, the third lawyer to represent Weeks in the case, Dean Bartzokis, told Circuit Judge Margaret Hudson in a 10-minute hearing that he needed more time to prepare a motion that will seek potentially to dismiss the entire case. The motion may be filed next week. Hudson wanted to know whether it would apply to all nine remaining counts against Weeks.
"It may be all of the other counts," Bartzokis said. "That's still something we're trying to figure out based on the case law and the legal memorandums."
It's not clear why the motion to dismiss wasn't submitted earlier, or concurrently with previous motions to dismiss certain counts, though maneuvering of the sort is not unusual in civil cases.
Weeks was indicted on 12 third-degree felonies, alleging that she illegally recorded and disseminated several conversations with individuals who were not aware she was recording them. Most were public officials. The judge dismissed three of the counts  after the defense successfully argued that the recording Weeks revealed at a public meeting could not then be the source of three counts against her just because she emailed the same recording to three different people, two of them members of local media.
At the time Weeks was defended by Joerg Jaeger. He died in June. Bartzokis is a member of the same law firm and had worked on the case with Jaeger. Weeks herself was not in court today, nor were her usual acolytes—Dennis McDonald and John Ruffalo, members of the now-defunct Ronald Reagan Republican Assemblies of Flagler County.  County Attorney Al Hadeed, Weeks's bête noire during her six-year tenure as supervisor, was in court with two assistants: he and County Commissioner Charlie Ericksen were among those Weeks recorded.
So for now the case will drag on at least to November 18 at 2:30 p.m., the next pre-trial date at which Hudson will hear the motion to dismiss. She could take the arguments under advisement then and render a decision weeks or months later. She could render a decision that day. If she finds against the defense, or dismisses some counts and not others, as she did earlier this year, then, she said, she expects the lawyers on both sides to be ready for trial in the middle of 2017.
Even by the November pre-trial, just before Thanksgiving but almost two weeks after Election Day, it's possible that all four of the five commissioners Weeks tangled with as supervisor—Barbara Revels, George Hanns, Ericksen and Frank Meeker—will have been replaced: Meeker died last month, and the other three all face difficult re-election campaigns in a year of uncertainties for incumbents. But political turnover does not affect the progression of a case.