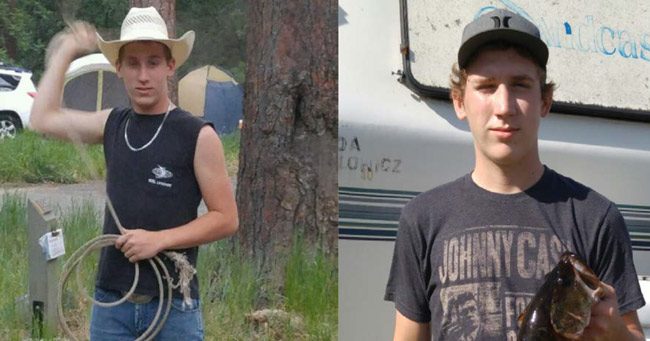 Update: The sheriff's office reported that Queen was found on Aug. 17 and safely returned to his family.
Coby Allan Queen is a 16-year-old resident of 4 Smith Trail in Palm Coast's Seminole Woods. His mother, Laurie Stone, last saw him on Aug. 9. That afternoon she reported him missing to the Flagler County Sheriff's Office. He hasn't been seen since, although his backpack and his bicycle were found under the Flagler Beach pier.
Stone told a deputy that she had left home the morning of Aug. 9 for work, when Queen was still asleep. When she got home at 3:30 p.m., Queen was gone. His 9-year-old sister had told her mother that Queen had left the house at about 1 p.m. on his bicycle. He's been known to hang out with his friends at various locations around Flagler County, according to the sheriff's office's incident report, including the Flagler Beach pier, Town center in Palm Coast and the McDonald's in the Target shopping center in Palm Coast.
When a Flagler Beach police officer scoured the area along A1A near the pier, the backpack and the bike were found, but not Queen. Deputies and police officers found some of his friends, who said they'd seen Queen with Josh LeMaster at about 6 p.m. that evening in Flagler Beach.
LeMaster, 21, of 320 Wellington Drive in palm Coast, has a somewhat lengthy arrest record in Flagler County–his last arrest was on June 7, on a charge of dealing in stolen property–and was associated with another local runaway case last year. LeMaster's charges have also included burglary, carrying a concealed weapon, probation violation, shoplifting, and driving an unregistered vehicle.
Queen was entered into the Missing and Endangered Person's Information Clearinghouse database.
Stone, at the time the report was taken–and after finding out that Queen may have been in the company of LeMaster–told deputies that she "has no reason to
believe Coby is in any danger," according to the incident report. But Stone's more recent attempts to locate her son have been more urgent and alarmed. She disseminated information about the case on Facebook in the last 24 hours and distributed a flier to local media with images of her son.
"He did run away and we believe he is in very very bad company or in the woods trying to survive [on] his own if they gave up on him," Stone wrote in a text in response to an inquiry about Queen from someone in the Seminole Woods Facebook group. She was referring to the sheriff's office not pursuing the case. "He has to surface somewhere so I was hoping that by putting this out there someone will see him."
In the flier distributed today, Stone urged: "If you see him, please do not try to talk to him and immediately call 386-313-4911 for Flagler County (case #16-71793) and 386-248-1777 for Volusia County." The phone numbers connect to the two counties' sheriff's offices. "Please help, my heart is aching," she added.