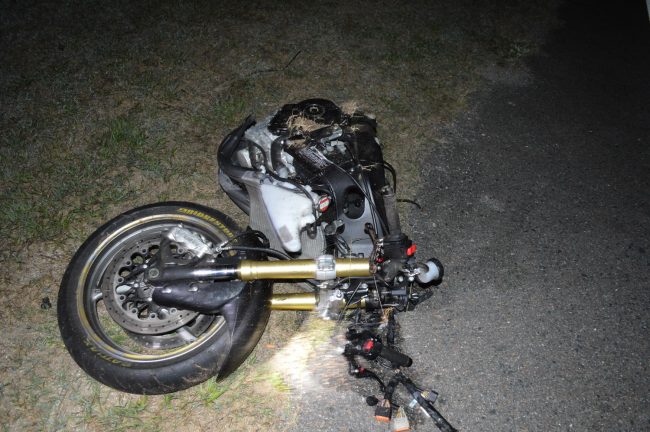 Nick Nelson, 28, had finished his shift at Captain's BBQ at Bing's Landing in the Hammock at about 9:45 Saturday night. What happened between then and 3 a.m. is not known.
But at 3 a.m., he was riding his motorcycle–a 2011 Suzuki 750–north on State Road A1A, "at a high rate of speed," according to the Florida Highway Patrol sergeant who investigated the crash. Four-tenth of a miles south of the gated entrance to Island Estates, Nelson approached an S-curve in the road–and failed to negotiate it.
Nelson went off the road, appears to have tried to curve back onto A1A, but instead rolled the motorcycle, sending it against a metal fence and a thick stone fence-post that "cut the motorcycle right in half." The two halves of the motorcycle were catapulted in opposite directions, the investigator said. Nelson was killed at the scene.
The Florida Highway Patrol report on the crash notes that he wasn't wearing a helmet, but that may not have been the case: the victim's mother told the investigator he always wore a helmet. The helmet may not have been fastened properly, the investigator said.
Flagler County Fire Rescue was at the scene. Roger's Towing cleared the wreckage.
Nelson was particularly fond of motorcycle, featuring his Suzuki as his cover photo top his Facebook page again and again. His latest showed the black Suzuki parked by the dunes in Flagler Beach, with the ocean and A1A in the background.
"It is with heavy hearts that we post this," Captain's BBQ's Facebook page posted in early afternoon. "Our Captains BBQ family and the Nelson family has suffered a great lost today. Our beloved team member Nick Nelson was taken too soon in a tragic accident. Our thoughts and prays go out to his family in this trying time. He will be missed."