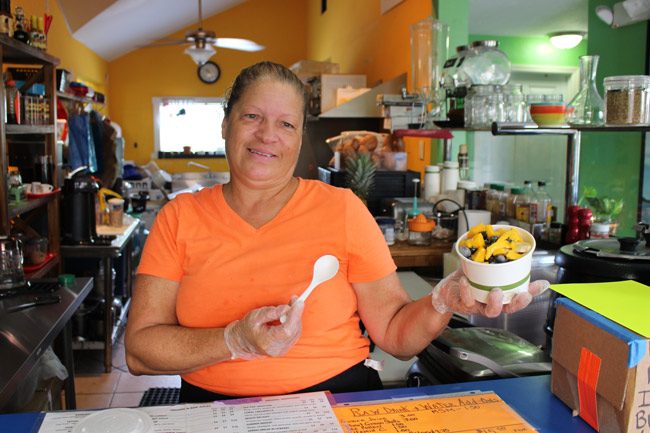 Back to Eden Café in Flagler Beach, the organic, vegan, vegetarian, and raw living foods restaurant, has re-opened, manager Maria Serrano said. The restaurant is open for lunch and dinners downtown at at 210 S. Central Ave.
"We've had some challenges getting reopened, but we are happy to now be open serving customers following two months of being closed," Serrano said. "We've been receiving great feedback on our fresh, organic menu items since we've reopened."
besides its specialties, Back to Eden Café also offers gluten free menu items, salads, sandwiches, soups, wraps, fresh fruit, a raw smoothie bar, organic coffee, and organic, raw and wheatgrass juice drinks. The restaurant also offers dairy and sugar free items. Some sample menu items include vegan Cuban sandwiches, hummus veggie wraps, Krab Kake sandwiches, kale avocado salad, spinach salad, as well as 'non-guilt' desserts made with plants, nuts and seeds. They offer a children's menu and catering ranging from small drop off breakfasts, to large formal, plated events.
The café origonally opened in 2013. It seats approximately 22 inside and outside. It can be reserved for parties, meetings, concerts and more. It is owned by David Hostetter, a former Flagler Beach resident and former Navy Seal, who now lives in North Carolina. The restaurant is open Monday, Wednesday and Thursday, 8 a.m. to 5 p.m., Tuesday Friday and Saturday from 8 a.m. to 7 p.m. Call 386/693-4930, or visit on Facebook at https://www.facebook.com/backtoedencafe/.