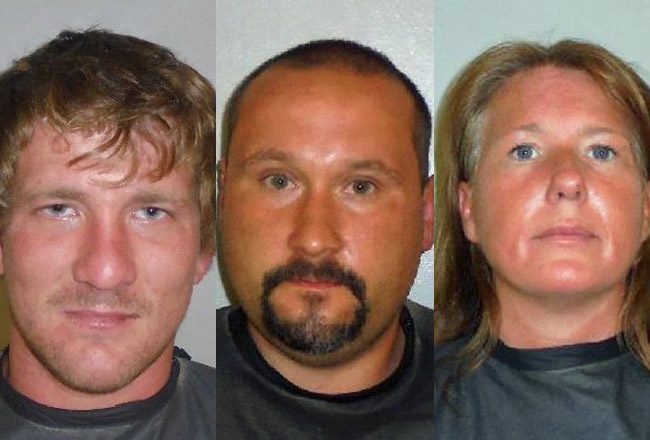 Two separate incidents triggered by domestic violence calls resulted in the arrests of three Palm Coast residents and assaults on five different deputies, four of whom sustained minor injuries.
Sunday afternoon a confrontation broke out between roommates at 112 Karas Trail in Palm Coast. According to his arrest report, John M. Kodak, 32, kicked in the door to the bedroom that Mauricio Forero, 24, and Ashley Rosado, 22, share and allegedly started beating up Forero. Rosado called police. A more serious confrontation followed.
Several deputies responded to the call, including deputies Paula Priester and Chris Santoianni. When deputies arrived at the house, they were confronted at the door by Jennifer Caufield, 40, who asked why deputies were there. As one deputy spoke with her, Kodak came out of the house. Priester made contact with him. Kodak continued to approach Priester, prompting her to caution him to stand back several times. Another deputy kept Caufield separated from Kodak, a normal method in domestic situation, enabling deputies to speak with people involved in the situation independently, so they can establish who, if anyone might be the primary aggressor.
As the deputy was trying to separate Caufield from Kodak, she tried to get to Kodak anyway. Ordered to stay away from him, she ran into the house, which raised another concern for deputies: in the initial call to 911, they'd been told that there were weapons in the house. Caufield had tried to slam the front door, according to a police report, but a deputy blocked the door with his foot, preventing it from closing, and followed Caufield inside.
Once inside the deputy was confronted with the other occupants of the house. As he asked everyone to sit down, Caufield ran out again, and the deputy started hearing loud commands by a sergeant outside, who was repeating: "Stop resisting." That's the tell-tale sign that deputies are trying to get control of an individual, and that the individual is not cooperating. In fact, Priester, Santoiani and Sgt. Neat were on the ground, with Kodak, trying to get Kodak's hands behind his back to handcuff him. The reason: he'd started getting agitated, and deputies felt they had to handcuff him for their safety.
By then, according to Kodak's arrest report, he had slammed Priester against the wall as Kodak "used his body weight to push against her actions," and Caufield had jumped on Santoianni's back to try to get him away from Caufield. Santoianni was not hurt. But Priester sustained an abrasion on her right forearm. A Flagler County Fire Rescue unit responded to the scene and evaluated all involved, including Kodak and Caufield, who had not been injured. None required transport to a hospital.
But both Kodak and Caufield were transported to the county jail and booked there, caufield on a charge of battery on a law enforcement officer, a felony, and Kodak on charges of battery on a law enforcement officer, domestic violence battery and resisting arrest with violence. They bonded out.
That was not the end of that evening as far as battery on deputies.
A few hours later, deputies had responded to a house on Prospect Lane in Palm Coast where the wife of Randy Blyth, 23, told deputies that he had been drinking heavily and had twice almost fallen on their newborn child. She had tried to calm him down, and told him that she would leave for a few days because of his behavior. Blyth, in his wife's account, "balled a fist and threatened to kill her and to beat her to death," according to his arrest report. His wife, who is 17, "remained calm because she was holding and feeding their newborn child." Blyth reached for her hair but grabbed her neck instead, leaving a visible scratch, according to the report, and threw her phone against the wall as she tried to call 911.
As a deputy was speaking with the alleged victim, other deputies–Frank Barbagallo and William Cochran–were speaking with Blyth, whose intoxication had not abated. He balled a fist as deputies spoke to him, according to the arrest report, and denied there'd been any physical confrontation with his wife.
Then came the alleged confrontation with the deputies: Blyth, according to the police report, started walking away from the deputies, was instructed to stop, and kept going. Barbagallo tried to stop him as Blyth was walking directly toward him. Blyth pulled away and gave Barbagallo "an elbow strike to his chest," according to his arrest report. Cochran and a third deputy intervened, but Blyth allegedly pushed one to the ground and gave the other an elbow strike to the right side of his head, near his ear. As yet another deputy arrived, the struggle continued until Blyth was forced to the ground. But Blyth then allegedly tried to bite Cochran before he was finally secured.
It took another struggle to get Blyth into the patrol car.
Cochran suffered some dizziness after being struck and was temporarily removed from duty. Deputy Jesse Kocorowki sustained an injury to his left knee. Deputy James Gore sustained a scratch to his right wrist. Blyth's ride to the county jail was uneventful. He was charged with battery on a law enforcement officer domestic violence assault, and resisting arrest, among five charges. He remained in jail Wednesday evening.