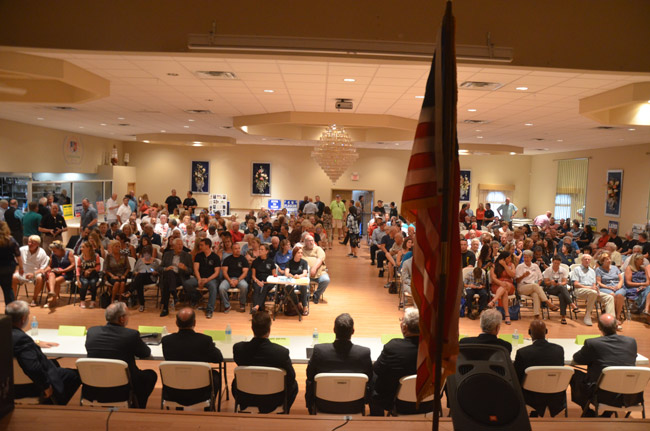 All nine candidates for Flagler County Sheriff gathered Wednesday evening for what appears to be the only forum that will feature them all at the same table before the Aug. 30 primary. The forum drew some 200 people, at least a third of them friends, family and partisans of the candidates, at the Portuguese-American Club in Palm Coast.
It was hosted by the emerging coalition of the county's six public-sector unions, the United Public Employees of Flagler County, whose clout candidates are learning not to ignore: the coalition, representing 2,000 members and upwards of twice that number in union family members who vote, is endorsing local candidates as a bloc and in mutual support. So teachers, firefighters and others will support the choice of the cops' union for sheriff, cops, firefighters and other employees will support the teachers' choice for school board, and so on. It's the first time that Flagler County's unions have combined forces—or, for that matter, hosted forums. They have not yet made their choice for sheriff: Wedenesday's forum was to be key in that decision.
A previous forum hosted by the Young Republicans Club of Flagler County featured six of the nine candidates—the Republicans only. Without much excitement or surprises, the forum served as a solid introduction to many candidates most voters had never heard of, campaign signs and club memberships aside–John Lamb, Jerry O'Gara,  Mark Whisenant and Chris Yates. None was a county resident when Fleming was first elected in 2004, let alone Manfre in 2000. Fleming was there too, as was Rick Staly, Manfre's former undersheriff. The forum served to define many of the candidates' basic positions and themes, which won't be repeated here. It also strongly suggested that while the race has drawn a large number of candidates because of Manfre's perceived vulnerabilities, not to mention the $126,000 salary, Fleming, Staly and Lamb are in the front-running half.
Wednesday's forum in contrast included the two Democrats (incumbent Sheriff Jim Manfre and Larry Jones, the long-time sergeant at the sheriff's office until his retirement in 2014) and a self-funded independent, Thomas Dougherty, whose name until then drew quizzical looks even from followers of the local political scene, if it drew any reaction at all.
If O'Gara had been the previous forum's testier oddball (he opened with a joking salvo declaring himself "not a cop" then went on to glory in his days as a "warden" on Rikers Island, New York's jail complex long dominated by corruption, violence and "barbaric abuses," in the words of the New York Times) he was displaced in that regard by Dougherty on Wednesday. The former New York City cop and current substitute teacher in Flagler schools spoke of the need of better "communication" and education at the sheriff's office, but never got much past that. When asked about a perceived shortage of deputies locally, he said: "How about calling the governor?" Then he said he'd go to the governor's house if he had to. (O'Gara this time was more disciplined and controlled, and, changing tunes, was at pains to describe himself as a cop with arresting and investigative powers in his day.)
The evening gave eight of the nine candidates their only opportunity to directly attack Manfre, as all of them more or less did, though two with more personal venom than second-hand generalities: Don Fleming, the former sheriff and nemesis to Manfre since 2004, and Rick Staly, who'd been Manfre's undersheriff for two years. Veiled and rare barbs between the Republican candidates aside, almost the totality of the criticism was directed at Manfre. The criticism was recurring, varied and at times angry. the sheriff's position at the extremity of the narrow table arrangement proved aptly, at times poignantly, symbolic.
Manfre sat through the 100-minute forum his hands folded in front of him, mostly staring ahead, his lips pursed, while also managing to answer charge after charge with a trove of accomplishments: a new jail, a new operations center (both were built by the county but not without the sheriff's advice and consent), accreditation, the first substantial raises for deputies since Fleming's 33 percent increase over three years at the height of the housing boom 10 years ago, more attention on the mental health needs of suspects, the lowest crime rate in years (and one substantially lower than during the Fleming years), and so on.
Manfre does have the sort of record that, for any other sheriff, would usually lead to easy re-election and token opposition, if that. But both forums this month showed to what extent two issues have gravely damaged the Manfre administration: his firings, demotions and transfers of a long roster of veterans the day he took office gave the impression he'd come prepared with a hit list before even speaking with employees. That badly soured his image in the department from the start. And his subsequent protracted two-year battle with ethics charges–brought against him, not surprisingly, by one of the long-time employees he pushed out–projected the image of a man above the law (Manfre says he wasn't above the law but that, much evidence to the contrary, he'd been wronged). Manfre fought the charges until last month, amplifying and prolonging a relatively small issue into one of the defining shambles of his tenure.
All other accomplishments, and there have unquestionably been many, have paled in comparison to those issues, which his opponents have pounced on at every opportunity.
They did so Wednesday. Three recurring criticisms were low morale, huge turnover—though candidates conceded that better pay elsewhere is a big factor—and the ruin of many cops' lives and families after losing their job. One of those long-time cops, then and now a Fleming supporter, was in the audience: she lost her boat, her house, her marriage and her retirement savings after her firing, and is now a cop at half her previous wage in St. Johns County.
When Manfre cast Staly in the role of co-pilot during the purges, Staly fired back that he'd not been part of Manfre's transition team, was handed a list and told to get to work, essentially as the hatchet man, though he did not know the people whose jobs were affected. Still, he stayed two years on the job. One of a series of pointed questions directed at individual candidates targeted Staly's tenure alongside Manfre, Staly's most serious vulnerability as a candidate: if it had been so bad, why stay? Staly answered that he almost left after nine months, but pledged to two fellow-employees that he'd stay to be a "buffer" between them and Manfre. "That's exactly what I did for the next 13 months or so," he said. Staly would underscore the contrast between his career and Manfre's, describing himself in the words the Palm Coast Observer had ascribed him, as "a cop's cop," one who'd been shot in the line of duty and been decorated for it, who'd spent almost his whole career as a cop (or building a multi-million dollar private security company in Flagler) and who still made arrests as an undersheriff.
---
Dueling between Manfre, Fleming and Staly sharpened a contrast between administrations of the past and possibilities of the future.
---
Manfre–a former prosecutor–also stayed on the attack, saying that most of the terminations took place during Staly's tenure, and that "a cloud lifted" from the agency when Staly left. "You demean employees, you intimidate them, you also undermine people that you've worked for," Manfre said.
The last was a reference to Staly running for sheriff against his former boss in Orange County, where he'd held a similar position to the one he held under Manfre. Staly replied: "If what Mr. Manfre says is true, then why did the former sheriff give me a glowing recommendation when I retired?"
Then there was the criticism directed at Manfre from Fleming, whose tenure Manfre had described as more affected by crime than his. That prompted one of three pledges—if not threats—from Fleming to "look at your statistics pretty heavy," an incendiary intimation that Manfre is cooking the books by downplaying crime or reclassifying crimes to lesser categories. Earlier, he'd said: "I'd like to take a look at the way you do your numbers," and had threatened to get the Florida Department of Law Enforcement involved.
The eight challengers addressed a question about how each would handle their long-term staff upon taking office—a direct allusion to Manfre's firings and demotions on Day One. They all spoke of how they'd strive to protect their employees, or at most reassign them, rather than fire them. Manfre for his part described a department where, "when I walked in the door, people did not want to show up, the former sheriff did not show up," leading to the personnel overhaul. (Fleming did not ask for 30 seconds to respond to that one, but he'd earlier made the unusual promise that he would hire back some of his former staff, though candidates are barred from promising jobs, at least not in return for political support: "Am I going to bring back somebody? You bet I am," he said.)
Under forum rules any individual who was personally attacked got 30 seconds to respond, out of turn from the normal question-and-answer round. Naturally, the dueling between Manfre, Fleming and Staly provoked flurries of 30-second responses, to the point of drawing groans from an audience that became restless at the intramural spectacle.
The dueling also provoked one of the more telling lines of the night, from John Lamb, when he said that the back and forth was reason enough for a change. Lamb repeatedly drew from his experience in Jacksonville, where he's spent 23 years at the sheriff's office, to promise a professionally run department with a focus on career and leadership development to ensure better retention of employees, among other pledges . "Four reasons why people leave an agency," he said, displaying the characteristic style of an instructor that framed much of his presentations, complete with verbal footnotes. "First, they're not treated with dignity and respect. This is the Gallup poll. Second, they're not listened to. Third, they're not given more work or more responsibility [when they show competence for either], and fourth they don't feel like they have an impact in the agency to make a positive change. Ladies and gentlemen these first four things do not cost anything. That's Leadership 101." Leadership is where he comes in, he said. (An audience member would later say that he came on too strong, an observation illustrated by Lamb's decision, in his closing statement, to stand up from among the nine and boomingly address the audience, starting with a quote from the Gospel of Matthew and flourishing his speech with jabs at the air.)
But Lamb—like O'Gara, Chris Yates, and Mark Whisenant, and unlike Staly or Fleming—had the advantage all evening of making statements without having the burden of a verifiable record at the questioner's fingertips, or the sort of local history, rich in headlines and accompanying articles, that muddy more local candidates' records. (The moderator was radio host Marc Bernier, who read the questions prepared by members of the Police Benevolent Association. There were no follow-ups to questions.)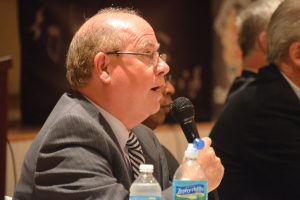 The newer candidates' illusion of a clean slate was not necessarily a benefit. Lamb—in contrast, say, with Staly—spoke more theoretically about enacting certain methods and procedures locally. Staly also spoke of leadership and a long track record supervising up to 2,000 employees (in Orange County), but could more specifically also speak of meeting with individual employees in Flagler, splitting the county into three districts, addressing quality of life issues and domestic violence (the most persistent problem locally), and "creating a good working environment." Fleming could—and did—return to his years as sheriff as a record "that speaks for itself," though he did not add much to that record in terms of a fresher vision for 2017 and beyond.
Whisenant, a member of the Coast Guard Reserve, made a lot of loud and dogmatic vows that this or that crime won't be tolerated in Flagler, and that he would "interdict" drug-runners and their cash up and down I-95 (a reference to the increasingly discredited, at times illegal and often bullying method of police agencies to seize and forfeit suspects' assets, whether the suspects have been found guilty or not). But as was the case in the first forum, he steered clear of local issues, sticking to abstract talking points.
The disappointment of the evening was Jones, the popular veteran of the Flagler Sheriff's Office whose joining the race—against Manfre in the Democratic primary—drew a groundswell of support and enthusiasm. The more immediate Manfre-Jones Democratic primary was eclipsed by Manfre's battle with his Republican rivals, even though he's not made it that far yet. Jones only occasionally joined in the attacks, and less directly than the Republicans. But he made little impact during the forum, particularly when asked about his command experience, of which he has very little. He noted how Manfre had favored him to be Bunnell's interim police chief in 2001, when the city was having issues with its department—an endorsement that Jones said showed confidence in his command abilities. "It shows that I could take responsibility," he said. What he did not say is that he never got that chance, because Bunnell's city commission, then unapologetically bigoted, rejected him because it did not want a black chief commanding a white force. (Bunnell subsequently evolved, and several years later appointed a black chief.)
Jones spoke a lot about the importance of raising morale, and about his uniqueness as a Flagler County candidate with the deepest roots locally. But he seemed to have neither program nor vision as to how and why he wants to lead the sheriff's office. He spent much of Wednesday evening ducking from the dueling between Manfre and others.
When it was over, some of the Republican candidates briefly mingled and shook hands with each other: they couldn't make their way past the table without bumping into each other. Manfre got up and walked away from the table without looking back.