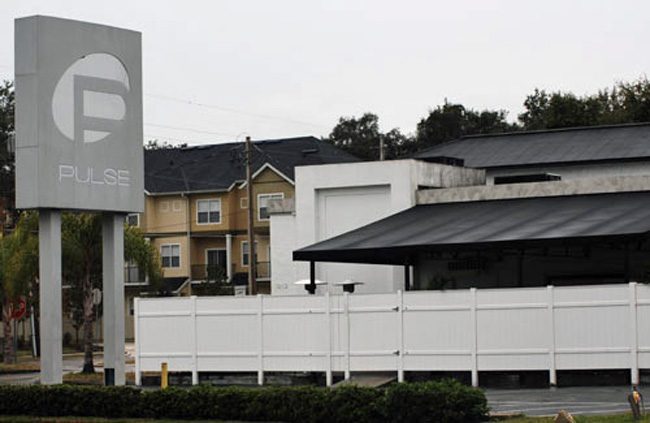 Last Updated: 3:21 p.m.
Note: scroll below to watch President Obama's full statement.
In the deadliest mass shooting in memory–and the worst act of terrorism on U.S. soil since 9/11–, 50 people have been killed, 53 wounded by a lone gunman at Pulse Orlando, a gay nightclub on South Orange Avenue, starting at 2 o'clock this morning. Orlando has declared a state of emergency.
"This was an act of terror, and an act of hate," President Obama said just after 2 p.m. "This could have been any one of our communities."
The shooter had an AR-15 type assault rifle, a handgun and possibly a "suspicious" device, according to the sheriff. The suspicious device possibility was later discarded, as officials said all the murders were conducted with the assault weapon and the handgun. Police say the assailant was not from Orlando. The shooter held some people hostage before he was killed by police. The club, in a statement, said it was at capacity, with some 300 people, when the attack broke out.
"Everyone get out of pulse and keep running," a message on Pulse's Facebook page stated shortly after the attack began.
In an early-morning news conference, Orange County Sheriff Jerry Demings called the shooting a "domestic act of terrorism." An FBI official said the gunman may have had "leanings" toward Islamist extremism. "We do have suggestions that that individual may have leanings towards that, that particular ideology," the FBI's Agent Ronald Hopper of the agency's Tampa division said at the first news conference. "But right now we can't say definitively, so we're still running everything around."
By the 10:30 news conference, police were saying that they could not yet determine whether it was an act of terrorism or a hate crime. And by 1 p.m., reports based on alleged interviews with the shooter's family in Port St. Lucie were connecting the attack to a hate crime–that the shooter was motivated by hate for gay people, which may explain why he traveled the 100-mile distance from his home to a well-publicized, highly attended LGBT event in Orlando.
The FBI confirmed that the shooting was carried out by Omar Mateen, of Port St. Lucie, who had twice been interviewed by the FBI, in 2013 and 2014, to follow up on allegations that he'd made statements of sympathy to ISIS. There was no evidence to pursue the case beyond those interviews, the FBI said in a 3:15 p.m. news conference, finding his alleged ties "inconclusive." He was "not under current investigation at the time of this incident and he was not under surveillance," Hopper said. He had bought the two firearms involved in today's shooting within the last few days, officials said. He had been working for an American security firm for nine years–a firm that had contracts with federal government agencies to provide them security.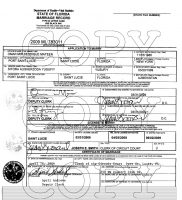 Speaking to media at about 11:45 a.m., U.S. Sen. Bill Nelson, a member of the Armed Services Committee, said: "I asked the FBI if there was any connection to Islamic radicalism. There appears to be. But they are naturally cautious and waiting throughout to see if this is [as] the facts emerge. I have checked with intelligence staff and they do believe that there is some connection to ISIS, but I might say this is not official. I asked the FBI what I should convey, and because of the nature of this shooting, they have asked me to ask anybody that knows anything about the shooter, especially in the Ft. Pierce St. Lucie area, to please come forth with the information. This appears to be, unfortunately, since it's the largest mass shooting, an act of terrorism. But the facts, we can't say that totally yet."
Nelson was in Orlando, near the scene of the massacre. He does not appear to have been informed about the potential motivations of the shooter's hatred for gay people, though hatred for gays–and violence toward gays–and Islamist fanaticism are not necessarily mutually exclusive: Islamist regimes such as the Taliban or Iran and terrorist groups such as al-Qaeda and ISIS have notorious records of brutality and atrocities toward gay, lesbian and transgender people, wherever they've held sway. But so far officials and analysts have stressed that there is no evidence of more than possible "sympathizing" between the Orlando shooter and Islamists–and even that link has not been confirmed, though officials have also reported that he made a phone call before the shooting pledging his allegiance to ISIS.
Hours after the attacks, the New York Times reported, "the Islamic State claimed responsibility for the massacre, in a statement released over an encrypted phone app used by the group, stating that the attack 'was carried out by an Islamic State fighter,' according to a transcript provided by the SITE Intelligence Group, which tracks jihadist propaganda." CNN, however, said it was not ISIS itself that took direct responsibility, but an Arab news agency citing a source and attributing the attack to ISIS.
None of the terrorist attacks that have taken place in the United States since 9/11 have been carried out by affiliates of either ISIS or al-Qaeda, but rather by lone wolves inspired by the organizations. (The holy month of Ramadan began on June 5.)
At 1:40 p.m., KABC, the ABC affiliate in Los Angeles, was reporting that authorities took a suspect in custody in Santa Monica "after discovering an arsenal in his car that included tannerite powder, assault weapons and a camouflage outfit." The man was taken in after a traffic stop. "Officers found five pounds of tannerite-type powder, assault weapons, long rifles, clips loaded and taped together and a camouflage outfit along with a security badge." The Los Angeles mayor said that incident is unrelated to the attack in Orlando.
NBC News reported that it had contacted the man it said is the shooter's father, who told NBC: "We are apologizing for the whole incident. We weren't aware of any action he was taking. We are in shock, like the whole country." His son, he said, was "angry when he saw two men kissing in downtown Miami a couple months ago."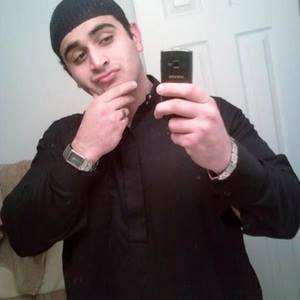 Around 9:20 a.m., CBS News and ABC News identified the attacker as Omar Mateen, 27, a U.S. citizen and resident of Port St. Lucie. He is a 2001 graduate of Spectrum High School who earned his associates degree in 2006. The assailant's vehicle has been located near the nightclub. Television stations were showing live images of a robot, used in situations involving potential bombs, processing the vehicle around 9:45 a.m. The FBI's Hopper told media in a 10:25 a.m. news conference that the agency had confirmed the identity of the shooter, but was not yet releasing it officially pending notification to next-of-kin.
A marriage certificate filed with the St. Lucie Clerk of Court lists Omar Mir Seddique Mateen, born Nov. 16, 1986 in New York, as having married Sitora Alisherzoda Yusufiy, now 27, a Port St. Lucie resident who was born in Uzbekistan. The marriage took place on March 31, 2009. He was employed as a security guard for federal properties and was licensed to cart weapons.
"Federal, state and local law enforcement are at what may be the home of the assailant in the Orlando mass shooting early Sunday, according to law enforcement officials," St. Lucie County's TCPalm website was reporting at mid-morning. "They are at a home in the 2500 block of South 17th Street, Fort Pierce, said police spokesman Ed Cunningham." The home is registered to a Omar Mateen. Property records indicate Mateen owns the property at 2513 S 17th St., #107.
According to police, the shooting began inside the club, where a law enforcement officer, working security at the club off duty, attempted to confront the gunman. There was a brief confrontation outside the club before the gunman returned inside and took more than two dozen hostages. Police Chief John Mina said in a brief news conference this morning that law enforcement decided to rescue the hostages at about 5 a.m., triggering a "controlled explosion" in the process. One law enforcement officer was injured.
Police say there is no reason to believe that there is any additional threat to the Orlando area. People who'd been at the club during the shooting and who survived were bused to Orlando police headquarters for interviews.
"There was some communication" with the gunman before the gunman went back into the club, Orlando Police Chief John Mina said at the 10:30 news conference, "but we're not going to release that right now." He added, referring to police at the scene in the early part of the confrontation: "Once the initial shots were stopped, they were dealing with a hostage situation. So in that time, we need to set up, reevaluate, reassess what's happening, and make sure that all the pieces are in place, we have enough staffing to take care of the situation, we have armored vehicles to come to the scene, and those were crucial in the rescue of those hostages."
Referring to the tally of victims, Mina said, "Just based on what the initial officers saw, without jeopardizing any more safety, they thought there were about at least 20, but now it's up to 50, so definitely one of the worst tragedies." He said there was an initial shooting at 2:02 a.m., "numerous shots fired, and then there were gunshots exchanged between the SWAT team and the suspect at 0500 hours," that is, 5 a.m. But it's not known, he said, when the majority of the victims were killed.
The 10:30 news conference also featured Imam Muhammad Musri, who leads the Islamic Society of Central Florida and is the national president of American Islam, underscoring the growing likelihood that the shooter is a Muslim, though officials at the news conference did not make reference to ties to Islamist terrorism. "I'm here today to stand as a faith leader with our law enforcement community and our city leadership in this hour of horror that was brought upon our city," Musri said, praising law enforcement and urging members of all faith to help where they can in the investigation. "No one could have predicted this, no one could have prepared for it. This could have happened anywhere," he said, adding: "I want to also caution many in the media from rushing into judgment, and from sensationalizing the story, because we do not want the story to be shifted from the focus where it is. It's a horrible tragedy. We are mourning. We are sad. We are heartbroken. And it's not really time for any sensational news and rushing to judgment."
"I was there," Ricardo Negron Almodovar said on the club's Facebook page around 3 a.m., as the gunman was still in the club. "Shooter opened fire @ around 2:00am. People on the dance floor and bar got down on the floor and some of us who were near the bar and back exit managed to go out through the outdoor area and just ran. I am safely home and hoping everyone gets home safely as well." He said he never had a look at the shooter. "My eyes were on the floor and as soon as there was a break, people started running out the back, including myself."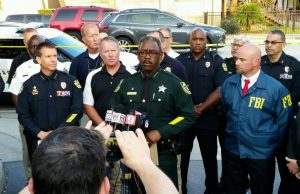 "My daughter is in there. Please keep praying for them," Lilbia Carmen said as the attack was unfolding. "She's waiting for cops to be able to come out. I was on the [phone] and all I hear is shot guns." Two hours later, she posted: "She's out. Thanks so much for your prayers towards my princess and myself! My life is back!!! Thank you God for hearing our prayers!"
Martha Bonilla wrote: "Sadly my cousin was in their and has been shot I pray he makes it praying for him. For those that made it out I'm happy that you are all ok.. My thoughts and prayers are with all of [you]." Erickseon Robledo wrote: "My friend is there. He almost got shot. He is ok. But he just told me that there could be over 20 dead people. He even help people to get out while they were bleeding."
It is the deadliest mass shooting in the United States, nealry doubling the death toll of the October 1991 shooting in Killeen Texas, when 27 people were killed. Florida had not known a mass-shooting since June 18, 1990, when James E. Pough, upset that his car had been repossessed, murdered seven employees and a customer at a General Motors office, a day after he had killed a man and a woman elsewhere.
But Sunday's shooting is evoking unnerving memories of the last mass shooting at a nightclub: the Friday, Nov. 13 assault on the Bataclan concert hall in Paris, where 90 people were killed by ISIS-inspired French-born terrorists as part of a larger operation targeting several areas of the city. Authorities in Orlando, however, were quick to reassure residents that Sunday's attack was limited to Pulse. The venue is one of the largest and most popular gay clubs in Central Florida, and the attack, coincidentally or purposely, took place in the midst of Gay Pride Month.
"This is some shitty news to hear after going to Pride," Douglas Gonzalez wrote. "My thoughts are with the victims and hope all the victims make a speedy recovery. And rest in piece to any of the people who died from this horrible attack. THIS is what us the LGBT community have fought all our lives and will continue to fight against! And to the religious assholes saying 'doing God's work,' how fucking dare you! This is why we must teach people to sympathize and more importantly empathize with others! This and all the crimes that befall our community remind me that there is still work to be done."
"The Equality Florida family is here in tears of sadness and anger that this has happened," Nadine Smith, co-founder and president of Equality Florida, the LGBT advocacy organization, said. "If we can help, let us know. We are monitoring the news and stand ready to assist."
"Many lives were lost and many more individuals were impacted by witnessing the crime," Mayor Buddy Dyer said. "We are a strong, resilient community, tonight we had a crime that will have a lasting effect on our community, we need to stay strong." Twice as many people visit Orlando every year–60 million, drawn in large part by Disney's parks–than do Paris.
Gov. Rick Scott's office said around 9 a.m. that the governor was heading to Orlando. Another press conference is expected around 10:15 a.m. Authorities said they'd hold a news conference about every two hours today.
Orlando police and the Orange County Sheriff's Office were involved in the "initial entry" into the club, the sheriff said.
Pulse opened in July 2004 in what used to be Dante's restaurant, featuring three rooms–a smokers bar, a dance floor and an ultra-lounge. It calls itself "Orlando's Latin Hotspot," and was holding one of its "Upscale Latin Saturdays" party last night.
"We are certainly having our share of violence in two successive nights," Sen. Nelson said. "We've had two killings. The singer performing live at the plaza, shot down two nights ago, and then this horrific act. So, what is happening to our country? We are going to have to dig down deep and ask ourselves who we are as a people. We've got to think of ourselves as the common denominator of American, not a hyphenated American or off on some cause, and that's what we've got to explore deep inside at this point."