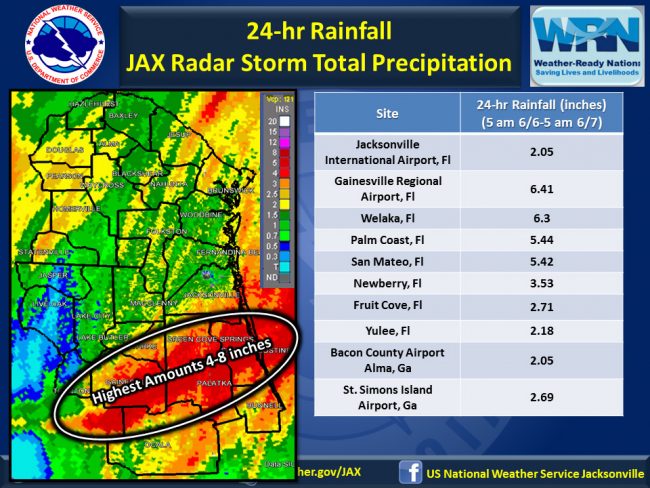 Tropical Storm Colin will continue a fast northeast storm motion away from Northeast Florida this morning, the National Weather Service reports. Lingering light showers and a rogue thunderstorm will be possible over the area in the morning and early afternoon.
The main impacts from Colin were heavy rainfall and isolated tornado damage. Scattered wind damage occurred which caused tree damage and some structural damage as a squalls pushed across northeast Florida yesterday afternoon. Caution is advised today due to lingering flooding problems and scattered debris.
For Flagler County, the weather service reports total rainfall in Palm Coast of 5.44 inches, though amounts may vary depending on locations. Flagler County Emergency Management usually releases a breakdown of precipitation from various points across the county. (Those amounts will appear here when available.) The heaviest precipitation in the region was in Gainesville, at 6.3 inches, though Big Bend areas got more.
By Tuesday morning, the storm was moving into the Atlantic Ocean off the coast of North Carolina, packing maximum sustained winds up to 50 mph, according to the National Hurricane Center.
The weather service's full briefing is below.


Click to access nws-jax-briefing-1.pdf