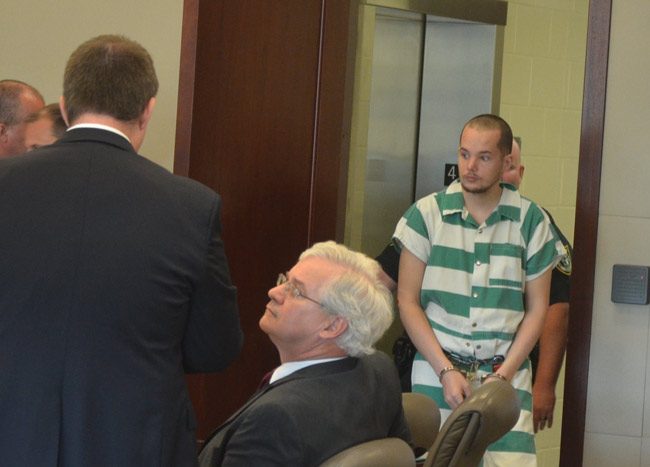 The attorney representing Joseph Bova II, the man accused of murdering a convenience store attendant in an execution-style killing in Palm Coast three years ago, is again asking the court to declare Bova incompetent to stand trial. Bova was declared competent for trial 10 months ago, and has since been held without bond at the Flagler County jail as five pre-trial hearings since have been cancelled.
Bova is accused of killing Zuheili Roman Rosado at the Mobil Mart convenience store on State Road 100 in Palm Coast the night of Feb. 21, 2013. The 32-year-old single mother of six was alone behind the counter at the store when a man who covered his face with a black shirt walked in quickly, turned to his right and immediately aimed and shot several rounds. Seven months later Bova was arrested in Boca Raton, where he was living out of his car. Bova's appearances in court since have all been a puzzle as he's alluded to conspiracies, often refused to speak with his attorney and was for a period committed to a state hospital.
Ray Warren, the assistant public defender representing Bova, twice in April filed a "suggestion of mental incompetence to stand trial" on Bova's behalf. Warren had learned at the end of March that Bova had begun refusing to take the medication necessary to maintain his competency, according to Warren's filing. On April 8, a counselor at a Stewart-Marchman Behavioral facility, told jail officials that Bova was "decompensating," a term describing a psychological condition when an individual loses the ability to function appropriately, sometimes exhibiting depression, anxiety, or delusions. The counselor recommended that Bova be returned to a state hospital to recover.
In his latest filings, Warren wrote that Bova "has exhibited inappropriate behavior in the presence of counsel and the court," that he appears "disoriented as to time and place," and has been unable to show understanding of the charges against him, or an ability to prepare for trial. In the past, Bova has refused to sign releases enabling his attorney to examine his medical records. In his last appearance before a judge, when J. David Walsh was still presiding over the case, Bova looked more numb than before, and under heavy medication.
The case has since shifted to Circuit Judge Matthew Foxman. Notices of taking depositions were filed earlier this year, as was a notice of cancellation of deposition. The next pre-trial hearing is scheduled for July 5 at 1:30 p.m. before Foxman.