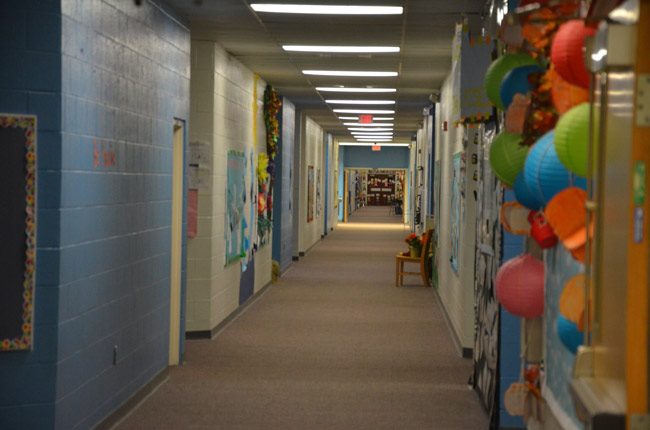 Flagler County school district news releases–like most government-issued releases–tend to exaggerate the positive and underplay the negatives. Not in this case. A release announcing the results of Grade 3 Florida Standards Assessments in English Language Arts buried the lead: that Flagler's 3rd graders improved their already-strong position in the state from 14th to 10th overall.
The proportion of students who scored a 3 or better (out of 5)–that is, students who are proficient in English at their grade level–also improved, from 60 percent to 63 percent.
Statewide in 2016, 54 percent of students scored a 3 or better, with St. Johns County again producing by far the best results, with 77 percent of its students at or better than proficiency, and almost half its students scoring 4 or 5. Just 23 percent of its students scored below a 3. The next-closest school district to St. Johns is Santa Rosa, where 70 percent of students were proficient or better, and 37 percent scored a 4 or a 5.
In comparison, a third of Flagler's students scored a 4 or a 5, and 37 percent of the district's students–well over a third–can't handle English at grade level.
Statewide in 2015, 53 percent of students scored a 3 or better, with 73 percent of students in St. Johns County scoring 3 or better, five points better than Sarasota County.
Among individual schools, Old Kings Elementary's students were the strongest, with 69 percent at a 3 or better (down from 71 percent last year), and 41 percent scoring a 4 or a 5. Next was Belle Terre Elementary, with 67 percent of students at a 3 or better, and 36 percent scoring in the 4 and 5 range. But both schools still had a third of their students scoring below a 3.
The most-improved school this year is Rymfire Elementary, where 66 percent of 3rd graders scored at or better than proficiency, a 7-point improvement from last year's 59 percent. The school decreased the proportion of students below a 3 from 41 percent last year to 34 percent this year, and increased the number of students in the 4 and 5 range from 25 percent to 39 percent, a significant improvement.
Keep in mind: comparisons between one year and the next compare entirely different groups of students, as last year's 3rd graders are this year's 4th graders. The results do reflect a school's more focused strategies to improve skills, but only up to a point: faculty cannot control to what extent their student population may be more fluid one year than the next. It cannot control the socio-economic backgrounds of students (poorer students score less well than richer students, for example).
The Florida Standards Assessments is the state's latest attempt at a uniform testing system. From 2011 to2014, the FCAT 2.0 was used to measure student achievement of the Next Generation Sunshine State Standards in reading, mathematics, and writing. That test, which had its problems, was replaced by the Florida Standards Assessments in 2015 in English language arts and mathematics to measure student achievement of the Florida Standards.
The complete scores are in the chart below.


School
Year
Students
Mean Score
% Scoring
3 or Better
Percent at Each Level
1
2
3
4
5
Bunnell Elementary
2016
185
301
54
18
21
31
18
5
2015
160
299
51
22
28
29
13
9
Rymfire Elementary
2016
172
307
66
9
25
27
30
9
2015
165
303
59
11
30
34
20
5
Wadsworth Elementary
2016
134
304
57
20
23
25
21
11
2015
134
300
56
16
28
35
17
4
Old Kings Elementary
2016
177
307
69
14
18
29
27
14
2015
127
308
71
9
20
36
25
9
Belle Terre Elementary
2016
226
308
67
11
22
32
21
15
2015
181
301
66
11
23
42
17
7
Imagine School (Charter)
2016
101
305
62
12
26
33
18
12
2015
125
304
59
18
23
27
22
10
Palm Harbor (Charter)
2016
6
NA
NA
NA
NA
NA
NA
NA
2015
11
298
64
9
27
55
9
0
Flagler School District
2016
1,001
305
63
14
23
30
22
11
2015
904
303
60
14
25
34
19
7
Florida
2016
220,663
301
54
20
18
24
26
12
2015
215,264
300
53
22
25
27
18
7