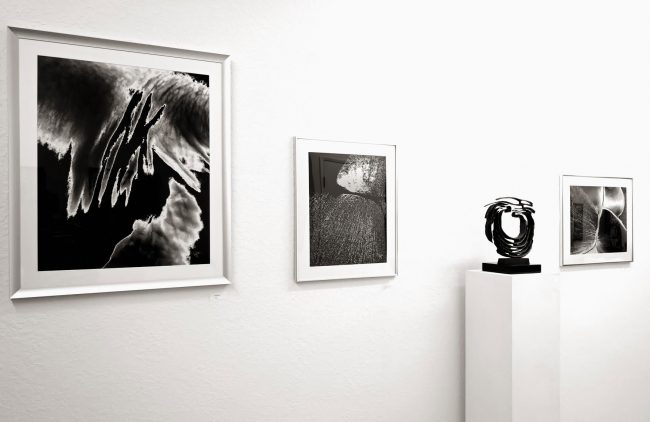 By JJ Graham
Saturday at 6 p.m. Salvo Art Project will open its doors and proudly present the new work of one of our own. Krystyna Spisak-Madejczyk is highly acclaimed in her native Poland as a sculptor and multimedia conceptual artist. She's become well known in Flagler County's expanding artistic circles since taking up residency in one of our studios.
Those fortunate to have wandered through her studio here at Salvo may have seen her monumental public works created in an earlier chapter of her career. I think "substantial," although an understatement in her case, is the word art enthusiasts like to sling around these days. Spisak-Madejczyk has recently steered away from large scale concrete and metal forms that required heavy machinery to install. But I'm sure the artistic magnitude of her mind-play is no less monumental in "Transparency," the exhibit opening Saturday.
In late April I had the opportunity to sit with her and pick her brain a bit about the upcoming exhibition.  Although her English is great compared to my Polish, and her eyes often speak more than her words, she was accompanied by her daughter Kasha, who translated in case the complexity of Krystyna's thoughts outweighed her proficiency in English. I should inform the reader that I myself had not as of this writing yet seen the majority of the work that would adorn our gallery walls in the show.  That alone is a testament to the respect I have for her as an artist.
I asked her why she chose the title "Transparency," she spoke of it as the result of a personal journey where she ponders existence beyond the visible.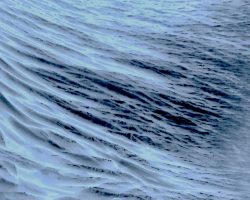 "I wanted to find those things that are invisible at first glance, to attempt to peer beneath the surface, to get beyond, go deeper," she said. "I do not think that I have fully accomplished what I am trying to achieve in this endeavor, but I've made progress and I'm satisfied with my recent attempts." Whether she has achieved her goal or not, I'm sure it will not detract from her uncanny ability to intrigue.
What seduced me most about her work is the recurring archetype of the tunnel. The show will further expand on this intriguing series of imagery. I found myself equally taken by the process behind the works' creation.
First there are the contraptions: the multiple levels of PVC pipes tucked into a wine-rack that she can probe and explore with the eye of her camera, chasing the way light from different angles changes and alters the pipes' interiors.  I'd always assumed that she'd been trained in graphics because of the flawless way her photographs are manipulated. Yet her training in technology is rudimentary at best. Rather, she uses the camera and various photo manipulation tools the way a painter might use a brush. She starts with a concept which then frees her to reach out or interact with it through experimentation, trial and error. She describes it as often a grueling process that engages her will, and leaves her at the end with an image created through a journey that she herself could not entirely explain. (Put another way, the journey is the work, and what you see is the end result, both work and journey.)
"It is a dogged approach," she says with Kasha's help. "Always I have this clear image of what I'm trying to achieve, although that may not be my ultimate goal…it is a step further. It is a destination towards what I seek. When I arrive at this concept, the means of obtaining its completion are often lost. Each new work must be approached this way. Always the concept is the most important to me.  In my work I wanted to follow things back to the seed and then go deeper… go past the seed."
I contemplate this statement as I attempt to write about her, wondering if I'm fully grasping it.  In my mind it's rooted in the question of consciousness and matter, and which comes first.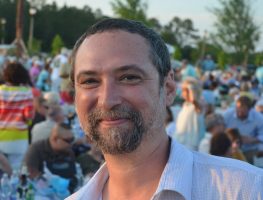 Our conversation continued on for the better part of an hour, often drifting into the esoteric. I was left pacing around for weeks trying to figure out how I'd even write about it. I started worrying that I may have bitten off more than I could chew.  But it struck me that her journey and mine had certain points in common. Not unlike Krystyna's process, Petra Iston and I have a pretty finite concept of what we'd like Salvo Art Project to be.  How we get there remains to be seen. Krystyna's dogged approach is inspiring, giving me insights into my own process as I would write this piece. In that sense I would say the conscious comes first. How fitting then that her work has found its way here.
I will end here and hope I have achieved my goal, which is to entice you to come out and see the work of one of our studio artists, Krystyna Spisak-Madejczyk. If you find yourself perplexed as I am by some of her work, I hope that you will also find it to be a feeling to savor and ponder. Hopefully you might probe a little deeper, past the rims of your wine glasses, and contemplate the depths of an artist who, in my mind, is a high priestess in the creed of conceptual creativity.


JJ Graham is the co-owner, with Petra Iston, of Salvo Art Project, and the curator of "Transparency." The show opens on May 21 at 6 at Salvo Art Project, behind Naturescapes, 313 Old Brick Rd. The show will be accompanied by a Jazz Mix created by Andrew Trotter and a live Performance by Caroline Drive at 8 p.m.Wine and hors d'oeuvres will be served. $10 entry at the door.