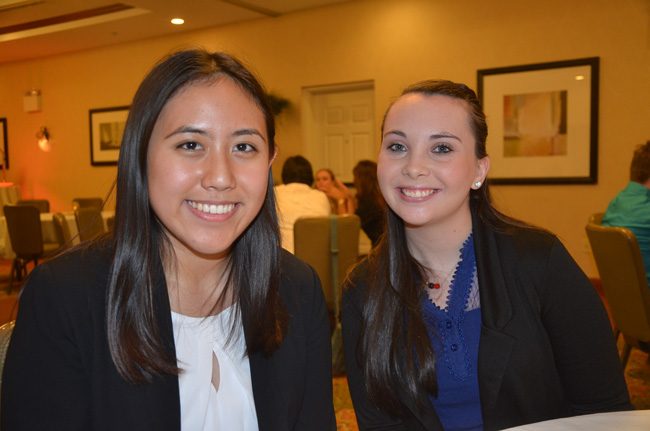 Students, we too easily assume, look to others for inspiration as they make their way to graduation and greater goals. But the best of students have a way of turning the tables and themselves becoming the inspiration. Seniors Mayoree Tan and Josephine Brown of Matanzas High School did so convincingly when they won over the Kiwanis Club of Flagler County as this year's recipients of two major scholarships, one of them totaling $16,000 over four years.
You need only listen to them to hear why.
"When volunteering at the Flagler County Free Clinic," Tan, who intends to become a nurse practitioner, said, "it just opened my eyes to how important the medical field is and how important it is to help people who are less fortunate and give them the proper medical care that they deserve. That helped make me want to be a nurse."
It wasn't just the free clinic that did it, but the force behind the clinic: Faith Coleman, the celebrated founder of the clinic who died in 2014. "Actually she is a really close friend of my family's and she inspired me to become a nurse," Tan said. "I kind of shadowed her for a while at the free clinic and I really was touched by how she impacted people's lives. I really want to become like her some day. She impacted a lot of people's lives here in Palm Coast."
That's her intention: to finish her Bachelor's of Science at the University of South Florida, get some experience in that area while she completes her nurse practitioner's work, then return to the free clinic.
For that, she became the Kiwanis Club of Flagler County's inaugural recipient of the Maria Mychaniuk Scholarship, an annual award that will grant $4,000 a year for four years to a local student immersed in the spirit of community service, and one who may need a nudging help with college's financial burdens. (Tan is originally from Cebu in the Philippines. Her family moved to California for a few months before making the move to Palm Coast when she was still a young child. She's attended Flagler County public schools since.)
Mychaniuk was a member of the Kiwanis Club of Flagler County until her death three years ago, when she left "a very nice sum of money," in the words of Allen Whetsell, a past Distinguished Governor of the organization's Florida district. The money she left was endowed through the Florida Kiwanis Foundation, enabling the local chapter to choose a new scholarship recipient each spring. "And this scholarship will hopefully be in perpetuity," says Frank Constentino, a division trustee for the Florida Foundation.
Brown was the recipient of the club's longer-standing Key Club scholarship. Her intentions are no less inspiring than Tan's. She's heading to to the University of North Florida to study political science and history, then on to law school. What kind of law? "That I haven't completely figured out but I know I want to do something with either family law or civil rights law," Brown says. "Criminal law just sounds just stressful. And I know that through Key Club I found that I really enjoy helping kids and helping the community, and I want to be able to have a voice for people who don't have a voice. That's really important to me, is helping people who normally don't have the opportunity: things happen to people, they just let it go, but having someone they can go to do what's right for them seems important to me."
Originally born in Southern California, her father, a Marine originally from Flagler County, was in California–at Camp Pendleton–when he met her mother. They moved back to Flagler County where she's been since, with the exception of a couple of years in her late elementary grades.
Both students received their awards this afternoon at a small banquet at the Hilton Garden Inn, where they were joined by family, friends, Matanzas Principal Earl Johnson, Superintendent Jacob Oliva and School Board members Trevor Tucker and Andy Dance.