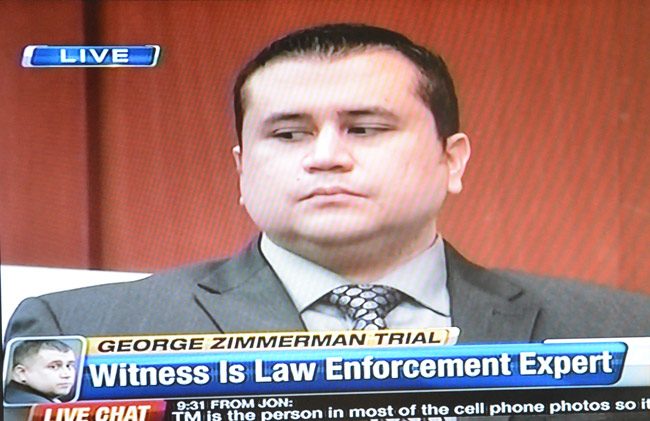 George Zimmerman, the Sanford, Fla., neighborhood "watchman" who shot and killed an unarmed Trayvon Martin, 17, in February 2012, said he was auctioning off the 9mm pistol he used in the shooting for an opening bid of $5,000.
But no sooner did the story of the auction begin to spread than the web page where the gun auction was to start at 11 a.m. today (May 12), on gunbroker.com, was replaced with a message: "Sorry, but the item you have requested is no longer in the system."
The page had previously included a statement from Zimmerman describing the gun as "the firearm that was used to defend my life and end the brutal attack from Trayvon Martin on 2/26/2012," and went on to describe the gun as "a piece of American history." Zimmerman said he would send "portions" of the proceeds to "fight [Black Lives Matter] violence against Law Enforcement officers" and fight "Hillary Clinton's anti-firearm rhetoric."
"I'm a free American. I can do what I want with my possessions," Zimmerman told Fox 13 in Orlando.
It's not his first foray into the auction world, though his previous one was more successful: in late 2013 he sold a painting, apparently cribbed from a stock photo database without credit, of an American flag, fetching him $100,099 on eBay. The auction had started with an opening bid of 99 cents. "My art work allows me to reflect, providing a therapeutic outlet and allows me to remain indoors," he'd written at the time, with a smiley face. ":-) I hope you enjoy owning this piece as much as I enjoyed creating it. Your friend, George Zimmerman."
Zimmerman, 32, was acquitted in the killing of Martin, which he termed self-defense. He's had numerous encounters with police since, the latest dating back to January 2015 when he was charged with aggravated assault in lake Mary for throwing a wine bottle at his ex-girlfriend. The charge was dropped.
His latest auction has been roundly criticized as tasteless but unsurprising (see below) for an individual whose history in the public eye could never be accused of ever suggesting dignity.


The reaction on Twitter:
George Zimmerman was rightfully acquitted, as anyone who knows CrimLaw can tell you.

But that doesn't mean he isn't a piece of garbage.

— Jeff B/DDHQ (@EsotericCD) May 12, 2016
The fact that someone is going to buy George Zimmerman's gun is the best case for universal background checks that can possibly be made.

— LOLGOP (@LOLGOP) May 12, 2016
I wish people would not mention the person who killed Trayvon Martin. Don't feed into that attention whore. #Trayvon #TrayvonMartin

— ♎Yolanda♎ (@SolLadie) May 12, 2016
George Zimmerman is auctioning off the gun he used to kill #Trayvon Martin. Obscene. The fact that there's a market for it: heartbreaking.

— Bobby Veejay Marley (@OtherBobMarley) May 12, 2016
I dunno what's more appalling: the fact that #Trayvon's murderer wants to sell his instrument of death or that someone will legit buy it.

— trumpetnista (@trumpetnista) May 12, 2016
George Zimmerman AUCTIONS off the gun he used to kill #Trayvon Martin https://t.co/5hZG1GJWxk via @MailOnline only in#USA. Insanely shameful

— Joy Skanes (@jeskanes) May 12, 2016
Upset about Zimmerman auctioning his murder weapon?
If Obama DOJ had prosecuted him, this couldn't happen.#trayvon MT @FreedomRideBlog

— Call me Ishmael (@fqxjv) May 12, 2016