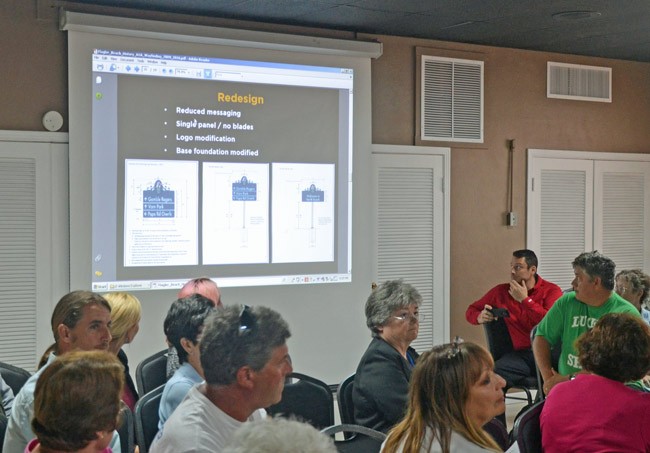 The Flagler Beach City Commission could not have sent a clearer message to the Scenic A1A Pride Committee Thursday evening: Take your signs and shove 'em.
The commission, in a 5-0 vote, decided to inform state transportation officials that they are opposed to any of the eight large "directional" signs the A1A committee—a volunteer scenic organization—started planting in Flagler Beach last month, without formal approval or input from the city, and to the opposition of an overwhelming number of residents.
City Manager Larry Newsom said this afternoon that he relayed the message by phone to Florida Transportation Department District 5 Secretary Noranne Downs today, and would follow up with a letter Monday, copied to the state secretary.
The A1A committee had secured a $230,000 federal grant in 2012 to put up signs all along State Road A1A in St. Johns and Flagler counties, ostensibly to reduce the clutter of signs by making other signs unnecessary. Instead, the signs are getting planted in addition to other signs, without a clear need for them, without a plan to remove other signs, without public hearings to inform residents, and, it appears to city commissioners, without permits or other required formal steps that normally accompany such federal grants.
The commission had not been outright opposed to the signs had the A1A committee respected some of its requirements that they be limited to four at either end of town. But the city's wishes were not respected.
"Had this been done this way, it probably wouldn't have been a problem—the four signs on either side of town," Linda Provencher, the Flagler Beach mayor, said. "It was just the whole way it went down, and for us to be laughed at and scoffed at, and nobody to listen to us, especially when [City Manager Larry Newsom] and I met with the person who wrote that grant, the commissioner from St. Johns, and said don't do anything in Flagler Beach until you show the commission what you're doing. And they went ahead and did it. So at this point, I'm done with these signs, I'm sick of talking about them, I'm sick of thinking about them, I'm just, whatever we need to do, because the people have spoken. At the end of the day it doesn't matter how I feel or anybody else up here feels. The people have spoken."
Commissioner Marshall Shupe was no less categorical: "As far as I'm concerned I don't want any of them."
Documentation obtained by FlaglerLive buttresses the commission's opposition. A February 2011 letter from Richard Morrow, a district engineer with the transportation department, to Sallie O'Hara, the A1A committee administrator, was explicit: while DOT was "in concurrence with the design and placement of the signage as shown" in a 2011 document, Morrow also made clear: "The local governments will need to provide an ordinance or resolution adopting the wayfinding sign system as the only system to be used in their jurisdiction."
---
"As far as I'm concerned I don't want any of them," one city commissioner says.
---
The only document Flagler Beach approved six years ago was to "consider" such signs, and to limit them to four, with specific areas excluded.
The A1A Committee ignored the city, and moved ahead with a plan to plant eight signs, and to do so without a single public hearing in the county.
Asked for a list of public hearings the A1A committee held after applying for the grant—which, according to documents O'Hara provided, was submitted in late 2012—O'Hara said that "a log of meetings between January 2012 and currently does not exist." She provided a list of meetings headlined "Wayfinding Plan Meetings/Support," from February 2010 to December 2011, but the list of meetings seems to be an all-but-kitchen-sink type list of all A1A and related meetings or events (including a sea turtle festival, a lighthouse festival, and a Gamble Rogers celebration) held during that period, with nothing specifying whether the meetings were focused on the signage plan.
Earlier this week Flagler Beach opened City Hall for a workshop so residents could voice their opinions about the signs, in answer to five questions. City Clerk Penny Overstreet tallied the results.
From 231 cards returned, 218 respondents, or 94 percent, said they did not like the proposed signs. Almost the same proportion said the signs should be reduced, while 72 percent said they should all be removed. One respondent, asked where removed signs should be planted, said Daytona Beach.
For all that, the A1A committee's disrespect toward Flagler Beach appears to have continued down to this week, when Flagler Beach Commissioner Rick Belhumeur attended an A1A meeting Wednesday in St. Augustine.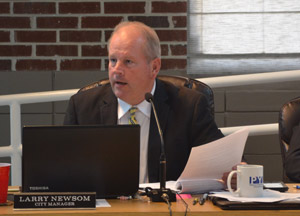 "They're just going to totally disregard whatever information we gathered as a result of the workshop and going to recommend that they put up all the signs, and it's up to us to worry about getting rid of them," Belhumeur reported. "I did mention why I was there, that a presentation was made to this commission back in 2010, and things were discussed, concerns were shared, and recommendations were made, and at that point in time, they were on notice that it's a temperamental subject in Flagler Beach. So it makes me kind of wonder from that point whether we were really forgotten or ignored, to be honest with you. The attitudes that I saw at the meeting yesterday, they didn't care too much about what we wanted."
Danielle Anderson, a member of the A1A committee who attended the same meeting, saw it differently. "I don't think the meeting yesterday was quite as unpleasant," she told Belhumeur and the city commission Thursday. "We did invite you to join our committee as a representative for Flagler Beach, and what we were trying to portray yesterday was that there are options, it doesn't have to be cut and dried the way it's been presented." She said compromise was still possible.
But that compromise entailed keeping most signs where they are and perhaps moving one or two. The city commission is no longer interested in that arrangement, even though the foundations for the signs have already been drilled and poured.
No matter what the A1A committee decides, Newsom said, "That's not the final decision in my opinion. DOT will make the call, and DOT wants to know what this commission in this room, and the mayor, what they want. So please keep that in mind."
That's why the formal vote and the communications to the transportation department. But that may still leave signs planted.
"I understand through the grapevine that if they put them up and we want to take them down, we've got to pay for them, and we've got to pay for them to take them down,"  Shupe said.
That would allegedly be $4,000 per sign," Provencher said. "We're not going to pay $4,000 to take them down," the mayor said.
"If we get an invoice for any of this, I'm not going to vote to pay one penny," Shupe said. "I don't care whether it's to install them, take them out, take them to the dump."