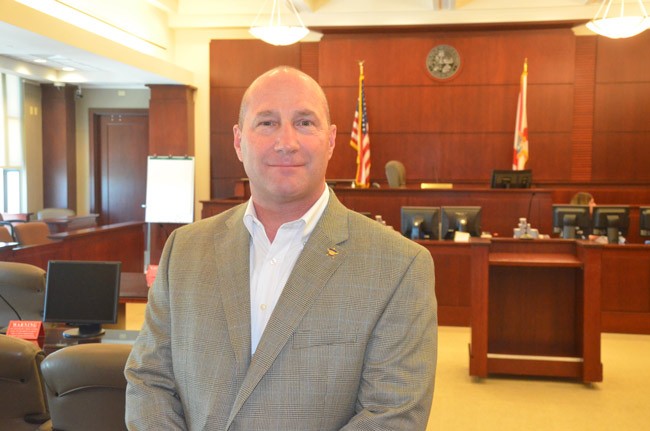 At 4:30 this afternoon, David Malta's 29-year career with the Flagler County Sheriff's Office came to an end as he became yet another one of the department's longest-serving veterans to retire.
Malta had for the past two years been County Judge Melissa Moore-Stens's deputy—and bodyguard—providing protection at all the judge's public functions. Every judge is assigned  one such deputy. Malta's assignment goes to Anthony Marino, a 14-year veteran of the sheriff's office.
"David has been a terrific bailiff and his presence in the Courthouse and throughout the Sheriff's office will be sorely missed," Moore-Stens said in a statement this afternoon.
The Jamestown, N.Y. native theoretically started his career at the sheriff's office in 1983, when he first moved to the county at a friend's suggestion. His friend worked at the sheriff's office. Malta became a corrections deputy at the jail under Sheriff Bob McCarthy, who'd just then been appointed to the position by Gov. Bob Graham and would keep the job 17 years. Malta would keep his at the jail just a few months: the $8,800 pay—the equivalent of $21,000 in current dollars—just wasn't cutting it. (These days detention deputies start at a little over $35,000.)
So he left, became a Palm Coast Fire Department volunteer and before long was one of just two paid firefighters in that young department. In the brutal wildfires of 1985—days Malta still remembers like fresh memories—he was the only paid fireman at the time, he said. After that he had stints with the Bunnell Police Department and in Volusia before his hiring in earnest as a deputy at the sheriff's office.
He was sworn on Sept. 23, 1987.
His salary was a bit better than at the jail. He had to think a while before guessing it at around $23,000 to $24,000, likely much higher than it actually was, since a $24,000 would work out to the equivalent of $57,400 in current dollars—not the sort of salary a starting deputy would have been making. Whatever may have been the actual sum, Malta made his way up, retiring at well over $71,000. (He reached the rank of major at one point but was then demoted at the end of the first Manfre administration, in 2004.)
At 52, he's still too young to look the part of a retiree. He certainly didn't on Tuesday as a court session was ending in Judge Matthew Foxman's courtroom—Moore-Stens wasn't without a bailiff: Marino was already on the job—and Malta was essentially on a farewell mini-tour. He'd already hung up his sheriff's uniform for a suit jacket, a small sheriff's pin the only visible hint that he was still on the force.
"It's bittersweet, you know," he said, speaking with reporters and County Commissioner Charlie Ericksen. "I couldn't stay even if I wanted to, so I have to leave." He said despite the strains affecting law enforcement in the past couple of years since the shooting death of a teen in Ferguson, Mo., "it doesn't really bother me, I want to stay to try to continue to help."
---
Memories of two frights on I-95 and no regrets about three decades on the job.
---
Malta's retirement was foreordained five years ago when he entered the state's Deferred Retirement Option program better known as "DROP," which allows members of the Florida Retirement System to accrue retirement benefits with interest over their last five years of employment then get that accrued benefit in a lump-sum payment if they so choose. But retirement at that point is mandatory. They can return to work for a public agency a year later without penalty to their retirement account. Malta is leaving that option open.
Standing at the entrance to Foxman's courtroom, Malta remember two of his scariest incidents on the job.
"My wife and I talked about it last night," he said. "There were two that I can remember where it was like, that could have been it. One was on the Interstate, working on an interdiction. I was in charge of the interdiction unit for four years on the Interstate back when—I don't know if you remember Bob Vogel down in Volusia County, the sheriff's office, back when interdiction was big, trying to get the drugs, the money and everything. I was on a traffic stop. It was at night, and I just turned around from the driver's side window and turned around to walk back to my truck. As soon as I did a U-Haul was coming northbound, and he probably missed me by—his mirror missed me by inches, enough to where the woman in the car, it freaked her out. She was like, Oh my God, are you all right? And the other deputy that was backing me up, he stepped aside, he looked at me, he was pale and we all stood there for a second, oh my God. It turns out he was a retired law enforcement officer out of Pennsylvania. To him it was no big deal, but it was funny. He got a ticket for failure to stay in his lane.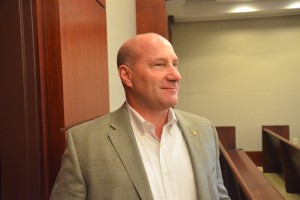 "The other time was on the Interstate, it was actually me and Larry Jones," Malta continued, referring to one of the two other long-time veterans who recently retired: Jones retired in 2014 (and is now challenging Sheriff Jim Manfre in the Democratic primary; the third long-timer to retire was Michael van Buren, who had started the same year as Malta). "We were both working nights, he was my corporal, and I did a traffic stop on the Interstate. There were four people in the car. They had just done a drug transaction, they'd sold it. There were four guys in the car, driver, front-seat passenger, two in the backseat. They didn't see Larry walk up to the passenger side. I stayed on the driver's side and made contact with the driver. Larry looked in from his position and could see an open gun bag on the floorboard. It was, you know, those zip bags, you can put your pistol in. So he was like Malta, I think there's a gun in the car.
"So we took precautions, we backed away and got everybody out of the car, and the right-rear passenger seat passenger was uncooperative. We kept telling him to keep his hands where we could see them. He kept trying to bring his hands down, we warned him several times. I've got it on video, but they don't make VCRs anymore. It was a VCR tape, because we had VCRs in the cars. But inside his jacket pocket was a loaded .357, unholstered, with the hammer back. So he had it cocked, ready to go. So that guy probably had something planned. Why would you carry it like that? The front seat passenger also had a weapon but it was in his pocket."
Both encounters took place in the 1990s.
"No regrets," Malta said of the job, but now he has new anxieties to contend with. His son, also called David, joined the sheriff's office last September.
"Now that he's in law enforcement, I'm going to get what my wife has had for the past 28 years that we've been married," Malta said, "her anxiety that she's been going through with me, going to work and not knowing if I'd come home or not., So I was like, wait a minute, it's my turn to worry about my son. And she just gets to continue the worries. But my son's got a good head on his shoulders. I trust him. It's funny, because he's got a lot of people watching him now, he's got a lot of aunts and uncles."
Malta demurred on two questions: asked who he'll be voting for in the sheriff's race, he laughed and said, "I've got somebody in mind," which seems to suggest that he will at least not be among the throng running for the post. As for the state of the agency now, he said, "I see it all with rose-colored glasses right now because I'm on my way out. I just want to make sure that I keep a positive attitude, so as I leave, I have some sort of a structured, healthy life. I don't walk away better. I can't. It's not healthy for me."