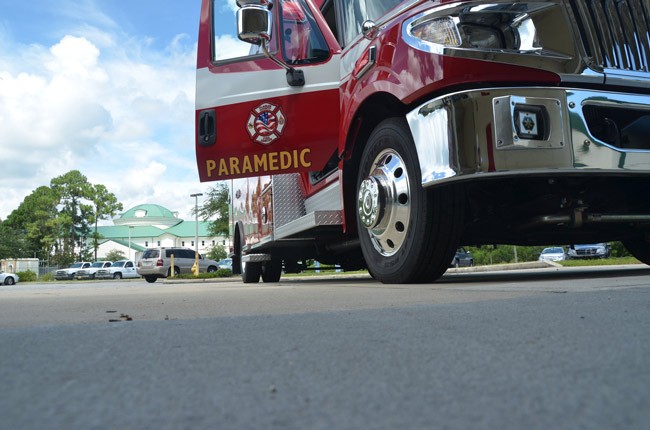 The Flagler County Commission on Monday mostly retreated from its willingness to jointly meet with the Palm Coast City Council to discuss potential changes in ambulance service in the city. Commissioners are questioning whether anything is broken enough to be fixed, and now are adding another reason to warrant at least a postponement of such a meeting until November: the election will certainly turn over three seats on the council, and potentially three on the commission.
The city council is proposing adding two county ambulances to city fire stations and altering the way county and city paramedics respond to medical emergencies, which account for well over 98 percent of all calls for service. The city is looking to decrease response time and, to save money, decrease the number of times its big firetrucks are called out on medical calls. By law, the county provides ambulance service, with the city assisting, usually by getting to scenes in fire trucks.
"Mr. Meeker brought up a great question last meeting," Commissioner Nate McLaughlin said, referring to Frank Meeker's skepticism about Palm Coast's intentions. "What's broken that we're trying to fix? And giving this a lot of thought, recognizing that essentially the city council over there are going to have unquestionably three new members that may or may not feel a certain way, I would like to postpone, if the board—I'd just like to put forward that I'd like to postpone any workshop until after the new council."
Initially, Commissioners George Hanns and Charlie Ericksen agreed. Commission Chairman Barbara Revels was non-committal. The discussion took place at the end of Monday's meeting, after Meeker had left to catch his latest round of chemotherapy. But after Hanns compared the delay to the delayed hearings in the U.S. Senate over the president's supreme court nomination—and perhaps remembering that he's a Democrat who opposes such delaying tactics—Hanns changed his mind. "We have a board that's elected by people, and I believe we need to make all the crucial decisions prior to any elections," Hanns said.
---
The November election could turn0over majorities on both the commission and the council.
---
Come November, three city council members will be off the council regardless: Mayor Jon Netts, at whose instigation the ongoing EMS discussion has gained momentum, at least on the city's side, Jason DeLorenzo, who is running for county commission (and could potentially replace Ericksen), and Bill McGuire, who has opted not to run again as he will be leaving town to resettle closer to family in St. Louis. On the commission side, Revels, Ericksen and Hanns are up for re-election. All face opposition, so all three could also potentially be replaced, Hanns's certainties notwithstanding ("I intend on being here," the six-term commissioner and longest-serving elected official in Flagler County quipped).
McLaughlin said it wasn't just about the possible turnover, but about the necessity for a discussion about a problem he doesn't see. "It's not been shown to me what the problem is," McLaughlin said.
Revels said she had no consensus to postpone the joint meeting—but nor did she have consensus to hold talks with the city, she said. Instead, she said she would set up a one-on-one meeting with Netts soon, and more certainly discuss a joint meeting when the county commission meets again with Meeker present, in two weeks.
Reached by phone Tuesday, Meeker said: "I can talk now, I can talk then, whichever way everybody wants to go is fine with me." He said he's done his research and is ready to take on the issue.
But he also stressed that McLaughlin's idea of a postponement was valid. "The validity is, why would the current council want to tie the hands of a future council that will be there in eight months?" Meeker said. "It's an important discussion, and I think that restraining the new group coming in or forcing it to pick it up and revise a discussion doesn't make a lot of sense to me. And the same argument goes for us. I can have a major change-over. We're not pointing the finger at the city, we're pointing the finger at the process." He then paused and added: "The other side of that coin is, why make any decisions between now and then? We can't shut down everything."
In an interview Tuesday morning, Netts could scarcely hide his exasperation: Revels had written him to seek a temporary delay in a joint meeting, but only to get the county's new emergency manager caught up with the issue.
"We've been waiting for years for an improvement to the system, if that's their answer, then so be it. I'm not going to fight that battle," Netts said, more out of frustration than to close the door to conversations: he'd still prefer a meeting. "So you postpone the discussion until November. What have you gained?"
Netts dismissed the notion that he wants to deal with the matter on his watch as a matter of legacy, before he is off the council. "I've been concerned about Palm Coast since I moved here," he said, "I've been more concerned about Palm Coast since I got elected, and I'll be concerned about Palm Coast after I'm off the council. I'm not concerned about a plaque on the wall."
"All I'm saying is, can't we just all sit down and talk about it?" the mayor asked. The council is meeting this evening at 6:30 p.m. and may discuss the issue further.