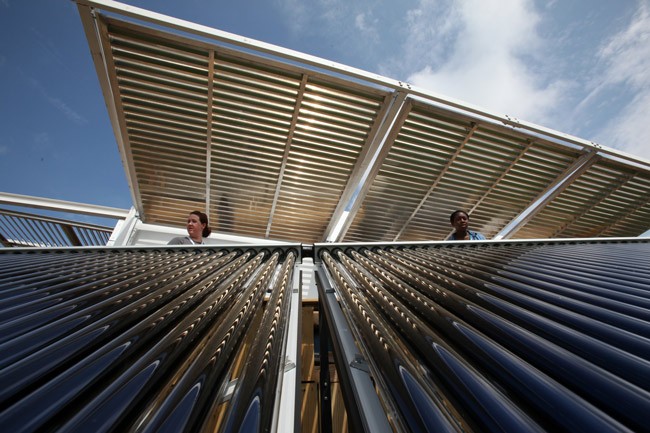 Flagler County government is looking to go greener with its energy consumption—saving electricity where it can, reducing the wear and tear on its energy hogs such as chillers, and exploring new ways to generate power on site at certain times through its own generators. But some of those ideas may not be possible without wedding county government to a single private contractor for a decade and a half or more.
"You as a board have always wanted us to be more and more green," County Administrator Craig Coffey told the county commission during an afternoon workshop today, "to look at energy savings in other new technologies, especially when we can realize a monetary, business-type benefit, a return on investment, that kind of stuff."
The administration has been making some improvements "without getting too complicated, and they aren't insurmountable as far as costs," but those improvements have their own limits: you can only do so much with conversion to more energy efficient lighting, for example. Some projects "are beyond our scope," Coffey said, so much so that they may require to be "bondable"—that is, they must be guaranteed in order to be accomplished. That's another way of saying that the work must not only be contracted out, but the length of the contract may be much lengthier than government is used to, except when it floats bonds of its own. The contract's structure turns into something more similar to a mortgage, and as with a mortgage, it may be years before the investment is profitable.
So the administration drafted an Indiana-based company, Energy Systems Group—ironically, a subsidiary of the Vectern Corporation, an electricity and natural gas company—to pitch various energy-saving ideas that can be developed in county government properties, and that the county could not manager or afford on its own. Energy Systems would propose the ideas, the county would sign on, and a long-term contract would then be in place.
"This can kind of move into our budget cycle," Coffey said.
---
Big ideas, a long wait for a return on investment, and a serious commitment to one company.
---
A trio of Energy Systems Group personnel made their pitch to commissioners during the workshop. Their presentation was fascinating, as such things go, proposing potentially serious cost-savings, but also potentially serious costs to get there. The presentation was also very light on specifics: in a 45-minute discussion that was more than half consumed by commissioners' on speculations, anecdotes or wishes about energy savings, Energy Systems Group produced more of an outline than an analysis of what it may offer, and did so without presenting the sort of methodology that explains how it arrives at the cost-savings it projects.
The company has been around since 1994 that says it's implemented more than $2 billion in infrastructure improvements to various clients. They're stepping in where climate change is triggering changes (or responses), in Florida in particular, where the warming planet and consequently rising seas are expected to have vast effects on the coastline. Some companies have been looking to reduce the amount of greenhouse gases they're spewing by reducing their energy usage. Energy Systems Group seeks to capture that market.
One idea is to convert the cooling system at the county government complex to a geothermal system: the four chillers currently cooling the buildings are doing so well enough, but a geothermal system, using a closed system of water coursing through earth beneath, can increase efficiency by 28 percent, reducing energy and water consumption and saving on maintenance. Water consumption would fall by 50 to 60 percent. The projections, of course, are based on ESG's estimates, and have not been independently verified. A second idea: The system could also produce ice overnight that could then be used during daytime peak hours, as it melts as chilling water, again adding to energy savings.
Another possibility: Acquiring dual-fuel electric generators (diesel and natural gas) and running those generators more frequently, even without electricity interruptions from Florida Power and Light, as a way to lower peak-time utility costs. The county airport complex, for example, is being studied for its own network of gas lines.
But this is where it gets even more speculative. ESG's Steven Downs calculates that the three projects together could yield an annual saving of "$175,000 of guaranteed savings." That money can then in turn could pay for a $3.5 million project. That's assuming the county stuck with its conversion system for 15 to 20 years.
"So for 15 to 20 years," Commissioner Barbara Revels said, "we wouldn't see our budget go down because we've done this, because savings is paying the tab to fund the improvements. And if the improvements last longer than the 15 or 20-year funding, that's when we reap the benefits."
"That's correct," Downs said.
"Technology is going to change in 15 to 20 years and we will have a whole new opportunity then," Revels said.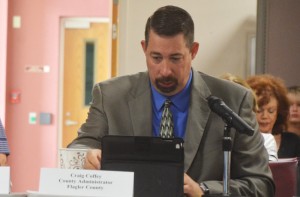 The county administration was also interested in studying possibilities with solar energy production. But the time for that may not be at hand. The Government Services Building and the courthouse may not lend themselves, as taller than wider buildings, to solar-panel installment. The parking lots may, by lending themselves to solar-panel canopies that could offset the buildings' energy uses or even accommodate electric vehicles. The problem: the technology and laws regarding solar are changing rapidly.
Coffey compared the exploration for new technologies to the county's study of natural-gas buses for its public transportation fleet. "We've investigated natural gas buses," he said. "Some communities have done that. The return on investment is not there for the upfront costs, but it doesn't stop us to keep looking at those things. Every few years we're going to keep looking at these technologies because eventually it's going to get there."
If the county opts to go with a series of green-energy projects, it would sign on with a company like ESG, which would then be the designer and developer of the chosen projects. ESG in exchange would provide a savings guarantee for the duration of the contract. The corollary to that guarantee is that the county would be stuck with the company, and the chosen improvements, for a very long time. "You've got this firm for the life of the project, pretty much," Coffey said.
In the meantime, the county will float a request for quote—an RFQ that solicits bids for the sort of projects the county has in mind, enabling ESG and other companies to bid.


The Energy Systems Group Presentation (2016)
Click to access energy-systems-group.pdf