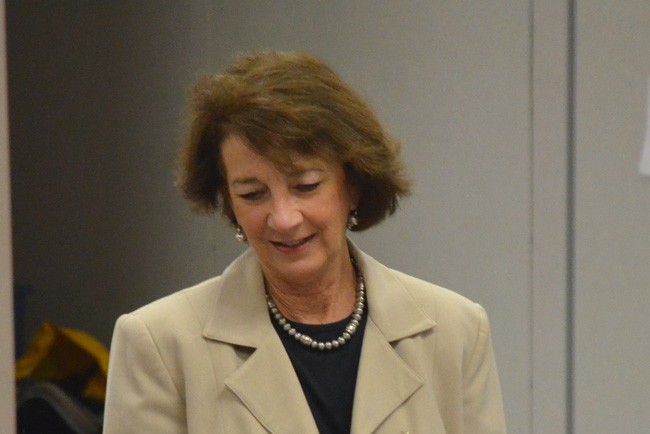 Flagler County may join just a handful of local governments that expressly adds sexual orientation to non-discrimination protections in housing.
County Commission Chairwoman Barbara Revels proposed the amendment to the county's housing ordinance at the end of a meeting Monday, testing her colleagues' positions on the issue. None disagreed.
"We have the protected class of people that you always have in discrimination where it's race, color, religion, sex, age, handicap, familial status, ancestry or national origin," Revels said, "and I would like consideration to add to that, and personal gender identity or sexual orientation, that you cannot discriminate based on any of those."
But the amendment would apply only to the ordinance that addresses the sale of rental of housing. It would not extend to protections of transgender people in, for example, the use of public facilities, nor would it apply to discrimination in the workplace, as has usually been the case when other local governments or state legislatures have taken on such protections. But Revels left the door open for broader applications.
"This is just the one section on housing, so there might be other areas," she said, even as she conceded that there may be issues in other areas of county regulations. Revels, who was attending a conference in Washington Wednesday, wrote in an email that she "suggested that each department head look at their guiding ordinances or policies to see where this language needs to be inserted into the list of protective classes." Any such changes would have to go through the ordinance-amendment process, which would include two public hearings.
Revels said she was responding to a suggestion from Rabbi Merrill Shapiro, a leader in Flagler County Democratic politics and civil rights issues. (Disclosure: Shapiro chairs the FlaglerLive Board of Directors.)
"We'll take what we can get but we'll continue to push," Shapiro said Wednesday. "If we have such a reasonable, open and progressive minded county commission, that's great, we'll go for it all."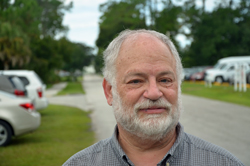 The idea, he said, emerged from the Flagler County Democratic Progressive Caucus, with Volusia's ordinance serving as a model. "Once we have a foot in the door, we'll move on from there," with Palm Coast possibly next, though Shapiro expects that if the county amends its ordinance, the cities would then fall in line. "It's just a matter of expanding that protection. We're really asking for the addition of just a few words to a law that's well in place and widely accepted."
"That's kind of the law of the land anyway," Commissioner Frank Meeker said of Revels's proposal.
That was a rosier statement than an accurate one. Some local governments have adopted such protections, among them Broward, Volusia and Miami-Dade counties (Volusia adopted its ordinance in 2011), others have rejected them, as has the state Legislature. Most have not.
Some Florida senators in the last session tried to pass a bill that would update the state's Civil Rights Act of 1992 by adding a line that would expand classes protected against discrimination to include bar discrimination against lesbian, gay, bisexual and transgender people in the workplace, public housing and other public accommodations. The bill (SB 120), filed by Sen. Joseph Abruzzo, D-Boynton Beach, would have largely done what Revels is aiming to do in Flagler County. It failed.
The reason: some senators refused to include protection for transgender people in public bathrooms, raising fears—unfounded by all accounts, and generally reflective of a misunderstanding or mischaracterization of the issue—that, say, a man would declare himself a woman and opt to use a women's bathroom to ogle other women.
"Every reasonable citizen in the state of Florida looks at our legislature and says, what's the matter with these people? They don't behave like grownups, they're so petty," Shapiro said. "That's such an excuse to just derail this legislation."
In 2015, a Senate bill that would have forbidden local governments from passing such protections failed to get a floor vote.
In February, the Palm Bay City Council rejected a proposed human rights ordinance that would have ensured freedom "from all forms of discrimination, including discrimination based on age, race, color, religion, national origin, disability, marital status, familial status, sex, sexual orientation, or gender identity and expression." Since last year the Jacksonville City Council was grappling with a similar ordinance until its sponsor, Tommy Hazouri, reluctantly withdrew it in the face of mounting opposition, especially from clergy. "Today," he said in a statement in mid-February, "we are stuck in the past, frozen in time, when it comes to human rights." But, he added, "Be assured, this bill and this issue is coming back."
Preemptive bills have passed other state legislative bodies, the latest on Wednesday (March 23), when the North Carolina House of Representatives by a wide margin (83-25) voted to outlaw all local governments' LGBT nondiscrimination ordinances and ban transgender people from public bathrooms.
In February, the South Dakota legislature passed a bill similar to North Carolina's, but Gov. Dennis Daugaard, a Republican, vetoed the bill, deferring instead to local governments. "If and when these rare situations arise, I believe local school officials are best positioned to address them," Daugaard wrote in his veto message. "Instead of encouraging local solutions, this bill broadly regulates in a manner that invites conflict and litigation, diverting energy and resources from the education of the children of this state."
Last November, voters in a referendum rejected a similar anti-discrimination initiative in Houston. There is no sign that attempts to pass similar bans on anti-discrimination measures will abate.
Locally, Shapiro said, the non-discrimination measure would be a boon to the county's continued focus on economic development. "Businesses can come here and hire the best people," he said, "and the best people can come here because they know they won't be discriminated over what we regard as irrelevant factors."