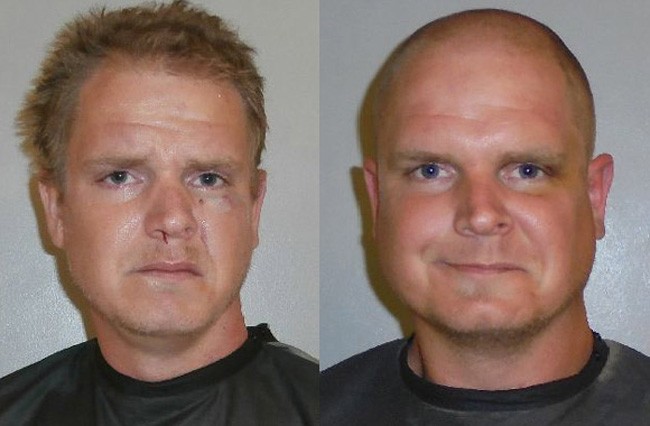 Christopher Munson, a frequent inmate at the Flagler County jail on a variety of violent offenses and a resident of Folcroft Lane (according to his jail records), was arrested this morning on a second-degree felony charge of arson against state property after he allegedly set a large swath of beach-side dunes on fire so he could have a nice place to paint the next day.
Early this morning, between 2:30 and 2:45, a Flagler Beach resident traveling with a friend from Ormond Beach along State Road A1A, just north of Flagler Beach, spotted dunes on fire just south of Varn Park. They stopped their car to investigate, and soon spotted Munson, 34, whose latest arrest report lists his address at a nearby house on Ocean Shore Boulevard, stomping on a section of dunes that was on fire, then lighting additional fires and stomping on those in turn. At the time, about 150 feet of dunes appeared to be on fire. The witnesses called 911.
When Flagler County Sheriff's deputy Paul Kandour arrived, he estimated that an area of 50 by 200 feet (or 10,000 square feet, about the size of a quarter-acre lot) had been incinerated, some of it still with burning embers.
Munson was sitting in a green folding chair near the long concrete seawall that extends south of Varn Park. He was singing.
Kandour read him his rights, handcuffed him and placed him in his patrol car, where he interviewed him: Munson agreed to speak. "Mr. Munson said he enjoys visiting the beach at night," the arrest report states. Munson "said that he meditates, plays his guitar and paints" when he visits the beach. This morning, he told the cop he'd decided to set the fires for two reasons: "To burn all of the grass so he could see the beer bottles that people have littered over the years," according to the arrest report. Munson said he intended to pick up the bottles and make the area more presentable.
The second reason: "To wake up on the beach and paint a portrait of the burned dunes, a picture that would be beautiful."
Munson told the cop that he could contain the flames because he had a water cooler. (Dunes and their vegetation are protected under state law.) He had a "Premium Spark" lighter in a pocket. Munson said he used the lighter and a roadside flare to light the fires, though no flare was found.
Munson was carrying an HTC phone, which he allowed the cop to examine after telling Kandour that he had several pictures of the fires he'd started. One of them was a selfie of Munson, with the fire blazing in the background. The phone was seized as evidence, as was the lighter. As he was being booked in at the jail, Munson said that he had been "planning this for a long time."
He was still being held Monday evening on $1,500 bond.
Two years ago Munson was found guilty of trespassing an occupied structure (a first-degree misdemeanor) after an original aggravated assault charge was downgraded, and a purse-snatching charge was dropped: initially, Munson had been accused of armed robbery at a 7-Eleven, where he'd used a toy gun. He's also faced a felony battery charge two years ago, battery and assault charges in 2010, fleeing and eluding police and marijuana possession in 2011.