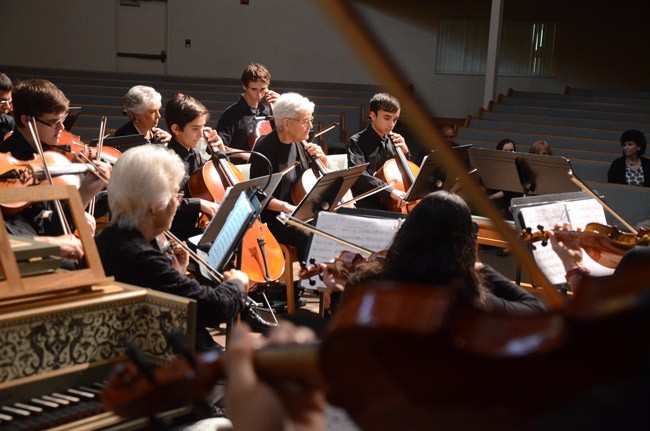 The Chamber Players of Palm Coast are back for their fourth and final concert of the season on Sunday, at 3:30 p.m. April 3 at Palm Coast's United Methodist Church on Belle Terre Parkway. Just as the ensemble was last year, it'll be joined by musicians of the Flagler Youth Orchestra for a finale.
The free concert, under the direction of Paige Dashner Long, will feature works by Haydn, Mozart, and Carl Friedrich Abel, the latter a contemporary of the first two, but not as immortal. Abel had been a student of J.S. Bach's, and later was a roommate's of one of Bach's innumerable sons–Johann Christian–in London, where Abel was the queen's chamber musician (for 200 British pounds a year). There, Abel and the younger Bach held their own joint concert series for 16 years. It was through their concerts that Haydn's symphonies were first heard in London. The Chamber Players will perform one of his symphonies at the concert.
Other works include Smetana's famous Moldau, Mozart's Ave verum corpus, and Haydn's Symphony No. 97, continuing the Chamber Players' apparent wish to play through all 104 Haydn symphonies, about one a year, in the course of the century. They'll also be performing Haydn's Toy Symphony, that one with the Youth Orchestra's Harmony Chamber Orchestra, under the direction of Sue Cryan.
The concert will feature violinists Bonnie Biedermann, Martha Hotz, El Gervasio, Daniel Masbad, Chris Romaine, and Maggie Snively with concertmaster Sue Cryan; violists Karen Hacker, Jack Jeffe and Phil Pearson; cellos Barbara Burton and Sandy Pearson; directed by Paige Dashner Long, playing flute. Masbad was previously with the youth orchestra. He has graduated, and is still a member of the Jacksonville Symphony Youth Orchestra. Gervasio, Snively and Cryan are part of the youth orchestra's faculty, as was Jeffe, who still occasionally works with the orchestra.