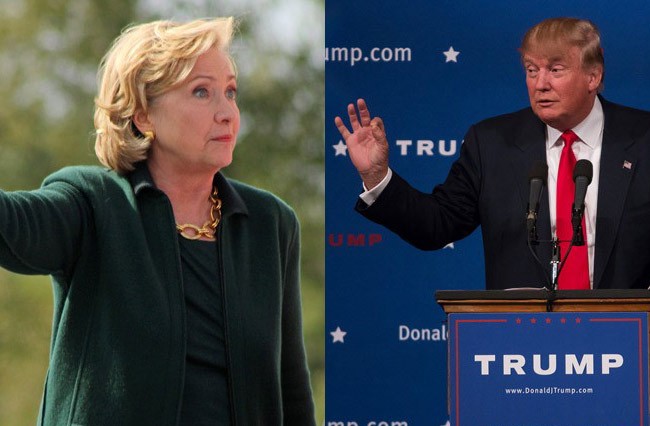 The last major poll in Florida before Tuesday's primary election shows Donald Trump maintaining a seemingly insurmountable 2-1 lead over Marco Rubio, and Hillary Clinton maintaining a similar lead over Bernie Sanders.
But the word "before" must be qualified: almost a third of voters have already cast ballots in Flagler County and a quarter have cast ballots in St. Johns, with similarly buoyant early-voting numbers across the state.
For Marco Rubio, who so far has won only one state (Minnesota), one territory (Puerto Rico) and the District of Columbia, losing Florida will mean the end of his campaign.
Among likely Republican voters, Trump leads Rubio 41-25, with leads in every category. Ted Cruz gets 14 percent and Ohio Governor John Kasich 10 percent. Among likely Democratic voters, there is no gender gap: women back Clinton over Sanders 60-35 percent and men back her 60-33 percent.
The last Quinnipiac University poll before Tuesday's primary was completed Sunday evening and surveyed 615 likely Republican Floridian voters. It has a margin of error of plus or minus 4 percent. Quinnipiac surveyed 519 likely Democratic voters, with a margin of error of plus or minus 4.3 percent. Florida's winner will take all of the state's 99 delegates in the first of numerous winner-takes-all primaries.
Ohio, too, is winner-takes-all. There, the Quinnipiac poll found Kasich and Trump tied with 38 percent each, with Cruz at 16 percent and Rubio at 3. Clinton is barely ahead of Sanders in Ohio, 46-41, placing her lead just outside the margin of error.
A huge number of voters have already cast ballots in early voting and with absentee ballots.
In Flagler County, early voting ended Saturday, after eight days of early voting, with 9,516 voters casting ballots, and another 6,143 voting by mail. The total of 15,659 votes already cast, out of 53,500 registered Democrats or Republicans (the county's 20,500 independents may not cast a ballot) represents a turnout of 29.3 percent.
In comparison, in 2012, when only Republicans had a presidential primary, a total of 9,416 voters cast a ballot, representing a turnout of 46.6 percent among Republicans at the time. Of those, just 1,661 voted early, and 1,149 voted by mail. Clearly, early voting and voting by mail is gaining popularity.
The numbers are disproportionate in one way: almost twice as many Republicans voted as Democrats, a reflection of the Trump effect to a degree. If the Democrats' Sanders was to generate similar excitement in Florida, the numbers have not borne that out.
A closer look at Flagler County's early voting patterns this year shows that Grand Haven, once again, has the most engaged voters–the gated community generally has the highest turnout in every election–with 41 percent of eligible voters there casting ballots either by mail or in early voting. Palm Coast's older, central section (the Palm Coast Community Center) and St. Mary's Catholic Church on South Old Dixie Road are next, each turning out 37 percent of their eligible electorate.
The least interested voters so far are in precincts 1 and 2, in Bunnell and West Bunnell, even though Bunnell has a municipal election on this ballot, with three candidates (including two incumbents) vying for two seats on the city commission. The two precincts turned out 16 and 19 percent of their eligible voters. Bunnell has notoriously had poor turnout at elections.
The Floria House passed a bill that would have required cities like Bunnell and Flagler Beach to change their elections schedules and force them to match up with major elections in an effort to improve turnout. The bill did not pass the Senate, however, and died.
Late Monday afternoon, the News Service of Florida reported that Pam Bondi, the attorney general, who had initially backed Jeb Bush for president before the former Florida governor dropped out, praised Trump for his outspoken style and endorsed him.
"People today are looking for leadership, the kind that Mr. Trump offers, that's unafraid to tell it like it is and will do something about renewing America's strength and greatness," the News Service reported, quoting a statement Bondi released through the Trump campaign. "We have been friends for years, and I know his family personally. I've seen first-hand how he leads, and how he cares deeply about the people of this country."