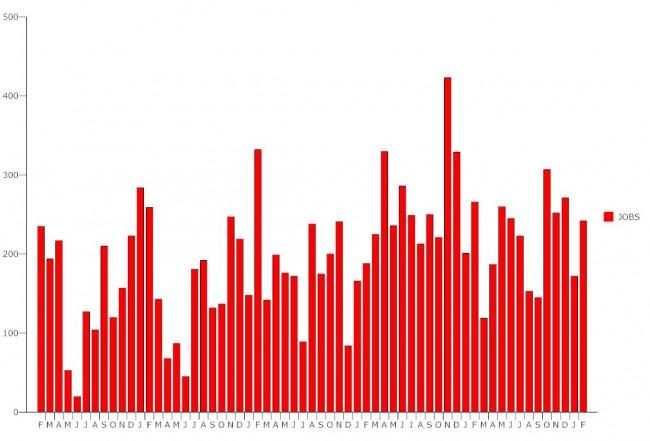 For at least a few moments this morning the nation's eyes veered away from the wreckage of last night's Republican debate in Detroit to take in the latest unemployment numbers, historically one of the key factors in deciding presidential elections.
After a relatively weaker January, when only 172,000 jobs were created, the job market resumed the late 1990s-like pace it has maintained for most of the past two years as the economy added 242,000 jobs in February, while December and January figures were revised upward by 30,000 jobs. That brings the total net jobs created in the last three months to 685,000, and total job creation during President Obama's second term to nearly 8 million.
The unemployment rate remained at 4.9 percent for the second month. The alternative measure of labor utilization, the so-called U-6 measure, which includes those who have abandoned the job market and the under-employed–those who work part-time either because their hours have been cut back or because they can't find full-time work–fell by two decimal points, to 9.7 percent. That's an improvement from the 11.4 percent rate a year ago. The U-6 rate is approaching its pre-recession levels. In February, 6 million workers were employed part-time for economic reasons.
And for the first time in Obama's presidency, two other economic factors that measure the long-term strength of the job market have also improved: The employment-population ratio, which went up two decimal points to 59.8 percent over the month, its highest level since April 2009, and the labor force participation rate, which also went up two decimal points, to 62.9 percent. That rate was in the 66 percent range before the Great Recession. The two rates point to the willingness of workers to rejoin the labor force. But they are also an indication of the growing number of baby boomers who began retiring just before the Great Recession struck. If the two measures show improvement even as those retirements continue, it would indicate a net strengthening of the labor market.
Another underlying economic factor is not improving as strongly: In February, average hourly earnings for all employees on private
payrolls declined by 3 cents to $25.35, following an increase of 12 cents in January. Average hourly earnings have risen by only 2.2 percent over the year, not enough to overcome inflation or increasing health care costs. The average workweek also declined by 0.2 hours, to 34.4 hours, though that's not much different than pre-recession levels.
Some highlights by sector: Health care and social assistance added 57,000 jobs in February, retail added 55,000, restaurants and bars added 40,000, private educational services added 28,000, and construction 19,000. Mining lost 19,000 jobs. Since a recent peak in September 2014, mining has shed 171,000 jobs, with more than three-fourths of the loss in support activities for mining. Employment in other major industries, including manufacturing, wholesale trade, transportation and warehousing, financial activities, professional
and business services, and government, showed little change over the month.