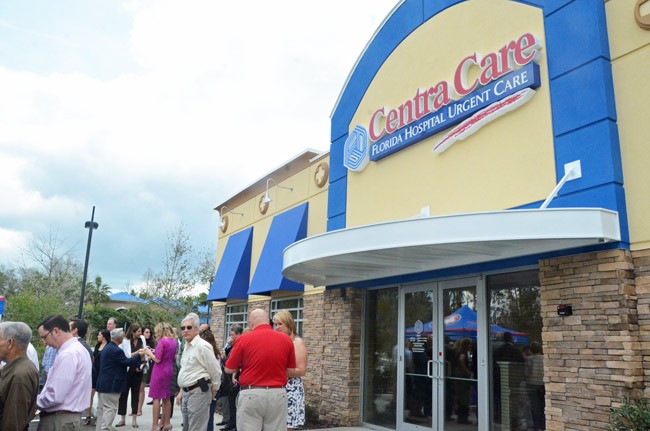 It doesn't seem like long ago—though it's been nearly four years—that Florida Hospital Flagler broke ground then opened its $15 million Parkway Medical Plaza,  a 34,000 square foot, two-story facility on Cypress Edge Drive that combined doctors' offices with a walk-in clinic, lab, rehab center and other uses.
A year later the same facility launched Prompt Care, a walk-in clinic for less-than-life-threatening emergencies that drew the school district as its largest client base, and has served thousands of others since, of course. Such clinics, emerging rapidly across the country, are designed to lessen the pressure on emergency rooms and, for patients, lessen costs: it's much cheaper to get a bone set at a clinic than at the ER.
On Wednesday, yet another such clinic marked its official opening (after its soft opening a few weeks ago), again under Florida Hospital Flagler's imprint: it's the first Florida Hospital Centra Care Center in Flagler—and the 29th in Central Florida, with two such centers in Volusia County—this one at 1270 Palm Coast Parkway, next to Sunshine Academy and Intracoastal Bank.
Florida Hospital executives and supporters, still dusting off their shoes from a groundbreaking for a 32-bed expansion at the hospital proper, brought scissors and smiles for Wednesday's ribbon-cutting at Centra Care and spoke of the facility as the latest piece in a larger mosaic of choices for clients at every socio-economic level.
"Over the last almost three years we have been focused at the hospital on how we can improve access to care for our community," Florida Hospital Flagler CEO Ken Mattison said. "We worked diligently with the free clinic, we worked diligently with Azalea Health to put together the FQHC, and then to have Centra Care come in and continue this expansion of care access in our community is just an extraordinary thing."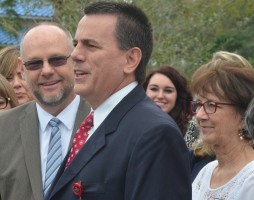 Putnam County-based Azelea Health opened a facility in Palm Coast last year as a Federally Qualified Health Center—the FQHC Mattison referred to. It's a primary care center that provides services to the poor and working poor who may not qualify to be seen at the free clinic. The local health department had several years ago attempted to open but had not been able to secure. And of course the health department's budget, having been "decimated"—as characterized by Barbara Revels, the county commissioner—by Florida Surgeon General John Armstrong, led to the health department having to forego most primary care services.  Those have devolved to other centers, such as Azalea, and urgent care centers such as Centra Care.
"You have all these tiers of accessibility throughout the county, free, reduced as for income, on up the line," Revels said, "this is just another little piece of that strategy to say we've got something in this county for just about everybody."
The new facility on Palm Coast Parkway, a 5,000 square foot, one-floor building, will be open seven days a week from 8 a.m. to 8 p.m. except on weekends, when it closes at 5 p.m. The place will look familiar to anyone who's been in a clinic before—waiting room, eight patient rooms, some of them more elaborate than others, check in and checkout desks—though the waiting room has been arranged for a bit more comfort and light to be less, well, clinical on the senses.
As for services, the center can care for broken bones (temporary rather than permanent sets), sprains, arthritis, shingles and other skin conditions, lacerations, elevated blood pressure, the flu, colds and the like. "We're kind of here to help you in the middle, you don't know what you need or where you need to be, Centra Care is where you need to be," says Michelle Madawi, who manages the facility. (Medicaid, Medicare and Tricare are all accepted.)
"Any follow-up visits, any follow-up services that need to be taken care of after your urgent care visit, that can be as far as diagnostic services, imaging services or wound care or referrals to primary care or specialists, that's where our integration with Florida Hospital Flagler takes place, so we're basically an extension of their network," says Jake McKelvy, the director of operations and business development for Centra Care.
The clinic will eventually employ 15 people, including two physicians who will toggle shifts, nurses and office personnel. They'll all be new hire, rather than existing positions drawn from other Florida Hospital Flagler locations. There could be an additional such facility in the county "possibly in the future, absolutely," says Centra Care Chief Operating Officer Rob Paswaters, "so as we see the need grow and as this center gets busier, we could certainly look at another Flagler location."
Curiously, Centra Care and clinics like it may send patients to the emergency room if need be, but if patients show up at the ER with needs that could be taken care of at a walk-in clinic, they may not be sent there. That's Florida law.
The new facility will, by necessity, change the mission of Prompt Care.
"Prompt Care was named to be an early version of access to urgent care," Mattison said, "but candidly it has evolved into a primary care medical home for the patients that are cared for there. Yeah, there's still going to be walk-in appointments, but urgent care is what Centra Care does and they do it extremely well, and there's no need for us to duplicate two urgent care centers. So we're changing the name of the former Prompt Care to much more of a primary care setting."
Mattison said the urgent care center is a good mechanism to control costs, but for patients, the key will be to ensure that they know that their first point of contact in a non-life-threatening medical emergency is to go to such an urgent care center rather than head for the emergency room.