The last two years' headlines have been rife with cop shootings of civilians, armed or unarmed, in often murky confrontations. In Flagler County, sheriff's deputies have again and again been confronted with armed assailants, but in every case but one–going back to December 2012, when a 32-year-old man wielding a machete was shot dead in Palm Coast's B-Section–they have either defused the situation or ended the threat of violence with non-lethal means.
The latest two incidents took place within a span of four days. On Friday, a 68-year-old woman who was wielding a Smith and Wesson .380 handgun and who'd earlier fired two shots in the air was disarmed by a deputy who'd unholstered his weapon at the Holiday Travel Park on Old Dixie Highway. Early Tuesday morning, another confrontation, this time involving a 15-year-old boy wielding a knife, led a deputy to unholster his gun even as the young assailant was moving toward him. The confrontation ended without violence.
The latest incident developed around midnight at 6 Reinhardt Lane in Palm Coast. Robert Gould had called 911 to report that his grandson had a knife and was out of control, trying to break windows, according to an incident report. When deputies got there, three people were outside the house. As soon as deputy Trevor Jacob got out of his car, the 15-year-old boy "advanced towards me from the front yard with a kitchen knife in his right hand," Jacob reported.
The boy was given orders to drop the knife. He continued to advance toward the deputy, angrily, prompting Jacob to take out his Glock and point it at the boy, giving him further commands to drop the knife. The boy then complied. His grandmother took the knife away, though she in turn was ordered to step back and drop the knife.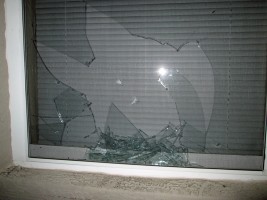 Questioned about the incident, the 15 year old told the deputy that Gould, his grandmother's boyfriend, had "spit in his grandmother's face a while ago and he was still upset about it," the incident report relates. "After thinking about that prior incident and getting upset he then packed a bag and left the residence on foot." The boy walked to Rymfire Drive and walked back home. Once home, he said he pulled a knife out of his bag and broke a side window from outside, prompting Gould and Yvonne Toles, his grandmother, to come outside, where the confrontation escalated. The boy declined to speak further after he was given his Miranda rights.
Gould and Toles did not cooperate with the investigation, the incident report states, beyond describing the banging on the window and them going outside.
The 15 year old was taken to the division of juvenile justice in Daytona Beach. He faces a count of aggravated assault with a deadly weapon, and a count of aggravated assault on a law enforcement officer.