Flagler County voters may need an extra push to get to the polls. But getting registered is no longer an issue.
When the voter registration window closed last week ahead of the March 15 Florida presidential primary, three trends were starkly apparent in Flagler County: overall registrations have surged well ahead of Florida's rate or the rate of population increase. Independents, and to a much lesser extent Republicans, have accounted for most of the surge. And Democratic registrations are at a historic low. At current trends, Independents may outnumber Democrats in six or eight years.
As of today, just under 76,000 Flagler County residents are registered to vote, a record. Of those, 28,954, or 38.2 percent, are Republican, 24,533, or 32.3 percent, are Democrats, and 20,448, or 27 percent, are Independents, with another 1,912, or 2.5 percent, belonging to smaller parties.
The Democrats' registration rate has never been this low in Flagler County, which, until the Republican surge of the 1990s, had been, like much of Florida, mostly a Democratic county. The last time Democrats led registrations in Flagler was just ahead of the election of Barack Obama, and for a few years after that. Obama carried Flagler County in 2008. But he lost it in 2012. The gap between Democrats and Republicans has never been this wide, either, unless one goes back to the years when Democrats held a crushing advantage. Today, Republicans are riding a 4,500-voter advantage over Democrats, the equivalent of six percentage points.
Partisanship aside, the most striking number is the county's overall registration rate, which is at or near 90 percent, a remarkable achievement by any standard, with Flagler's registration rate surging more than 21 percent since 2009, and with more than half that increase occurring since 2014.
The Census Bureau puts the county's 2014 population—the last numbers available—at 102,000, with 83,900 of that of voting age (18 and older). That equates to a 90 percent voter registration rate.
Flagler's population has increased by about 10 percent since 2009, according to the Census Bureau. And Florida's overall registration tallies have increased by just 10 percent. So much of the registration increase is a net gain attributed either to more voter engagement or more voter outreach by the Supervisor of Elections office.
Both have played a large role.
"The whole theme has been, are you election ready, because I don't want anyone surprised when they go to the polls," Supervisor of Elections Kaiti Lenhart said.  "I've been out attending voter outreach events more than ever, so we've had a good turnout from those as well." Last month Lenhart's office mailed a voter-education package to every household in the county, urging residents to get registered. It was a first for Flagler County, paid for with a federal grant. Voters sent back some 600 responses from that within the first week of it going out with updates to registrations.
---
In every way, a commanding advantage for Republicans in Flagler County, and continuing decreases for Democrats.
---
State Division of Elections figures show that registrations are taking place in the largest numbers at the tax collectors' offices, especially when people get or change their driver's license. In January 2015, for example, 610 people in Flagler registered through the tax collector's office, representing 90 percent of all new registrations.
In comparison, just 6 percent did so by mail, 2 percent at public libraries, none through direct recruiters, and 5 percent did so at the Supervisor of Elections' Office. At the time, the Flagler supervisor's office was not a friendly or particularly place, and was just emerging from six years under Kimberle Weeks (who is now under felony indictment). By this January, the proportion of people registering directly through the SEO office had surged to 17 percent, while tax collector's office registrations had fallen to 70 percent. Clearly, new leadership played a demonstrable role.
But voter excitement is also playing a role.
"Over time, over a period of years, the voter awareness in Flagler County has been very high," Bob Updegrave, who's led voter-registration efforts for the local Republican Party for several years, said. "We've had a couple of very high profile elections. In 2014, the commissioners' races, those fellows went out and worked and drove awareness. The 2012 election generated huge interest and voter registration. This year, we have a huge Republican presidential field, lots of choices, choices from one end to the other, and Florida being a closed primary state, I believe people get it, people here really understand the need to be affiliated with a party in order to have a say."
A closed primary means that only registered Republicans may vote in the Republican primary, and only registered Democrats may vote in the Democratic primary. Unlike in some 20 other states that have open primaries, Independents—who would otherwise get to cast a ballot in either primary—get no vote. So Independents will often switch registration ahead of a primary to have a voice. Just since December 1 in Flagler County, 1,471 voters switched party registration, Lenhart said, usually to have more of a say in the coming primary.
The net surge in registration also takes in account the biennial purging of the rolls to get rid of non-active voters and the constant paring of the rolls to keep up with deaths, people convicted of felonies (who lose their civil right to vote) and others.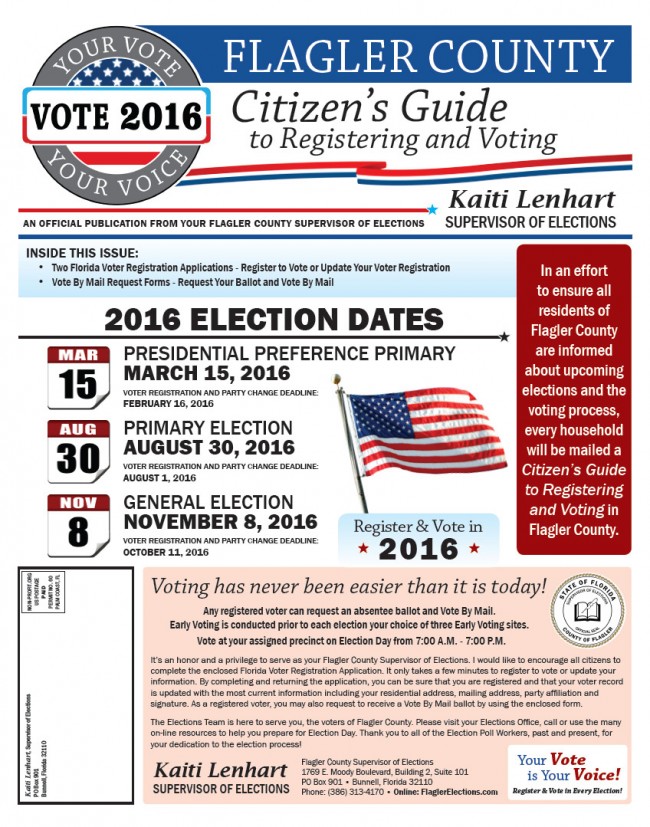 For example, last year, 3,015 people were removed from the registration rolls in what's called list0-maintenance, which affects those who have not voted in four years, and who do not respond to a mailed notice about their registration. In addition, 1,144 people were removed in 2015 because of death. And in addition to that, 92 lost their privilege to vote in the same period when they were convicted as felons, two more lost their right when they were adjudicated mentally incapacitated, and one registrant was taken off the rolls for not being a U.S. citizen.
Voters may again switch registration ahead of the August primary, and then again ahead of the November general election. Registration numbers are expected to increase further between now and then, though with a 90 percent rate of registration, the county has little room for more. That's part of the reason why Ralph Lightfoot, who chairs the Democratic Executive Committee, finds conditions for Democrats "depressing." Though he's been making various efforts to get more Democrats registered, there are few avenues left to find them.
"Locally it's very difficult to mobilize the Democrats because people are relatively happy," Lightfoot said. "We've been doing this for about a year, and folks don't have a lot to complain about, so it's difficult to get people to run." He said at Palm Coast City Hall meetings, water rates may be increased, the pay scale for the city's attorneys may rise substantially, yet still no one complains. "If it's not directly impacting their taxes and if it's not impacting them directly, nobody really cares," he said, though the number of people who have filed to run for council seats, most of them Republicans, suggests otherwise: so far six candidates have filed to run for mayor and two for two council seats.
If Donald Trump wins the Republican presidential nomination, Lightfoot said, "Democrats will come out of the woodworks to vote against Trump."
From the Republican perspective, there is a great deal of dissatisfaction and energy to be engaged for change, Gail Wadsworth, a long-time leader in local Republican politics—and the clerk of court, for a few more months—said. "I see frustration with where we are in this country, I see economic frustration. People don't necessarily want anything to be taken from them," Wadsworth said. "If they earn it, they believe they have a right to have a higher standard of living. I see an even larger thing going on here that is always attributable to the commander in chief and it's called safety, and I don't think people in the United States feel safe."
Updegrave said the "Trump effect" is bringing more people to the political process, but over the longer term in Flagler, he sees the surge in Republican registrations having its roots in the 2008 Obama win in Flagler County. "If nothing else, to Republicans that had to have been a stinging reminder or a stinging rebuke, and perhaps voters woke up," Updegrave said.
Democrats, for all their Sanders effect, are not experiencing the same engagement, in Updegrave's view.  "I don't hear or feel or sense that there's a great deal of excitement about Bernie or Hilary in this race," Updegrave said. "I think Democrats are yawning, I don't think there's anything on the Democrat side that would cause many voters to rush out or change their registration from Republican or NPA," that is, no party affiliation, "to vote for one of those. Now I may be a bit biased, I'm obviously a Republican, and focus on our people."
Updegrave may not be wrong: when the Democrats held a forum featuring stand-ins for Sanders and Clinton at the African American Cultural Society last week, just 60 people showed up.
That's having an effect on local races, which, with the exception of the Flagler County Commission, are dominated by Republicans. "Democrats don't think they can get elected here. That's probably the reason why Milissa switched over," Lightfoot said, referring to Milissa Holland, who'd long been a Democrat when she served on the county commission and ran for the state house, but switched to Republican to run for mayor of Palm Coast, even though those races are ostensibly non-partisan. (They are, though no one buys the pretense: parties still work hard to push their own candidates.)
"We're trying to turn this around," Lightfoot said. "We're working on voter registration. I'm getting more people involved."


Flagler County Voter Registration, 2003-2016
Democrats

Republicans

Independents

Minor Parties

Total

Oct. 2003

15,176
38.7%

16,259
41.5%

6,953
17.8%

780
2%

39,168

March 2004

16,215
38.9%

17,147
41.1%

17,536
18.1%

809
1.9%

41,707

March 2005

18,236
37.9%

19,535
40.6%

9,308
19.4%

998
2.1%

48,077

March 2006

19,086
37.3%

20,458
39.9%

10,337
20.3%

1,333
2.6%

51,214

March 2007

19,014
37.0%

20,080
39.1%

10,819
21.1%

1,463
2.8%

51,376

March 2008

21,096
37.5%

21,291
37.8%

12,074
21.5%

1,814
3.2%

56,275

July 2008

21,429
37.8%

21,327
37.6%

12,088
21.3%

1,869
2.8%

56,713

March 2009

23,713
38.1%

22,705
36.4%

13,750
22.1%

2,119
3.4%

62,287

March 2010

23,803
37.6%

22,817
36.0%

14,438
22.8%

2,327
3.7%

63,385

March 2011

24,023
36.9%

23,364
35.9%

15,138
23.2%

2,582
4%

65,107

March 2012

23,990
35.8%

24,514
36.6%

15,827
23.6%

2,628
3.9%

66,959

Oct. 2012

24,330
35.3%

25,552
37.1%

17,056
24.7%

1,995
2.9%

68,933

Florida, May 2012

4,542,023
40.2%

4,095,660
36.3%

2,660,262
23.5%

(Combined with NPAs)

11,297,945

March 2013

23,201
34.9%

24,695
37.2%

16,591
25%

1,912
2.9%

66,399

March 2014

23,911
34.2%

25,581
36.59%

18,460
26.4%

1,962
2.8%

69,914

March 2015

24,369
33.2%

26,540
36.2%

20,329
27.7%

2,058
2.8%

73,296

February 2016

24,533
32.3%

28,954
38.2%

20,448
27%

1,912
2.5%

75,847

Florida, January 2016

4,534,845
37.8%

4,209,039
35.1%

2,906,189
24.2%

343,423
2.9%

11,993,496