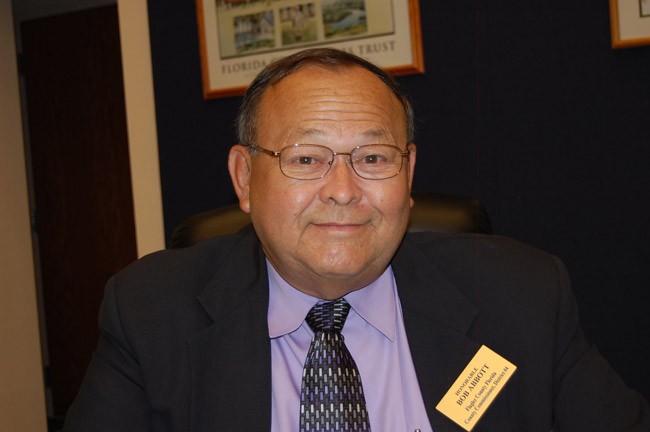 Bob Abbott, whose one term on the Flagler County Commission in the previous decade bridged the period from record development to the Great Recession, and who considered the Flagler Beach pier's fishing community his second home, died Wednesday at his home on Banner Lane in Palm Coast after a long illness. He had long suffered from heart problems. He had turned 70 on Jan. 7.
Abbott defeated Curtis Ceballos in the 2006 Democratic primary for the county commission, with 55 percent of the vote, then he unseated two-term incumbent and West-side darling Hershel King with 56 percent of the vote in an election that also brought Milissa Holland to the County Commission.
"Having been raised in Flagler County," Holland said today, "Bob brought a unique perspective as a county commissioner. He knew and felt why this place was so special to so many and many of his votes on the board reflected that. He was also eager to learn and find ways to help the community progress. I enjoyed serving with him."
Abbott's commission stint was his first and only time in office (he'd served on the Daytona North advisory board). He spoke his mind candidly and frequently. "These commissioners don't look past the ends of their noses," he said in a News-Journal interview during his 2006 campaign, criticizing a commission in hock to developers even as he took generous contributions from them. And he was among the politicians who liked to refer to the then-new Government Services Building as an extravagant "Taj Mahal" that should never have been built, at least until he started occupying the building. He was especially critical of commissioners' roughshod, late-night firings of former County Administrator David Haas  and  Emergency Services Director Doug Wright.
But Abbott probably been more comfortable talking about black drum, bull whiting, big reds, redfish, flounder and other angling pleasures than about political vagaries: he'd worked at the pier's bait and tackle shop and frequently provided fishing reports to local media when he wasn't himself fishing on the pier. That was before his illness set in.
"He was a good man, he tried his best, he'd been sick from what I understand for a very long time," Ceballos, now the owner of a Palm Coast-based venture, said of his 2006 race with Abbott. "It was an interesting race when we ran, very respectful. I think he was more surprised than many others that he had won the race. Unfortunately his time in office proved in itself what it was, he didn't have much experience in the political arena."  But, Ceballos said,  "it's the spirit that counts, somebody taking the bull by the horn and saying hey, I've never done this before but I'm going to give it a try and see what I can do."
Abbott then switched parties—a decision that may have cost him the next election, as he lost in the Republican primary against Nate McLaughlin, who had no Democratic opposition in the general election. By then the housing downturn had also hurt Abbott's finances, and his health wasn't helping.
Commissioner George Hanns, who also served with Abbott, remembered how paramedics at times would be summoned during a meeting to stabilize Abbott's heart.
"He was never one that wasn't cordial with the other commissioners," Hanns said. "He was more of the type of person who was eager to go a long and get along with other people. It seemed he was always trying to please others. Because of his health issues he may not have been as efficient as he could have been if he had been at the peak of his health, but I have nothing but admiration and good things to say about him."
A native of Camden, N.J. Abbott was raised in Flagler Beach and graduated from Bunnell High School in 1964. He served 20 years in the Navy, retiring as a chief petty officer.
According to an obituary notice posted on his Facebook page this morning, "He is survived by his wife of 46 years Paquita Hugas Abbott, his daughters Mindy Abbott Diggan and her husband Jeff. Robin Abbott Moore and her fiance Brian Konopka, his grandchildren, Katelyn Diggan Norris, Tyler Diggan, Ashleigh Abbott Cellini, Chad Diggan, Brittany Moore Abbott, Michael Moore Abbott, and his greatgrandson Wyatt Norris, his siblings Jack Abbott and his wife Sandy of Ormond Beach, Dale Abbott and his partner John Bourne of Gatlinburg, Tenn., Sandra Pijot and her husband David of Ormond Beach, Michael Abbott and his partner Todd Scala of Winter Park," and many other relatives. "In lieu of flowers, contributions can be made to the Disabled Veterans Foundation of Florida. At Robert's request a private family service with full military honors will be held."