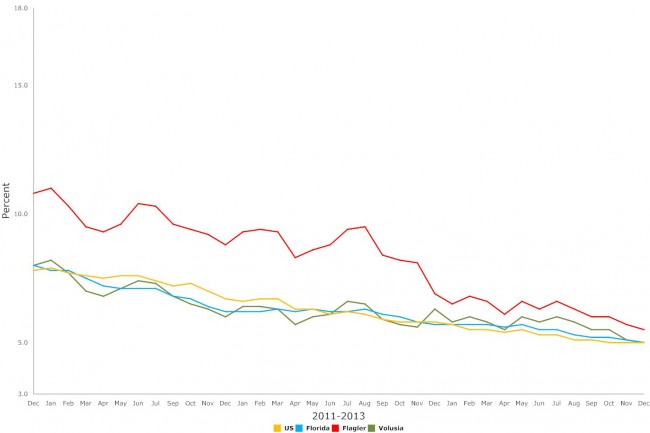 Flagler County's economy continued to improve in December, with the unemployment rate falling to 5.5 percent, a new low since the Great Recession, and a vastly improved rate since even a year ago, when it stood at 6.9 percent. Flagler's rate has gradually approached Florida's and the nation, both of which stood at 5 percent in December.
The number of people holding jobs–full or part-time–did not significantly increase in Flagler last month, growing by just 24, to 40,294, an improvement of 561 over the year. But the number of unemployed residents declined by 72, while the workforce barely budged at 42,647, an increase of about 150 since last year.
Florida added 21,900 jobs for a total of 233,100 non-agricultural jobs added to the state's rolls since last year. There were 487,000 jobless Floridians out of a labor force of 9.7 million.
Gov. Rick Scott, announcing the jobs report in Estero, south of Cape Coral, this morning, focused on his proposal to cut $1 billion in taxes even though the state's revenue-estimating conference last week revealed that the state will have $400 million less in revenue than previously calculated for the budget year starting on July 1. Overall, however, state revenue is still projected to increase by $1.2 billion over the current budget year. Earlier this week Scott's office termed the new calculation "a minor reduction."
No single job sector had an outstanding December, with gains spread more or less evenly across industries. The biggest gains were in administrative and waste services, which added 10,500 jobs (a 1.7 percent increase) real estate, rental and leasing, with 2,000 jobs (1.1 percent), non-durable goods manufacturing, which added 1,400 jobs (1.3 percent) and educational services, which added 1,600 jobs (1 percent).
Monroe County had the state's lowest unemployment rate (3.2 percent), followed by St. Johns County (3.5 percent) and Alachua and Wakulla counties (4.0 percent each). Hendry County had the highest unemployment rate (7.3 percent) in Florida in December 2015, followed by Citrus (6.6 percent), Putnam (6.4 percent), and Highlands and Sumter (6.3 percent). No county had a double-digit unemployment rate for December.
Florida job postings showed 282,386 openings in December 2015.
The full jobs report is below.


<![if !IE]><![endif]>