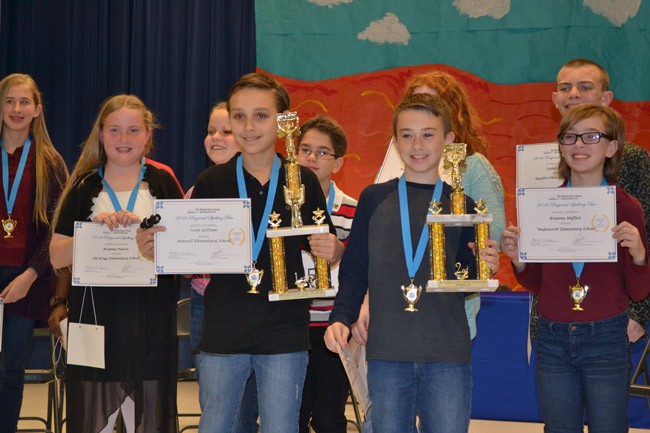 Bunnell Elementary School's Sean Gilliam is the Flagler County school district's champion speller this year. Gilliam won the county crown Thursday evening in competition at Wadsworth Elementary school when he correctly spelled the word buoyancy, a word that aptly describes the six grader's disposition after he won.
Sixteen students from the district's five elementary schools, two middle schools and Imagine School at Town Center, the charter school–the top two winners at their respective schools' contests–competed for the county title. It took Gilliam–who's also a member of the Flagler Youth Orchestra–six round to win.
Fifth grader Grayson Ronk of Wadsworth Elementary School was the runner­up.
Sean now goes on to the regional spelling bee in Jacksonville next month, February 27th. The contest is sponsored by the Florida Times-Union. The winner of that competition will then get a ticket to the Scripps National Spelling Bee, scheduled for May 24 through the 26 in Washington, D.C. Winning words at the national competition in the last five years have been nunatak, scherenschnitte, stichomythia, feuilleton, knaidel and guetapens. The reigning champions are Gokul Venkatachalam and Vanya Shivashankar.
Angela Reed, a curriculum specialist was the pronouncer, with Diane Dyer, Shawn Schmidli, Louise Wolfe, Heidi Alves and Rob Roe as judges and Karen Porter as the coordinator.
Here's how the evening's challenges rolled off the tongues, courtesy of Jason Wheeler, the district's information specialist:
1st round knockout words: tenement, philharmonic, carnitas, molasses, maimum and sustainable.
2nd round knockout words: acoustic, hubris, umbrage, resume, germane.
4th round knockout word: tarantula
5th round knockout words: sanskrit, commodious
spell-off for runner-up: (mis-spelled) sanskrit, commodious, phoenix, porcelain, effusive.
Here are each Flagler school's individual champions:
Buddy Taylor Middle School Halley Bernard (8th grade) and Junior Zemliansky (7th grade)
Indian Trails Middle School Savannah Fletcher (7th grade) and Liying Wu (8th grade)
Belle Terre Elementary School Ashton Stewart (6th grade) and Shawn Zhudro (5th grade)
Bunnell Elementary School Sean Gilliam (6th grade) and Layla Long (5th grade)
Old Kings Elementary School Rachel Luna (5th grade) and Brianna Pearce (6th grade)
Rymfire Elementary School Kevin Lizardo (5th grade) and Dylan Potter (6th grade)
Wadsworth Elementary School Grayson Ronk (5th grade and Brianna Shifflett (6th grade)
Imagine School Schneald Castor (6th grade) and Timothy Smith (7th grade)