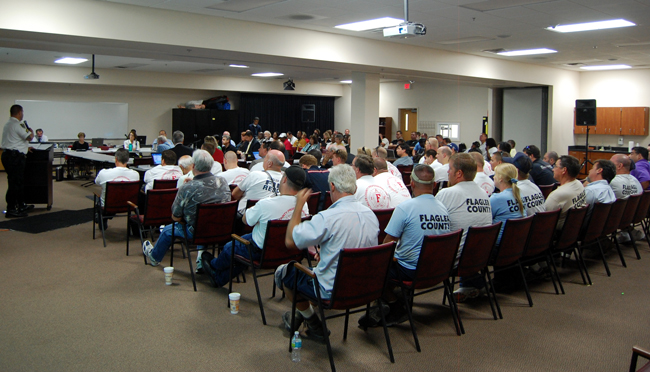 Health insurance premiums for Flagler County government's 630 employees will increase significantly beginning Oct. 1. (See the rate chart below.)
A single employee, who is paying no premium currently, will pay either $55 or $20 a month depending on the option chosen. An employee paying for family coverage will see premiums increase from $201 a month to either $326 a month or $220 a month, depending on the option chosen. The lower-cost option comes with a higher deductible and higher co-pays.
The Flagler County Commission voted 3-2 just after 3:30 p.m. today to adopt the new cost structure. Commissioners Barbara Revels, Milissa Holland and Alan Peterson voted for the new plan. Commissioners Bob Abbot and George Hanns voted against. Abbott is running for re-election.
Hanns, immediately after the vote, remarkably conceded that "this was passed and it was probably the right thing to do, but my own personal feelings on it, I'm just overly sympathetic. Maybe I've been doing this too long."
"And you don't think that we are either?" Revels said.
"I'm just speaking for myself," Hanns said.
"It hurts," Revels said, "it hurts to know that somebody may to crimp on their groceries or something like that for their health insurance and yet I know that there are citizens in this county that are going to be doing the same thing, yet may not pay their taxes, because they can't pay their homeowner's taxes."
Hanns himself, moments earlier, had noted that even Medicare beneficiaries are facing significant premium increases, adding: "The majority of people I know that are working secondary jobs in their seventies is because they, in some cases, outlived their pensions, in other cases just can't make ends meet."
The new premium structure, while more expensive for county employees, remains less expensive than that of employees in the school district or in county government in Volusia or St. Johns counties.
During the morning portion of the meeting (the workshop portion), more than 100 county employees, including firefighters and sheriff's deputies, filled the meeting room at the county's Emergency Operations Center, where the county commission held one of its longest budget meetings of the year for most of the day. The health plan took up the first 110 minutes of the day as numerous employees addressed the commission (some of them fearful over the consequence of doing so) to describe how premium increases in another year without raises may be the difference between viability and bankruptcy. "This is not the time to cut everybody's pay," one employee said.
The county administration provided commissioners three options, two of which would have lowered employee costs when compared with a tentative plan the commission had adopted in May. By way of compromise, commissioners agreed to increase the county's contribution and decrease employee contributions, but only slightly, while adding $78,500 to taxpayers' (and the county's budget) expenses. It shaved off some $16 from the monthly premiums of employees with family coverage, leaving them $327 a month.
The commission re-convened in a special meeting, when it could take votes, after lunch. It was during that meeting that the commission approved the new structure.
"We haven't done a whole lot. $16 is not a lot of money," Richard Bennet, president of the Flagler County firefighters' union, told commissioners, when it became clear they wouldn't lower employee costs further. He referred to the less expensive of the two insurance plans the county is adopting–the Blue Option–but without much faith in it. "Everybody keeps steering us toward this Blue Option. Yeah it might be good for some people, but the majority, I'm not sure it would be. I don't know. This is my last plea to have you look at the options. It seems we can do better than the $16 savings."
Gail Wadsworth, who re-introduced herself as "single person, clerk of court," told commissioners that they'd heard a plea from employees not to be hit with the premium increases all at once–and that she would be considering taking her employees off the county plan in the future.
"I understand their concerns. I think this was the best compromise that we could come up with," Commissioner Milissa Holland said when it was time to vote.
Back in May, after extensive analysis, the Flagler County Commission settled on a new health plan for its 630 employees, there were a couple of encouraging developments for them. The county agreed to contract for an in-house health clinic as one way to control costs in the county's self-insured health plan. And the proposed health plan would also lessen some out-of-pocket expenses. ("I'm hanging a lot of my hat on the clinic being successful, having the right doctor selected," Revels said, hoping to see the county's health costs go down by having an in-house clinic.)
But health insurance premiums were set to rise regardless, significantly for employees with families. The increase is particularly painful when coupled with a third year without raises for county employees, resulting in a net pay cut for most.
For a family plan, premiums would rise from 201.18 a month this year to $327 beginning Oct. 1, a $1,500 increase over the year, or a 5.8 percent pay cut for that $26,0000-a-year job (or 4.3 percent cut for someone making $35,000). The "Blue Option" charges almost three times the deductible as the regular plan and higher co-pays. That plan, too, would increase premiums across the board, but not as much.
"The employees have got to pay some of this increase in cost," Commissioner Alan Peterson said. "I don't like to do it. I understand it'll cost some people some hardship, but we've got a lot of taxpayers out there that are in the same boat."


Flagler County Employees' New Health Premium Costs
Premiums and Benefits
Current Costs
Approved for 2010-11, Blue Options
Approved for 2010-11, PPO
Monthly Premium: Employee only
$0
$20
$54.95
Monthly Premium:
Employee and spouse
$97.79
$107.08
$193.76
Monthly Premium:
Employee and children
$77.61
$84.98
$143.48
Monthly Premium:
Full family
$201.18
$220.29
$326.92
Deductible, per individuals
$300
$500
$300
Deductible, per family
$600
$1,500
$600
Out of network deductible, per individual
$700
$1,500
$700
Out of network deductible, family
$1,400
$4,500
$1,400
Co-pay at Dr. visits, primary care
$15
$25
$15
Co-pay at Dr. visits, specialist
$25
$60
$25
Inpatient hospital services
Covered
CYD & coinsurance
CYD & coinsurance
Outpatient surgery
Covered
CYD & coinsurance
CYD & coinsurance
Note: County commissioners approved the schedules above on Aug. 9. Source: Flagler County Commission