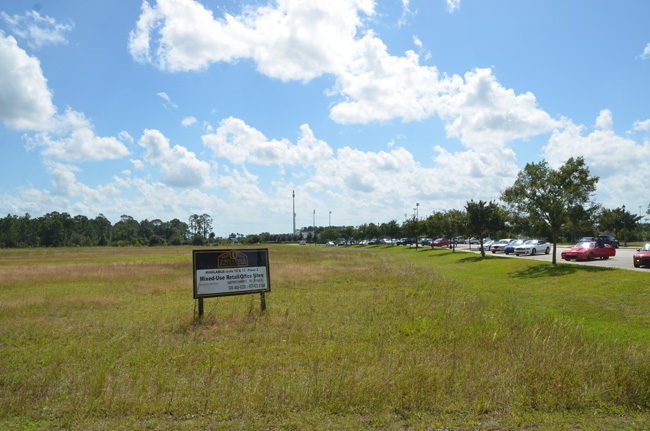 In May the Palm Coast City Council approved an initiative to turn its slow-growing Town Center area into an "innovation district," where developers would get tax breaks and innovative companies would get extra attention.
Today, the city announced plans for an 88-unit, three-building apartment complex on 9 acres on the southeast corner of Bulldog Drive and Central Avenue, diagonally across from Epic Theatres and within eyesight of Flagler Palm Coast High School to the south and Palm Coast City Hall to the north.
The city sees the project as the first in its "Innovation District." As an incentive to the developer, it will get a $440,000 credit in utility impact fees–the one-time fee developers pay to defray the cost of the impact of development on a community–which the city would make up by using tax revenue from the Town Center Community Redevelopment Agency.
To qualify for the incentives, projects in the innovation district must be under construction by December 2020.
The complex is to be developed by the Coconut Grove-based Housing Trust Group, which boasts on its website of being the "number 1 affordable housing developer" in Florida, and of being ranked among the top-35 most affordable housing developers in the nation. In March, for example, it opened a $36 million, 104-unit complex in Spring Hill, north of Tampa, where apartments' monthly rent ranged from $287 to $704 per month (including a utility allowance). The apartments ranged from 673 square feet to 1,162 square feet, and were offered to residents 55 and over within a certain income range.
The Town Center apartment complex, to be called The Palms at Town Center, will not be age-restricted. Projected rents are not yet clear. It will have amenities including a clubhouse, pool, dog park, volleyball area and nature path. The three buildings will be three stories tall.
The developer applied for site-plan approval in August and has gone through one round of review with the city's Planning Division staff, according to a release the city issued this morning. The project is scheduled to go to the Palm Coast Planning Board for approval consideration on Oct. 17. Approval by the Palm Coast City Council would not be required because the complex consists of fewer than 100 units.
Apartment complex proposals have typically generated opposition in Palm Coast, almost always by residents within a neighboring radius of the proposed development. But just as often–as was the case with a recently approved apartment complex off Old Kings Road, near the Woodlands, and a rezoning that would permit an apartment complex off Old Kings Road near State Road 100–opponents would claim that Town Center was better suited for apartment complexes.
The Palms at Town Center would appear be a protest-proof proposal, though many Palm Coast residents, favoring prejudice over accommodation, have also been quick to oppose any project that would provide affordable, subsidized housing under any guise. "It seems that Mayor Milissa Holland and her rubber-stamp City Council are hell-bent on flooding the city with low-income, Section 8 housing while ignoring the detrimental impact that this will have on all Palm Coast residents," a letter to the Palm Coast Observer by Palm Coast resident Jose Vasquez read before adding: "She describes low-income, Section 8 recipients as good, decent people the same way our president refers to Neo-Nazis, white supremacists and race haters as "very fine people," and it makes you wonder who do we have locked up in prisons that number 2 million nationwide?" Vasquez, of course, provided no evidence to his claims about affordable housing residents.
Town Center is already part of a Community Redevelopment Area, a geographic zone where, past a certain base threshold, all property tax revenue remains within the CRA. The zone was created as a means of spurring development, with tax revenue used to ensure a well-developed infrastructure attractive to developers. The infrastructure was developed. The developers have been scarce, however, as the infrastructure's development coincided with the bursting of the housing bubble. Town Center is 17-percent developed so far. Earlier this year, the council added a new layer of incentives through its "innovation district."
"The City Council created the Innovation District earlier this year as a way to refocus development interest in Town Center, which is within our Community Redevelopment Area," said Wynn Newingham, Head of Innovation & Economic Growth for the City. "The vision for Town Center is a mix of forward-thinking residential and non-residential developments in the area around Central Park. The Palms apartments is a perfect fit, and we welcome them to Palm Coast."
The innovation district's project is within the scope of the city's "kick-start" incentive program. The Palms project is also eligible for transportation impact fee credits provided by Allete Properties, LLC, the parent developer of Town Center.
Developers have shown strong interest in Town Center in recent months, with other potential projects including condos/townhouses and another apartment complex on Central Avenue, as well as a retail commercial building near the intersection of Central and Bulldog, said City of Palm Coast Planning Manager Ray Tyner. The city has not received any formal applications for those developments, but is hopeful because the preliminary conversations with developers have been very positive, he said.
"We see The Palms at Town Center as a catalyst for more development," Tyner said. "Bringing nice apartments and new residents of all ages into our downtown area will attract more and more restaurants and retail stores as Town Center continues to build out."
Palm Coast's Innovation District is centrally located within the urban core of Town Center. As defined by the Brookings Institute, an innovation district "facilitates the creation and commercialization of new ideas and support for economies by growing jobs in ways that leverage their distinct economic attributes."
Palm Coast plans to build on the Innovation District vision by focusing on housing's proximity to work and leisure activities, on the density of developments (more units packed in smaller spaces) and character. "Our future downtown is an innovative hub of activity," Holland said in her state of the city address earlier this year, "a place that offers residents of all ages spaces to interact, enjoy the outdoors, go shopping or get inspired by arts and entertainment, and then grab a bite to eat – all within walking distance. The future Downtown will also include diverse housing options to provide convenience and quality of life improvements for those who desire to live, work and play within the same neighborhood."
Existing development includes the Target shopping center, the Publix shopping center, an office building, Epic Theatres, professional office buildings, the Palm Coast Arts Foundation, senior apartments, townhouses and Palm Coast City Hall.