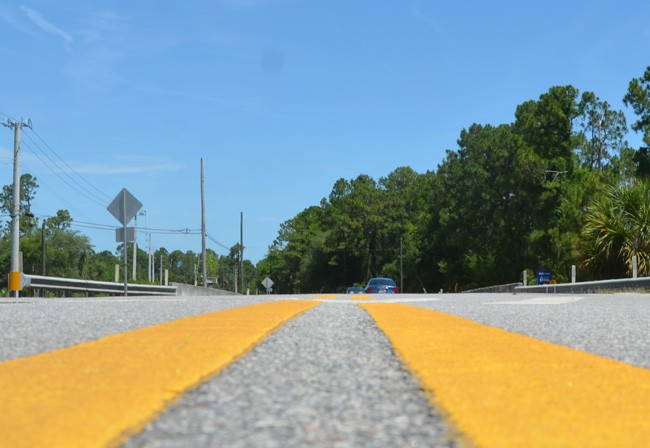 Old Kings Road's rippled and ratty section south of Palm Coast Parkway will not be resurfaced this year after all. The Palm Coast City Council, in a reversal, voted to leave the resurfacing job to next year, pending the completion of a nine-month sewer main project along the road.
Last week, the council had agreed in a workshop to eliminate 12 streets from a list of 36 slated to be resurfaced in the 12 months starting after September 1, so that the repaving schedule could accommodate a 4-mile segment of Old Kings Road, from just south of the Parkway to Town Center Boulevard. The city administration and council members agree with residents' complaints: it's the section of road in the city that draws the only road-related complaints these days.
But at a subsequent meeting on Tuesday, City Manager Jim Landon recommended restoring the dozen streets that had been bumped off the list of scheduled repaving, and delay Old Kings Road instead.
"You really don't want to resurface and then do utility work, we get criticized when you start that sequence," Landon said. "We're recommending stay within budget of the 36 streets that our evaluation says they're the worst condition, then move forward with resurfacing that bad section of Old Kings Road as quickly as possible, after the utility work is finished, but we'll be in the next fiscal year and in next year's budget."
Still, Old Kings is likely to be repaved as close to October or November 2016 as possible. The Old Kings project alone would cost $200,000. That, anyway, is the plan as set out by the council and the administration.
It's at least five or six years before Old Kings Road will be widened to four lanes, Landon said. The design of that widening has not yet been completed, and the money nto finance a widening is not available.
The previous story on the matter is below.


May 27–Rippled, ratty Old Kings Road is getting a make-over: the 4.2-mile stretch of the two-lane road south of Palm Coast Parkway, from Kingswood Drive to Town Center Boulevard, will be resurfaced this year as part of Palm Coast's annual repaving program.
But the inclusion of Old Kings Road, the longest project this year, means that almost a dozen other streets, including Black Alder Lane, Emerson Drive, Empire Lane and Weber Lane,  will be eliminated from the resurfacing list so the city can stay within the year's
The city had originally planned to resurface 14 miles of road, which would have accommodated some three dozen roads and streets. Budget constraints scaled that back to 11.5 miles, and $1.2 million, which meant either the city could do all originally planned resurfacing jobs without Old Kings Road, or include Old Kings Road and eliminate 11 streets. On Tuesday, the city council opted to go with the latter option, because the only complaints the administration is getting these days, when it comes to street quality, is about Old Kings Road.
"I have not had a street complaint in several years," Mayor Jon Netts said. The main reason for that is the city's decision more than a decade ago systematically to resurface every mile of road and street, using revenue from a sales surtax. Once that program was completed, the city adopted a more modest but still regular program of resurfacing roads every year, based on need.
Even Old Kings Road is not structurally deficient, though it drives roughly enough that, when councilman Steven Nobile gets home from riding his bike on it, he says he has to tighten the bike's bolts. "It is more of a driver comfort versus structural issue," City Manager Jim Landon said.
"Which is more important, Old Kings Road or Black Alder Lane. That's the question," Netts said, referring to the 11 streets that would be skipped over this year. "If you defer them another year, how bad are they?"
"We don't have any of them that are that bad they couldn't wait one additional year," Landon said.
"That's what we need to hear, because what you don't want to do is create a worse problem by deferring maintenance."
One other wrinkle: that southern portion of Old Kings Road, just north of the portion that was four-laned five years ago in expectation of Walmart's arrival there, is also due to be four-laned. The design of the widening is 60 percent complete, Landon said, and the project itself can be under way within 12 months. But that would depend on a sudden burst of development along the road. Any road widening would be financed with tax revenue from adjacent property owners. Resurfacing now only for the road to be widened in the next few years might be a waste.
"I'm not seeing any indicators that there's going to be precipitous development there that's going to generate the funds," Netts says.
Even if there were, the bridge at Old Kings Road and Town Center Boulevard would have to be widened first. "That would suck up most of that money, and you'd be wasting every little resurfacing dollars," Landon said. In the event, the city will leave the resurfacing of Old Kings Road to be done last, after other scheduled streets. Just in case.
P&S Paving won the bid. A list of the streets to be resurfaced, and those that were delayed a year, is below.


Palm Coast Resurfacing program, 2015-16
Street
Linear Feet
CARIBE COURT
140
CAROLLO COURT
383
CHERRY COURT
558
CHADWICK COURT
587
CHILHAM COURT
539
CLASSIC COURT SOUTH
257
CLINTON COURT NORTH
1068
CREE COURT
1072
FERNMILL LANE
1413
FIELDSTONE LANE
4445
OLD KINGS RD FROM TOWN CENTER BOULEVARDTO KINGSWOOD DR
21937
PEPPERCORN LANE
1915
PEPPERDINE DRIVE
4325
PICCADILLY PLACE
695
PICKERING DRIVE
3995
PRINCE PATRIC LANE
1116
PRINCESS DOLORES LANE
2166
RADCLIFFE DRIVE
4297
RENFRO LANE
1192
RENMONT COURT
615
RENN LANE
1255
RENWORTH LANE
1257
RENNWORTH LN
2306
RIDLEY LANE
1552
RIPPLET PLACE
462
RIPPLING BROOK DRIVE
3609
Total distance, in linear feet, to be resurfaced
63,156
The resurfacing of the streets below had initially been delayed a year, but will now be part of the 2015-16 resurfacing program:
BLACK ALDER LN
2699
EDWIN LN
973
EMERSON DR
3934
EMPIRE LN
1214
FLAXTON LN
1167
LANGDON DR
3237
LANDSDOWNE LN
1842
SEA GARDEN PATH
1058
SMOLLETT PLACE
957
WEBER LN
1798
ZITHER CT
757
Total distance in linear feet
19,636