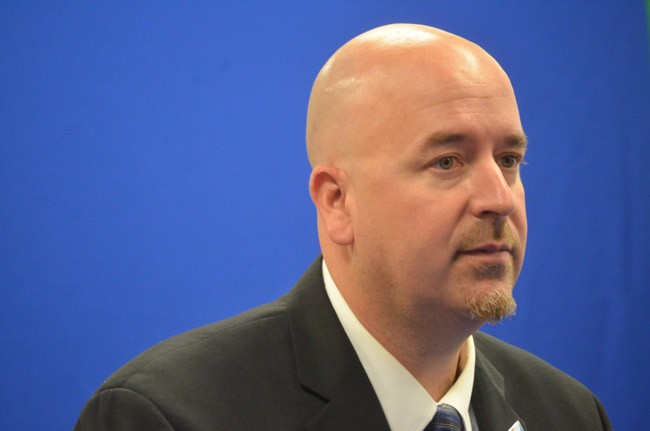 Mitzi Gee's 7th grade daughter came home with some disturbing observations about today's End of Course Exam in her Flagler school. "She said there were kids that were crying before, during and after the test," Gee said. "Some kids had panic attacks and had to go to the nurse, she said there was a kid who was praying out loud, there were kids who were holding their head."
"Some of these kids stayed, taking that test all day, from 7:30 to 1:30, and they also said if you stay and take it, you don't get lunch," Gee said, or at least not until they were done and could catch the last lunch period. "These weren't average kids, these were the super advanced classes. She says two of her friends stayed up all night long studying for the test. Then to get in there and realize what you did study for is not on the test, it's just so disheartening for them."
When Gee posted her daughter's experience on her Facebook page, she generated an outpouring of similar complaints and disgust with the End of Course exams, which are a form of standardized final exam for each course. Gee's daughter says she has one for every course but lunch, and jokes that that can't be far ahead.
Actually, the reverse may be true.
In a stunningly low-key announcement toward the end of Tuesday's Flagler County School Board meeting, Superintendent Jacob Oliva said the district was scrapping 28 end-of-course exams in kindergarten through 3rd grade this year. Those exams would have been for science, social studies and special areas.
That's just the first step. Over the next months and year, Oliva's administration is reevaluating what tests are given in higher grades, including middle school, what tests may be eliminated, and how best to evaluate student growth and provide feedback to parents.
---
A first step toward eliminating testing for testing's sake.
---
"The number of exams are going to be reduced," Oliva said this afternoon in an interview. But he stressed to counter "this notion that testing and assessment is a bad thing." There will always be some testing because it serves necessary ends. The aim, however, is to ensure that there's no testing just for the sake of testing, and to ensure that students and teachers can use testing to figure out how best to improve and grow.
The changes were enabled by a substantial change in law.
House Bill 7069 passed the House and Senate this spring and was signed into law before the Legislature dissolved in recriminations. The law reformed numerous school district rules, including moving back the earliest school starting date to Aug. 10.
Its testing reforms are significant. It eliminates the 11th grade English Language Arts (ELA) assessment and eliminates required administration of the Postsecondary Education Readiness Test (PERT). The bill also allows districts to choose how to measure student performance in courses not associated with state assessments, it prohibits doubling up final exams with state end-of-course assessments while limiting all testing, state or local, to no more than 5 percent of a student's total school hours. (In a 180-day instructional year, that nevertheless still adds up to nine days of testing.) Districts may exceed the cap, but only with written approval from parents whose children are affected.
The changes will also affect how faculty members are evaluated annually for their job performance. Currently, exam results account for 50 percent of a faculty member's evaluation. That's been controversial, because there's a direct link between evaluations and merit pay, which can be diminished or increased based on students' performances. Starting with the 2015-16 school year, the weight of student performances will be reduced to one third of a faculty member's evaluation.
And school grades as well as teacher evaluations are suspended for the 2014-15 school year at least until an independent panel confirms the validity of state assessments taken for the first time this year.
"Everything tends to swing in extremes with the Legislature," Board Member Andy Dance said today, "so with the accountability process what we've witnessed is just an extreme in the accountability process to testing and data and getting away from true instruction, so I think it's a swing back that was necessary in order to eliminate the focus on testing, and a call from parents and educators to return the focus on true instruction."
School boards don't have to ratify what amounts to administrative decisions that comply with the law. But the board will be rewriting policy to bring those–again–in line with state law, Dance said.
At the end of Tuesday's meeting, Oliva summed up to the board, in a brief outline, what the new law meant and how he was implementing it in light of numerous complaints about the toll the tests were taking, especially on younger children: even kindergarteners, under the old law, were required to take a series of end-of-course exams.
"This legislation gives us some flexibility and the requirement of having an end-of-course exam for every single class with a course code," Oliva said. "I know there's a lot of concern, especially at the primary level, in kindergarten through third grade, where students were being tasked to take up to seven end-of-course exams, specifically in kindergarten, and these exams were pretty much given for the reason of offering an exam. It wasn't an exam that tied back to improve instruction or feedback for the parent. So we're moving forward. It's a process, we have a team in place, we have an evaluation committee team that looks at how the assessment aligns with the teacher evaluations and how it aligns with the curriculum department."
He described the elimination of 28 tests in the lower grades. The Stanford 10 achievement test in kindergarten, first and second grade will still be administered and will provide the necessary data the district needs to measure growth and evaluations. In third grade the district will continue to administer the Florida Standards Assessment.
"So this will be the first step in scaling back on a lot of the testing mandates that we've been facing in public education in meeting the requirements," Oliva said, "and we're very appreciative of the governor and the Legislature for giving this flexibility back to the school board. I think there's still more work to do in this arena. But it's a step in the right direction, and I think it's going to guide future discussions and possible outcomes in the future."