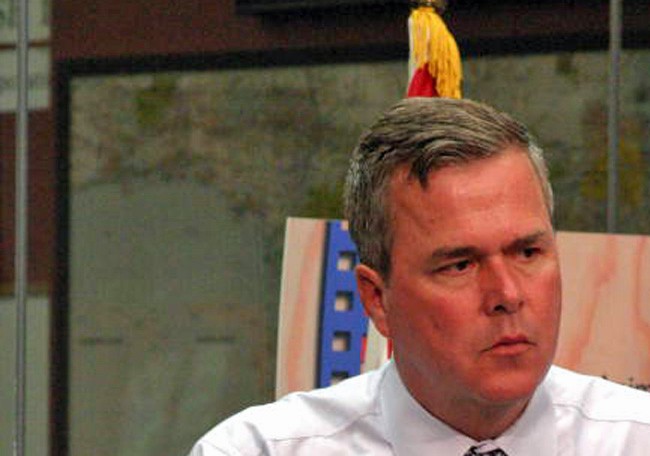 Now weighing a run for president, former Gov. Jeb Bush appeared Tuesday in Tallahassee to discuss one of the cornerstones of his legacy, the state's education policy, even as his accomplishments in that area have come under increasing pressure.
The school-accountability system pioneered by Bush during his eight years as governor has rankled parents who say that the state's high-stakes testing regime has gone too far. A de facto voucher system that the governor pushed has been challenged in court by the Florida Education Association, the state's main teachers union and Bush's longtime arch-nemesis. And the Common Core State Standards, which Bush advocated after leaving the governor's mansion, have largely been disowned, at least in name, by his fellow Republicans.
In some ways, Bush has adjusted with the times, agreeing that perhaps students are now tested too much. And during his remarks at an education summit in Tallahassee hosted by the Foundation for Florida's Future — a group Bush founded — the potential GOP presidential candidate didn't utter the words "Common Core" from the stage. But in other respects, chiefly in pointed remarks about the union's attempt to unwind the state's Tax Credit Scholarship Program, Bush hewed close to the formula he pushed until leaving office in 2007.
The changed atmosphere in Florida was clear almost from the beginning of the education summit. House Speaker Steve Crisafulli, R-Merritt Island, spoke about the Legislature's drive to ease back on testing after years of parental outcry — even though he cast those remarks in terms that even Bush's supporters in the audience clearly agreed with.
"But to be clear: While we address these concerns about testing, we will not retreat from accountability," Crisafulli said to applause. "And we will not retreat from high standards."
Gov. Rick Scott, who has ordered a review of testing, has also thrown his support behind the issue.
"My goal this year, and it's this year, is to work with the Legislature to come up with how we reduce the testing — keep the accountability that we have, but how do we reduce the testing?" Scott said.
Speaking with reporters after his own remarks, though, Bush brushed off the idea that the talk amounts to a repudiation of his tenure.
"The foundation I used to be a part of and myself personally (have) always believed that we should be reviewing this, that there should be fewer tests, they should be better tests — as good as they can be — and that they should be measuring critical thinking skills, which is really what at the end of the day students are going to need to go forward," Bush said. "So we're totally supportive of this review. I am, at least."
Bush also backed moving to fewer tests during his remarks to the summit, while at the same time defending the idea of testing itself.
"But they really need to continue to be part of a robust accountability system, for sure," he said.
The former governor also downplayed the significance of changes that have been made to Florida's standards, which were initially based on Common Core. Bush said the subject didn't come up at a Tuesday meeting with Scott.
"The standards are still high, which is really the thing that most matters," he said.
Bush also said he supported policies that might ease the fears of some conservatives that the federal government could use Common Core to try to impose a national curriculum on local schools.
In other ways, though, Bush showed that he was still willing to fight for his signature policies. He blasted the union-led challenge to the scholarship program, which provides tax credits to companies that donate money to nonprofit entities that pay for children to go to private schools. Bush said public schools have improved since the voucher-like system was approved.
"If the data matter, then they wouldn't be suing. … I don't get the argument on the other side, except for the fact that this is about the economic interests of the adults," he said.
Democrats made it clear they would use Bush's education policies to hammer him if he moves forward with a 2016 campaign. In a statement, Florida Democratic Party Chairwoman Allison Tant slammed the summit as "nothing more than a cheerleading session with right wing politicians and wealthy special interests looking to turn a profit on our children's education."
"Giving billions of taxpayer dollars to private, for-profit corporations has done nothing to improve schools for millions of Florida children," she said. "No amount of gimmicky summits can undo the damage Jeb Bush did to Florida's education system. Florida's parents, students, and teachers remember all too well the slashes in school funding, the dramatic increases of college tuition, and the radical overemphasis on high-stakes testing that Bush brought to Florida."
–Brandon Larrabee, News Service of Florida