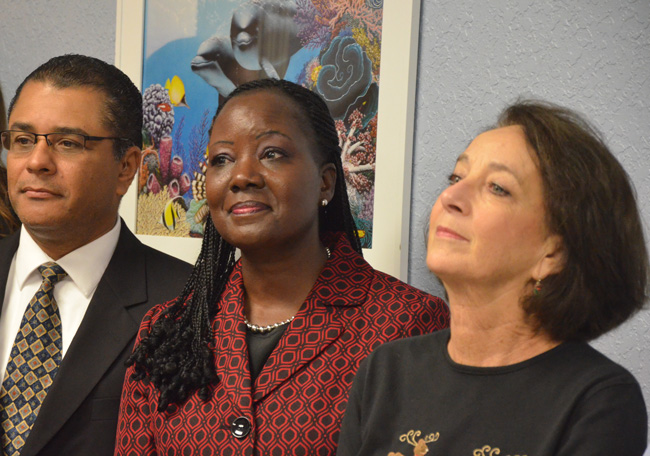 When you drive along Old Moody Boulevard and pass by the old post office in Bunnell, next to the public library branch there, you'll notice a modest, almost enigmatic sign: "Sally's Safe Haven," with the circular image of a happy family of four walking toward the sun. Rather than wonder what the sign is about, listen to Sally herself explain it.
"When I think about this facility, and yes, it was a lot on the weekends and at night," she said, "I stayed committed because at the end of the day if it helps one child to maintain that connection with a family member, or it helps one victim of domestic violence be able to know that there's a safe and secure place that they can exchange a child, then it's worth it."
That's Sally Sherman, the deputy county administrator without whose efforts the Safe Haven may not have opened. Sherman was the toast of Monday's ribbon-cutting ceremony, which was attended by every member of the county commission and representatives from every other local government. The facility isn't the sort of place that will (or should) draw much attention, nor will it affect a large number oif people. But for those that it does—families already stressed if not damaged by the effects of abuse and separation—it is a critical relief.
It is the first time Flagler County has such a place, which will help many more than a single child: when the haven was conceived three years ago, some 40 or 50 families were in situations where a court order forbade one parent or another from being with a child in any way other than during a supervised visit. Families either went without, or traveled to safe houses in Volusia or St. Johns, or actually carried out those "exchanges" at such places as the flagpole at the Flagler County Courthouse, with bailiffs nearby if matters got out of hand.
---
A safe place where a child may see a mom or dad who, by court order, may not see children unsupervised.
---
It took three years, innumerable meetings, trips, angst and $400,000, money secured entirely through a federal grant that the county administers, to make Sally's Safe Haven a reality. It also took the spurring of a circuit judge who got tired of watching families meet up for children's exchanges at the courthouse flagpole, and it took the work of a county commissioner who's seldom taken on a project without seeing it to its successful conclusion.
The judge was Raul Zambrano, when he was still assigned to Flagler. One occasion tipped the balance for him. He's spoken of it before. He spoke of it again Monday. It started with a case of his, "where I had no place to send a mother to visit with her children on a Thanksgiving eve" the judge said. "As it turned out my bailiff, at the time Julie Martin, decided to take this mother to her house, and the children to the bailiff's home, so they could have visitation on Thanksgiving day. I can tell you this: not a Thanksgiving goes by where I don't remember what happened on that day, because it became really meaningful to me roughly three weeks later when that mother passed away, and all I could think was going back to that day when she got to see her children on Thanksgiving because my bailiff decided it's important that mom sees her child on that day. That's what brought to my attention the need for a facility such as this."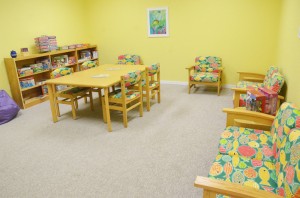 Zambrano brought the idea to the Flagler County Public Safety Council. Commissioner Barbara Revels was on the council. She and Sherman seized on the idea. They teamed up with the likes of then-Judge Sharon Atack (who was present today), Abby Romaine (who would run for county commission and lose against Frank Meeker: the two exchanged a hug today), and Christine Davenport at the Children's Home Society, among many others.
The Children's Home Society is running the operation with a $130,000 budget. That amount was part of the original grant. But it runs out at the end of 2015. The county will then have to secure another grant to keep the operation going. Revels and County Administrator Craig Coffey are confident that will happen, even though for now none of the local governments in attendance today were lining up to provide dollars. The haven is located in a county building, which the county is providing rent-free, and its renovation into its current facility, featuring three colorful "exchange" rooms (one blue, one green, one yellow, each inviting enough for a play date) was made possible with county resources. The $130,000 budget, says Kim Pleasants, associate executive director of the Children's Home Society, includes administrative and security expenses. And yes, security will be key.
"These custodial interactions that are set up by order of the court sometimes are contentious," Sheriff Jim Manfre said today after the ceremony. "So by having a building such as this, it's close both to the Sheriff's Operations Center and to the Bunnell Police Department, so we have a fixed location where if there is going to be some sort of issue between the two parents, we're able to respond quickly enough before a crime occurs."
Revels said the theme for today's opening was simple: "about time." Then she said: "This will be one of those quiet projects that most people will never know about, and we hope most people will never have to use it." But for those that do, "it's a safe environment, particularly for the children."