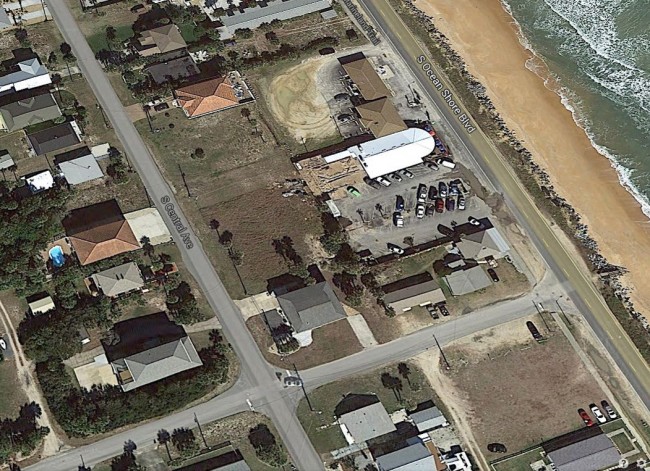 A compromise is in the works that may allow Oceanside Grill, the popular Flagler Beach restaurant, to use a residential lot it just bought as a parking lot, potentially ending what has been a contentious struggle with the city over seemingly contradictory regulations. But for the compromise to stick, the city commission will have to go along
The issue has commanded broad attention in the city as its outcome could have significant consequences, as a precedent, in the way the city balances commercial and residential rights. Depending on the outcome, the matter could redefine the city's character where its commercial and residential boundaries meet, so a lot more than a mere parking lot is at stake.
It's a story almost as old as Flagler Beach itself: a business sets up shop and does well. Then it butts up against city regulation that can sometimes look arbitrary, like parking requirements that seem to apply to some businesses but not others. The business looks for creative ways to resolve the snag, only to come up against new obstacles, like zoning restrictions.
That's been the case with Oceanside Grill, the successful beachside restaurant near the south end of town. Oceanside was told its parking was inadequate. So the restaurant, co-owned by brothers John and Tony Lulgjuraj, in October paid $240,000 for a small, vacant lot behind the restaurant near the corner of State Road A1A and South 19th Street. But the lot is zoned residential. To use it as a parking lot, the brothers would have to rezone it under the tourist-commercial designation.
The city's planning staff recommended against the change, calling it "spot zoning," and saying it would easily be challenged in court, where the city would lose. That would nullify the brothers' $240,000 investment and leave them still without adequate parking.
---
A compromise may also redefine how Flagler Beach accommodates its businesses–if the city commission goes along.
---
"It's not me personally, it's not this board, it's the mandate by what we are based to make our decisions on," Larry Torino, the city's planning director, said, explaining his decision. "What we're saying here is, our hands are tied, and so is the hands of the commission tied. We can't go against the principles that were established by this community unless this community wants to go ahead and change them. But if you want to change it for your situation, I can tell you now, correct me if I'm wrong, Drew," Torino said, referring to Drew Smith, the city's attorney, "the city will find that illegal,–I'm sorry, the state will come back down on the city, because that's illegal zoning, it's illegal designation of your future land use map."
The matter went before the city's Planning and Architectural Review Board Tuesday evening, what was to be its first stop before city commission action. Monthly planning board meetings are usually slow, drab and unattended affairs. Not this time. City Hall's chambers—unlike the planning board's chairs–were packed and included three city commissioners, as the Oceanside Grill issue had mobilized the city's attention and looked poise to become a major point of contention between the business community and city government.
Twenty-two people addressed the board, all but two siding with Oceanside. The supporters included the owners of Golden Lion and the Beachhouse Beanery, two local eateries. Several of the restaurant's supporters leavened their support with caveats, especially opposition to letting parking lot traffic spill onto Central Avenue. They want it restricted to A1A.
But the nearly two hours of discussions on the matter showed the city to be cornered: its regulations are in place for a reason, and for reasons even the restaurant's supporters acknowledge. No one wants to see residential lots turned into potential commercial zones. But at the same time, the support for the restaurant was overwhelming, and denying it access to the lot for parking, as the city requires, would make the city look unreasonably intransigent and its ordinances too dogmatic. As Jackie Mulligan, a Realtor who addressed the board, put it, the city's zoning rules are out of step with its businesses' needs. "It needs to be touched. The only people that can do it are sitting here, and the commission as well," Mulligan said. "It could be a time for change. Let's say that: let's try something else."
Roseanne Stocker, a member of the planning board, conceded that change is necessary, but with a caveat of her own. "We all say we love Flagler Beach, we don't want it to change. Change is here," Stocker said. "And I'm not talking we're different from when I first moved here 125 years ago. We're different in the last five years. Restaurants are all expanding, the decks, the new restaurants coming to town, more people coming to town. It's all good, but we have to manage it. We can't sit back and say, we're Flagler Beach, we're so special, we're not like New Smyrna, we don't need all these rules. We do. We have to manage change, because we can't just pretend it's not happening."
And this time, the board and the city's chief planner, Larry Torino, found a compromise: the board cannot, and would likely not, vote in favor of changing the zoning of the lot. (Tuesday evening the seven-member board lacked a quorum: only four of its members showed up, and one of them, Rick Belhumeur, could not vote because he owns property near the restaurant, so he had to recuse himself.) But the board would favor recommending that the city's ordinances be changed to enable a "special exception" in such instances. The special exception would be written specifically to allow a vacant lot in a residential area to be used for parking. That would prevent its use in any other way, and would keep it zoned residential, thus preventing it from being turned into something more garish down the line.
The planning board did not vote, since it couldn't do so, but it recommended just that approach, which now goes before the city commission for review. If the commission agrees, the ordinance will be re-written then will have to go before the planning board again for a vote before it returns to the city commission for two separate votes. So go the wheels of city government. Only then will Oceanside Grill have its parking lot. But the Lulgjuraj brothers, who at first seemed reluctant to lose the potential commercial designation of their back lot—suggesting that they may have had ambitious designs for it in the future–were willing to go along.
John Lulgjuraj stressed at the end of the hearing that he had no greater designs than to use the lot for parking. "I don't want to scare the public saying oh yeah, that's what the boys want to do, they want to build this, or Ferris wheels or anything like that," he said.
Earlier, Lulgjuraj had said: "We don't ask for much. I'm not here every week asking for change. I'm asking to help secure our future here, and we want to be in business for the next 30, 60, even 100 years. I want my kids and my kids' kids to grow up here." But he also noted that it's "extremely hard" to make a business work in Flagler Beach—and to make it so far as the five-year mark, which is still a year and a half away for Ocean Grill. "We just invested a lot into parking to help solve a problem. You asked us to. We did it. Now how can you help us secure our interest? That's what we're asking, we're asking for your help, we're asking for the community's help. Whatever they need us to do, we're doing."
Carol Fisher, owner of the Beachhouse Beanery, had noted earlier that it was "really sadly ironic that this came to my attention three days after they gave away tons and tons of food. You know, hundreds of dollars, I'm sure they spent on that Thanksgiving day give-away, which was the first time anyone has done that here, and it was at their expense." The Lulgjuraj brothers are praised one day, Fisher said, then saddled with contradictory demands from the city the next. "I'm not sure how all that makes any sense," she said, "and I hope you guys figure out a way to make sense out of all of this, because this is a really, really sad statement for this city if they're not allowed to have a parking lot there."
"We've come up with a good compromise," Board Chairman Don Deal said, "and we'll do what we can to fast-track this for you." He raised the possibility of even holding a special meeting for the matter.