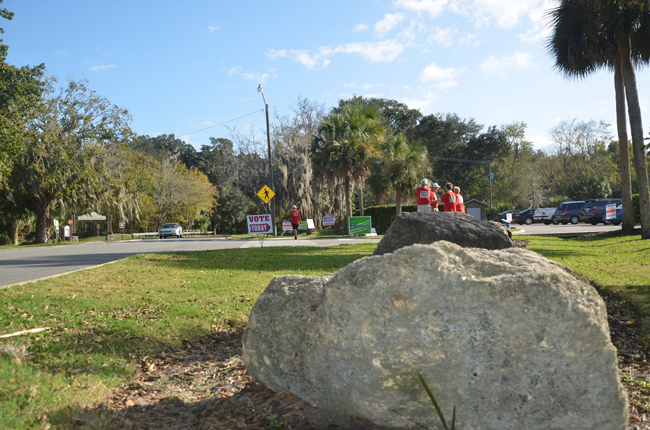 All is not lost: Palm Coast and the Flagler County Supervisor of Elections may yet work out their differences and work toward staging the 2014 municipal elections as originally planned, in conjunction with the year's local, state and national elections.
But there's still uncertainty over whether the talks will prove trustworthy or collapse in renewed recriminations. To that end, the Palm Coast City Council on Tuesday turned the tables on Supervisor of Elections Kimberle Weeks. While not giving her an ultimatum, the council set out its own drop-dead deadline for Weeks and the council to mutually agree to terms controlling the supervisor's running of the 2014 elections. That deadline is June 20, the last day of candidate qualifying for the election.
"We must be sure that there will be an election in Palm Coast," Palm Coast Mayor Jon Netts said.
Despite her public rejection of compromise on Monday, Weeks has, according to City Manager Jim Landon, been in discussions with City Clerk Virginia Smith to resolve two sticking points in the agreement she wants the city to sign in order for her to carry out the elections. She may agree to change the language controlling the use of city facilities as precincts by conceding that she would invoke a change of venue only in case of an emergency, Landon said. And, although Weeks has not yet said so, she may agree to the more minor language change the city is looking for—to ensure that the elections make room for the unlikely possibility that a third council seat is up, should a current council member become incapacitated or dies.
"It sounds like we might, if Virginia and the supervisor will continue to communicate, we might be able to reach an agreement on the language," Landon said Tuesday. "That's what we should have been doing all along. And so we're hoping that will happen."
But the city has had such hopes before, only to be disappointed. Council member Bill McGuire doesn't want to be at the mercy of the supervisor's whims. He wants the city to be ready to run its own electiion if necessary. "I'm still concerned about the calendar," he said. "I don't want these good-faith discussions to go on and then all of a sudden we wake up one morning and find out there's not enough time to put an election together. We should proceed down both roads and until we've got something signed in our hand."
That's what the city is doing. But should Palm Coast run its own election, it will be expensive—the cost will range between $40,000 and $50,000 for each election (primary and general)–and it will significantly hurt turnout, because the city is proposing to have just one voting precinct instead of six.
Smith outlined the city's contingency plan to the council on Tuesday.
The election would be conducted the old fashioned way: through a paper ballot, with a manual count. But there would still be early voting, though also at only one location.
In 2011, to save money, the city reduced its polling locations from more than two dozen citywide precincts to just just six locations. Voters could vote at any of the six, rather than at assigned precincts, as in the past. The city traded the convenience of voters having their own voting precinct in their neighborhood with the convenience of voting anywhere, but at far fewer locations. Turnout plummeted. The 2011 elections produced the worst and second-worst voter turnouts in city history, with just 10.6 percent of registered voters casting a ballot in the primary and 11.6 percent casting one in the general. That primary was also the election when voters approved a referendum changing the city's voting cycle to even-year elections, in hopes of saving money and improving turnout.
Neither is likely to happen should the city be forced to run its own election this year.
If Palm Coast runs its own election, it would do so on the same day as the primary and general elections, but in a parallel system—literally, in a different room, and only at the Palm Coast Community Center. In other words, a voter assigned a precinct at Buddy Taylor Middle School would have to cast a ballot there for county, state and federal elections, then drive to the community center to cast a ballot for the Palm Coast City Council election. Many will do so. Many very likely won't. But the city is not willing to foot the price of running a broader election, because it would then have to multiply the number of poll workers—and their cost: In 2011, even the six locations cost the city close to $120,000. Printing costs alone will cost the city $34,000 for the primary and general ballots. Training poll workers costs $2,500 a day. Poll workers' pay ranges from $8 to $15 an hour. "Elections are very, very expensive," Smith said.
"If circumstances force us to go to this alternative," Palm Coast Mayor Jon Netts said, "at least, from what I see, it will not be any more expensive. From a fiscal point of view we're still ahead of the game compared to 2011. From ease of voting and all that, we're not."
But council members saw the disadvantages of the city running its own election, too. "I think it's be wise to choose the lesser of two evils and make the agreement happen, whatever it takes," David Ferguson, one of the council members whose seat is up this year, said, "rather than to consider this path to go down of a manual count, because I don't think anybody wins in that regard." Frguson was willing to go so far as to concede Weeks's original stance: approve her agreement, without changes, or take a hike.
Ferguson is a moderate Republican who–should he run: he hasn't announced (contrary to an earlier version of this story)-needs a larger turn-out to make it through, because a smaller turnout will be dominated by more activist, more extreme voters: Anne-Marie Shafer, a member of the Ronald Reagan Republican Assemblies, is running, as is Heidi Shipley.
Ironically, Weeks by law would still have to certify the election results. The city is researching whether it could have its clerk do so instead.
"Preferably we're going to reach an agreement with the supervisor of elections and things will go smoothly," Netts said. "At some point, however, I use the term drop dead, at some point we're going to start incurring hard costs, we're going to pay for this poll worker training, we're going to pay for ballot boxes, we're going to pay for the printing. I just want to know, I want to be advised when that date comes, when you must start incurring hard costs. Because at that point you've made a decision. You're going down a road you cannot retreat from."