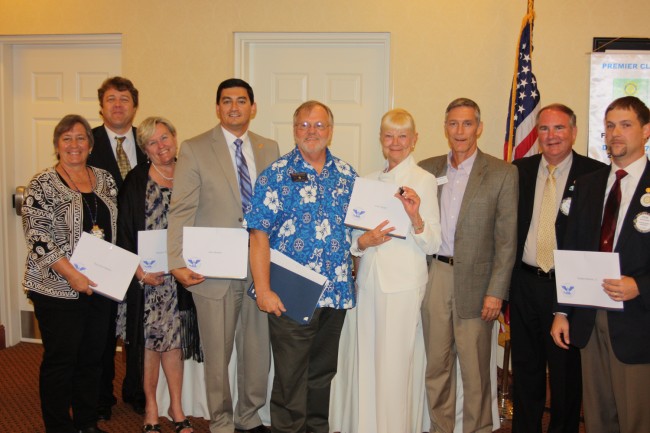 For the second time in six months, members of the Rotary Club of Flagler County are recipients of President Barack Obama's President's Call to Service Award, handed down through the national Points of Light Foundation.
Club President Rick Staly, who will be chairing one more meeting before turning the gavel to fellow-rotarian Bill Lyon on July 1, presided over both ceremonies–at the Palm Coast Yacht Club in December, when he was one of the recipients, and at the Hilton Garden Inn Tuesday evening. On each occasion, 15 Rotarians got the president's award.
"It's quite an honor for our club to be recognized twice by President Obama, we were very excited for that to occur," Staly said. "We had a great year this last year during my presidency, We made great community donations, and we look forward to a great year with our new president."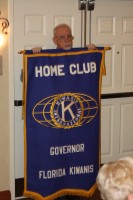 Staly presented the awards on behalf of President Obama during the Club's 32nd Annual Installation and Awards banquet. It so happened that the Kiwanis Club was hosting an event at the Hilton at the same time. At one point, Allen Whetsell, current governor of the Kiwanis's Florida District, walked into the Rotary's celebration with a Kiwanis banner and tried to do a little recruiting. Whetsell carries his concealed humour the way others carry concealed weapons. Staly, currently the undersheriff in Flagler County, knows a thing or two about both types of weapons.
"He lingered a little too long so we had to escort him out," Staly said of Whetsell.
Rotarians receiving the President's Call to Service Award were: District Governor John  Brunner, Past District Governor Bill Griffin and District Governor-elect Art McQueen. Receiving the President's Volunteer Service Award were Rotarians Beth Taylor, Carol Sharp, Ken Neu, Jay Gardner, Jerusha Logan, John Poage, John Skripko, John Subers, Dr. Maralee Walsh-McDaniel, Stephen Barnier, Jr and Thea Hein-Mathen.  Diane Neu, wife of Rotarian Ken Neu is also receiving this award for her volunteer efforts supporting the Club's Dictionary Program.
Additional honors were bestowed on Tuesday:
Paul Harris Fellowship Medal awarded on behalf of The Rotary Foundation to: Stephen Barnier, Jr., Mike Kuypers, Debbie Staly, wife of Club President Rick Staly, and Pastor Charles Silano, Honorary Rotarian.
Member of the Year: Mike Kuypers.
Rookie Member of the Year: Stephen Barnier, Jr.
Service Above Self Award: Thea Hein-Mathen.
Spirit of Rotary Award: Joe Newman.
Committee Chair Service & Dedication Award: Carl Laundrie and Ken Neu.
Perfect Attendance Award: Stephen Barnier, Jr., Thea Hein-Mathen, Jerusha Logan, Ken Neu, Maralee Walsh-McDaniel, Jane Walter, Jim Callender, Carol Sharp and Rick Staly.
Honorary Club Membership: Pastor Charles Silano and John VanBuren.
For Rotary Year 2013-2014, Bill Lyon was named president, R.J. Dailey vice president, Beth Taylor treasurer, John Skripko president-elect, Janice Nichol secretary, Matt Maxwell sergeant at arms, along with the following directors: Jeanette Loftus, Ken Neu and Carol Sharp directors, Jane Walter, Thea Hein-Mathen and John Poage. Staly is the immediate past president.