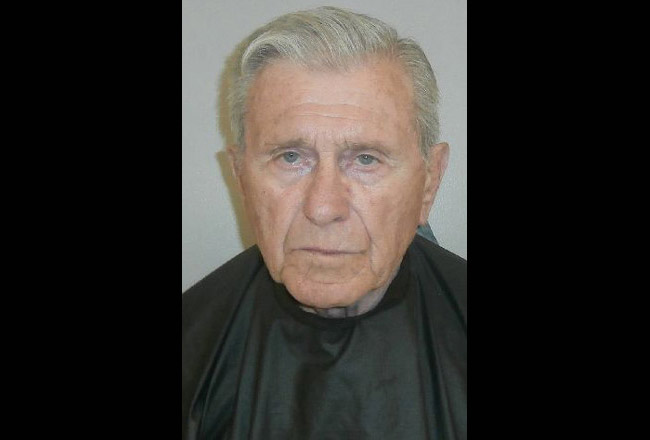 August T. Lindguist is 81 years old. He lives on Flintstone Court in Palm Coast, at the end of the cul de sac, some 50 feet from Palm Coast Mayor Jon Netts's home. Monday evening (May 27), Lindguist, who is in the early stages of dementia, was arrested and jailed on an aggravated assault charge after he allegedly stabbed his live-in caretaker, who fell in a nearby canal as a result.
The caretaker, James Milton, 52, had lived at the Flintstone Court address for several months. According to a police report, Milton was sitting on a cooler on the dock talking on the phone when he saw Linquist "come from the garage with his right hand behind his back, and a gardening tool in his left hand. When Milton asked him what was wrong, Linquist moved his hand from his back, revealing a red-handled metal scissor.
"August," according to the report, "then held the knife near his head and came down in a striking motion to strike James." As Milton held his left hand up to block the motion, the scissor allegedly penetrated his left forearm, where he suffered a stab wound authorities estimated at one inch long and one inch deep. When Milton tried to get away from Linquist, he fell into the canal that leads to the nearby Intracoastal Waterway. Milton tried to get out but Linquist, according to the report, "continued to stand where he went with the scissors in his hand stating, 'I will kill you.' Eventually August walked more towards the dock and James was able to climb up from the sea wall."
Milton then called police.
Dementia, even–and sometimes especially–in its early stages, can cause severe disorientation, anxiety, paranoia, short-term memory loss and violent reactions, particularly against the people closest to the person suffering from the disease. The individual is not generally in full control of his or her capacities, and arguments triggered by seemingly irrational fears can be frequent.
"I have seen him and his caretaker outdoors on occasion, arguing with each other," Netts said, noting that he'd returned home after the incident Sunday evening, when deputies cruisers were still in the cul de sac.
Milton told police that at no point did it appear that Linquist "was coming after him due to being in fear or not knowing who he was," the report states. Milton said that Linquist "appeared to be coherent and aware of what he was doing," though Milton himself said he was in fear for his life.
Linquist was read his rights and asked to speak with a deputy, telling him that he no longer wanted Milton living at his house. In Linquist's version of the story, Linquist was outside when Milton came up to him, making Linquist feel threatened and hold up his hands to defend himself. He told police that he had the gardening tool and scissors in his hands, and that his raising his arms caused the scissors to strike Milton's arm.
Linquist "changed the location of the incident several times to include inside the garage, the side of the house, the dock and the porch in the rear of the residence," according to the report. "Linquist also said that "he did not remember how he stabbed [Milton] but knew he did. [Linquist's] story was very inconsistent but at no point did he [say] that he did not know who [Milton] was and was aware that he resided with him."
A 57-year-old woman who lives on Chesney Court and who'd also called police said she'd seen Milton in the water screaming that he'd been stabbed, and saw Linquist standing along the waterway yelling at Milton, according to the report, but could not make out what he was yelling.
When a deputy first arrived on scene, Linquist was walking toward the rear of the house by the screened-in porch, holding sharp objects in each hand. Linquist immediately put them on the ground when the deputy asked him to. The deputy noticed blood at the end of the scissors.
Milton was treated at the scene by a Flagler County Fire Rescue unit, and declined going to the hospital. Linquist, who has been at the Flintstone house for 10 years, was taken to the Flagler County jail, facing a second-degree felony, but also a likely evaluation under the Baker Act. Linquist was no longer at the jail Tuesday. Police were able to speak with Linquist's son in Connecticut, who said family would be traveling to Palm Coast to care for the residence and other issues related to Linquist.